Breezy Button-Ups: The Best Men's Linen Shirts For Spring/Summer 2023
Over the past few years, menswear has really opened up to the concept of texture. It's a development that spelled good news for winter materials such as corduroy and fleece, but when it comes to breathable summer fabrics, it's linen that's back to add some flavour to your warm-weather wardrobe.
Somewhere along the line, linen shirts ended up lumbered with a reputation for being somewhat uncool. Perhaps it was the creasing, or maybe the Richard Branson connotation was enough to drive sales into the ground.
Whatever it was, the world has now wised up enough to realise that the linen shirt is number one when it comes to breezing through the heat in style. It's soft, comfortable and can bring a tactile touch to any outfit.
Here we take a look at one of menswear's most misunderstood fabrics, including how to wear it and where to buy from.
Why You Need Some Linen In Your Life
If you've harboured an aversion to linen in the past, now's the time to put it to bed. This casual cloth is perfect for staying cool in the warmer months due to its low thread count, which makes it supremely breathable and far better suited than traditional poplin or Oxford cloth in terms of summer shirting.
As touched upon, one of linen's most notable drawbacks is it susceptibility to creasing. However, while there's no getting around the fact that this is a fabric that loves to crumple, cotton-blend options have all but eliminated the issue.
For maximum breeziness, though, 100% linen offers the best bang for your hard-earned buck. Just invest in a good iron and tumble dry on a low heat, if at all.
How To Style A Linen Shirt
With Tailoring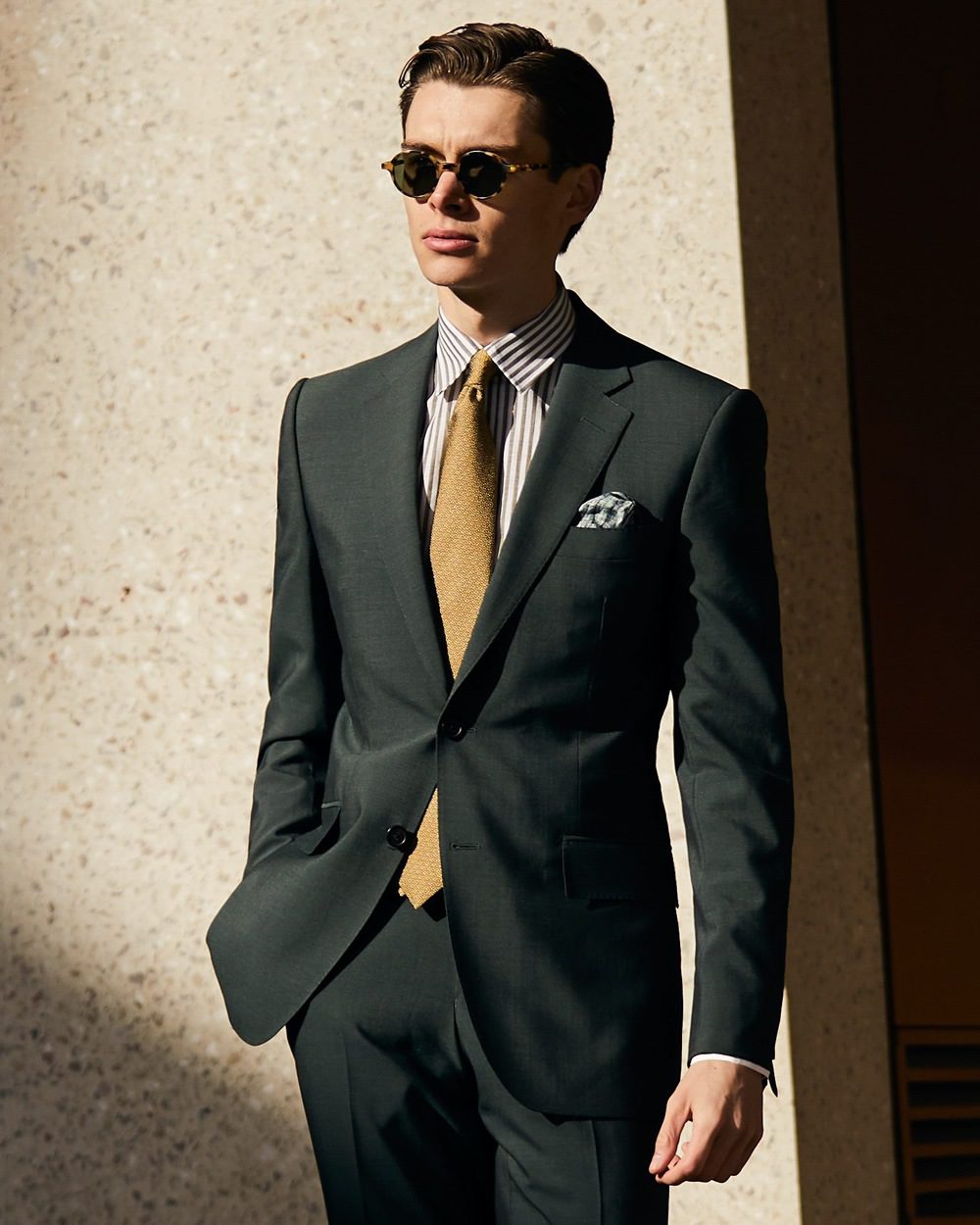 Contrary to popular belief, it is possible to wear a linen shirt with a suit and make it look good. The key is mixing your materials to create texture and depth. Therefore, swerve the linen-on-linen combos and instead try your shirt with a wool or cotton suit in a contrasting colour. For example, a navy suit with an off-white shirt, or a beige suit with a light blue shirt. Striking this balance between light and dark will work alongside the differing textures to add a subtle complexity to the outfit.
For something a little more laid-back, team a linen shirt with blazer and trouser separates instead. Again, choose contrasting shades and always ensure your shirt is cut slim and well fitted.
On Vacation
Sunny climes are where a linen shirt is most at home, making it the perfect ally for tackling a week or two in the heat. Wearing linen in an off-duty setting offers the chance to embrace the fabric in all it's laid-back, crumpled glory – the way it was intended.
A slightly looser cut is preferable when choosing a linen shirt for holiday. It should be relaxed and comfortable, but still well fitted across the shoulders and through the sleeves. Colour-wise, light is better for the simple fact that it will deflect some of the heat.
In the day, wear untucked, leave a couple of buttons undone and team with tailored swim shorts for effortless, beach-ready style. At night, combine it with chino shorts for a night of al fresco dining.
At The Weekend
A quality Oxford cloth button-down is one of the true cornerstones of weekend dressing. But during the warmer months it can be a recipe for unsightly sweat patches and overheating.
The good news is you can swap your OCBD for a linen shirt within most outfits and achieve a similar look. Try wearing a white linen shirt with chinos and desert boots. Or, for something even more relaxed, team a light-blue linen shirt with slim-fit shorts and loafers.
The Best Linen Shirt Brands
Luca Faloni
Crafted using only the finest Italian linen and mother of pearl buttons, Luca Faloni's linen shirts are tailored to perfection and ideal for crafting sophisticated high summer looks.
Available in a wealth of summer-ready colours and necklines, including its classic 'Paramontura' spread collar and a contemporary band collar, each oozes elegance and Riviera refinement.
L'Estrange London
London-based L'Estrange is on a mission to redefine the way modern men dress, stripping back the male wardrobe to the essentials and creating a modular clothing system that comprises seasonless, versatile pieces designed to be worn in any setting.
The label has recently a launched a carefully curated collection of its key essentials made from a comfortable blend of linen and cotton which are perfect for summer, including collar and collarless long-sleeved shirts with added stretch for a perfect fit. We particularly like the latter for their easy-wearing, athleisure vibe.
Vilebrequin
It wouldn't be much of a stretch to suggest that the linen shirt has resortwear DNA. Its airy nature and relaxed styling make it superbly suited to days spent flitting between beach and bar.
French brand Vilebrequin knows good vacation attire better than most, and it shows in its laid-back selection of beach-friendly linen shirts. Simply team one with some tailored swim shorts and you're good to go.
Flax London
Think linen is exclusively for summer? Flax London are here to convince you otherwise. The fledgling British brand is on a mission to challenge people's perception about how and where linen could be worn. Sourcing its fabrics from the renowned linen mills of Northern Ireland, they produce heavy winter linen shirts and workwear jackets which will quickly become part of your wardrobe year round.
An excellent way of bringing some unexpected texture to your cold-weather wardrobe, while offering all the same breathability and charm in the summer months.
A Day's March
What makes a great linen shirt? We'd say quality, looks and comfort come pretty high up the list and there are few brands better equipped to tick those particular boxes than A Day's March.
The Swedish label is committed to crafting only the garments that really matter, but doing so to the absolute highest of standards. Linen shirts, of course, are no exception. Plus, it's all direct to consumer, meaning you get a great-looking, high-quality garment for considerably less than it would cost you elsewhere.
Asket
Asket live by the motto, "The Pursuit Of Less". It's perhaps the only brand in the world that actually wants you to buy less, but better. They realise that the constant churn of fast fashion is catastrophic for the environment and therefore set out to change the way you think about buying clothes, creating "forever pieces" that are designed to last and be worn every day. Think of them as the building blocks for your capsule wardrobe.
To reinforce the point, the label only makes one linen shirt, but boy is it a beauty: made using 100% linen farmed in Normandy, it features a relaxed tailored fit that's ideal for hot weather, mother of pearl buttons and is available in 5 colourways. Ironically, we want them all.
Everlane
If you want to look good while doing good, Everlane has you covered. The eco-conscious brand only use the most ethical factories from across the globe, conducting an audit on things such as fair wages, reasonable hours and working environment before even considering striking up a professional relationship.
They also pride themselves on a concept deemed 'radical transparency'. Revealing the true cost behind all of their products – from materials to labour to delivery – it allows you to see exactly what you're paying for. And in the case of their 100% linen shirts collection, you're getting value in excess of double what other designer brands are charging. That makes them a bargain in our book.
Orlebar Brown
When it comes to premium resortwear with a hefty dose of personality, few labels are better equipped to deliver the goods than Orlebar Brown (featured image, top). The British label has earned itself a cult following thanks to its tailored swim shorts and photorealistic, beachy prints. However, it's output stretches far beyond just high-quality swimwear.
Check the brand out for a full range of luxe summer staples, including one of the best selections of linen shirts you'll find anywhere.
Uniqlo
Menswear is almost always a game of "you get what you pay for". But Japanese high-street retailer Uniqlo is one of the rare exceptions to the rule.
When it comes to stocking up on wardrobe basics, Uniqlo is difficult to beat, and it just so happens that men's shirting is the key area in which the brand excels itself. Flattering cuts and durable construction are par for the course, making these linen shirts some of the best value options around.
Club Monaco
Known for its affordable take on luxury, New York-based label Club Monaco has gained a cult following thanks to its modern take on classic pieces.
Shirting courtesy of the brand features slim fits, acute attention to detail and prices that won't leave you with a hole in your wallet.
Brunello Cucinelli
Brunello Cucinelli made a name for himself crafting colourful, cashmere sweaters. Today, his eponymous label is recognised for its ultra-luxe aesthetic and upscale casual wear.
Linen shirts are exactly the sort of thing this Italian brand knows how to nail. Relaxed yet refined and a welcome addition to any style-conscious man's summer shirting rotation.
Loro Piana
Much like Brunello Cucinelli, Loro Piana is a high-end, Italian label with its roots in cashmere. The brand was founded in 1924, but in more recent years has expanded its range to include everything from premium footwear to some of the finest linen shirts money can buy. Expect artisanal construction, breezy cuts and plenty of Riviera charm.