Founded in 1915, legendary New York City eyewear brand MOSCOT continues to go from strength to strength. Noted for quality, design and a unique style MOSCOT has always been a family run business and today, 2017, its Chief Eyewear Designer is 5th generation Zack Moscot. A formally trained industrial designer, Ape to Gentleman caught up with Zack to talk about design, style, and New York City.
You are fifth generation Moscot and the first family member to work as a designer. Tell us how you started to work with the brand and why the traditional eye-specialist route wasn't for you?
First generation, Hyman Moscot, was an optician as was second generation, Sol, and third generation, Joel. Harvey, my father and the fourth generation, is an optometrist and has spent years treating eyes. I am the first to join the business without an optical degree. Like my predecessors, I began working in the Shop as a young boy learning the MOSCOT ways. I never felt a particular connection to the medical aspects of eyewear or eyeballs, but I was strongly influenced by how a pair of glasses could change the way one feels about his or herself, and saw first-hand in the shops the perception and responsive attributes a pair of glasses can have. It was this connection to fashion and design that drew me in, and I realized then I could find my own unique position within the business. As a designer, I now have the opportunity to explore relationships between product, fashion, and optics — a combination of utility, necessity, and emotional aesthetics.
Why did you want to be part of the Moscot family brand, were you hooked from the start?
I always wanted to be a part of the club. Growing up in a family business, it's all you hear about at dinners, family barbeques, and events. I've always been proud to be a Moscot, as I understood what the name meant to the generations before me. My grandfather taught me that being humble, honest, and doing things for the right reasons, is how business is conducted at MOSCOT and he believes this is why our customers trust us and continue to return to our Shops for generations. The Moscot's have long taken great pride in providing optical expertise and a memorable in-shop experience to our fans and customers, and it is this kind of passion that continues to draw me in.
What and where did you study design? I heard you did a stint in Copenhagen? How was that culturally?
I studied industrial design at the University of Michigan in Ann Arbor. Studying at such a large university was truly an amazing experience, given the breadth of resources in technology and machinery available to students. I also spent a year in Copenhagen studying product design, and as a young designer then, the experience was both culturally engaging and eye-opening. Learning and seeing through the lens of Scandinavian fashion and design provided me with an understanding of functionalistic design—the combination of simplicity and minimalism, with classical design principles. Being able to fully immerse myself in a new culture was very rewarding.
So your first major collection was launched at MIDO, the Milan eyewear show. How did that feel?
Quite humbling and exciting. I have learned so much since my first release several years ago, but to be able to present your designs at an international show with a diverse customer group was electrifying. There is a great appreciation for our heritage brand and evolving story in Italy, and there's nothing more fun than sharing your passion with likeminded eyewear purveyors.
What is the inspiration behind the collection? You have eight new Originals frames right?
The Spring/Summer 2017 release is influenced by the 70s and 80s, within a contemporary yet historic setting of the Lower East Side. The new MOSCOT/Originals models feature  double bars and hues of shiny gold that really pop and make a statement. These larger sized silhouettes are fun, daring, and say, "I know my eyewear and I know how to be bold!"
MOSCOT has two main branches of Originals and Spirit frames, talk us through each of them?
The MOSCOT/Originals Collection harkens back to decades' past of MOSCOT and downtown New York City culture. We turned 102 years old in January, so that means we have a lot of styles in our archives to choose from! We look for classic and timeless models that we believe are universal in design, fit, and transcend multi-cultural fashion. Like a white t-shirt, blue jeans, and wing-tip shoes, MOSCOT frames are classic.
The MOSCOT/Spirit Collection consists of new designs but maintain the same DNA as The MOSCOT/Originals in quality, materials, construction, and colour palette . I have more freedom to explore new concepts in design and technology, but at the end of the day, both collections are distinctly MOSCOT and maintain a core identity that is classiconic™.
It seems like MOSCOT, a traditionally New York City centric brand with loads of history is really on the front foot following the first European shop opening in London in 2015, how have things changed since this happened?
Honestly, at the heart of MOSCOT, not much has changed – we are constantly striving to make our loyal fans and customers happy by providing a memorable experience and timeless, quality eyewear. We remain family-owned and operated for over 100 years! We would like to continue sharing our unique story with the world, and through our stockists — the specialty retail and optical shops in neighbourhoods and cities that are reminiscent of the MOSCOT DNA — is a great way to get our message across.
And since then we are about to see another addition in Rome. Why Italy? Why Rome and not Milan or Florence?
My father always says, "We were born on Orchard Street and we will die on Orchard Street." The Lower East Side of Manhattan is ingrained in who and what we are – a neighbourhood has and continues to represent artistic, creative, and free-spirited individuals. Similarly, Rome shares many of these elements, and is symbolic of a city that embraces art, culture, history, and appreciates beauty in its simplest form.
The campaign images are great, are you going to be doing more of this type of thing for collections moving forward? It feels more like a global fashion brand no?
MOSCOT is a home-grown, quirky brand but it is important to remain fun, sexy, and at the forefront of fashion! Many of these new models lend themselves to editorial fashion shoots, and there's really no better way to tell a good story without models. We'll certainly be exploring more campaigns such as this, so long as MOSCOT's core elements of fashion, heritage, and humour are incorporated.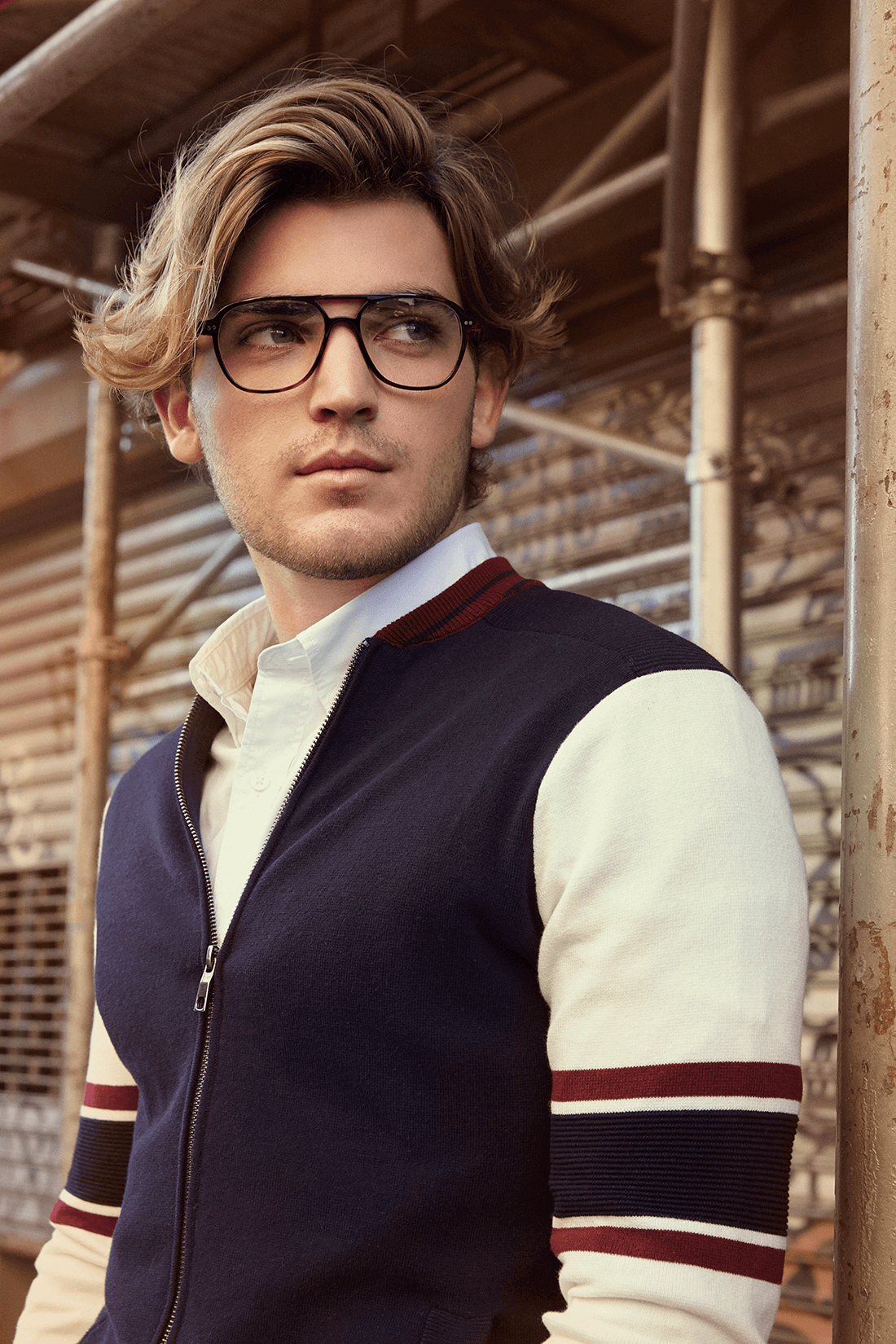 No doubt you feel pressure to deliver, how does that work being part of the family and your father being the fourth generation CEO and President? Is he on your back a lot?
You could say that! Truthfully, we're on each other's backs quite a lot, but we're also on the same side! Anyone in a family business knows there are pros and cons, but there are some amazing things as well, such as being able to work with your dad everyday. We have a tight relationship and it's incredible to be able to spend everyday together doing what we love most – curating our brand name, making high quality eyewear, and building relationships in and out of the house.
We've felt the unique MOSCOT experience in the London shop, such character and a bespoke style. This will always remain, but where do see the brand evolving?
It has always been our goal to ensure every MOSCOT Shop feels cozy and welcoming, as if you were going home. The surrounding tchotchkes on display, warm cherry wood showcases, and vintage New York City artefacts are what makes MOSCOT, MOSCOT. While we hope to slowly and carefully grow our brand with varying omni-channel solutions, the feeling of home is never far from our minds, in making  and make sure that it is felt with any MOSCOT experience, through any medium or any form.
We'd love to hang-out in New York and want to become friends, how welcome are newbies into the MOSCOT family?
With opens arms! We love newbies and are quite used to them at our flagship shop on Orchard street! Across the street from the tenement museum, we are always excited to explain our story and share our history and products with new MOSCOTeers! Please come visit us in NYC and if you're lucky, Frank or Marilyn will be standing behind the counter to help you – MOSCOT family experts, serving loyal fans and customers for over 40 years!!!
What inspires you Zachary? What things do you like to do?
Outside of the world of eyewear, I enjoy playing and writing original music with my guitar. Both my parents are quite creative and have impressed upon me free expression, which I find comes easiest with some strings.
Leave us with a Moscot motto that the family always will believe in?
You must know your past and where you come from in order to craft your future.