Top 10 Smoky Whiskies You Should Try In 2023
Smoky whiskies, and their warming characteristics, are perfect for the autumn and winter months. However, they can divide opinion in a way that any unique or extreme flavour profile can – just think of Marmite, very spicy food or similar. But if you like strong and expressive flavours, then you really need to try a smoky whisky.
What Makes A Whisky Smoky?
The answer is anything that is combustible. However, the main component that creates smokiness in whisky is peat. Peat is formed by vegetation being compacted over thousands of years. It has been used as fuel for centuries. The peat was traditionally dug and harvested in spring when at its wettest, dried over the summer months and used throughout autumn and winter for heating, cooking and preservation of meat and fish.
As the only available fuel, peat was also used in whisky production Scotland and Ireland to dry barley at the end of the malting process. The barley is laid on a mesh floor with a peat fire lit underneath in a kiln. As smoke rises through the mesh floor and barley, it dries the grains and kills them. Compounds within the smoke, such as phenol, get locked into the barley and it is these that you smell and taste in your final whisky.
The Best Tasting Smoky Whiskies
The practice of drying barley with peat has become less common with the invention of modern technology and fuels. However, some distilleries remain loyal and are known for this robust and bold style of whisky. Here we look at 10 to try, covering both traditional and contemporary styles.
Ardmore Legacy
The Ardmore distillery sits in the east Highlands of Scotland at the highest point of the Aberdeen-Inverness railway line. Unusually for a Highland single malt, Ardmore is lightly peated and this is used predominantly to give the famous Teacher's blend its delicate smoke. But some is released as Ardmore and the Legacy kicks off their small range.
The use of Aberdeenshire peat gives a soft, gentle and sweet heather-like smokiness, and all at a good price. A true undiscovered gem.
Caol Ila 12 Years Old
When most people think of smoky whiskies, they think of one place: the Scottish island of Islay. The 'Queen of the Hebrides' is known for the peated style with all nine distilleries producing it for some or all the year.
The largest of these is Caol Ila, which sits on the rugged east coast of Islay overlooking the neighbouring island of Jura. The 12 Years Old is ashy and malty with notes of oat biscuits mingling with dying bonfire embers, damp earth and sweet honey. Underrated and fabulous.
Hakushu Distiller's Reserve
There are not many smoky Japanese whiskies, but Hakushu is the best known. The distillery is owned by the House of Suntory and plays an important role in their popular Hibiki blends. Hakushu was built in the 1970s and sits high on a mountain plateau within a forest, which somehow translates into a distinct green freshness rarely found in whisky from elsewhere.
Delicate and herbal smoke gives a sublime elegance and a luxurious air of refinement.
Johnnie Walker Double Black
Johnnie Walker is the biggest selling Scotch whisky brand in the world. It outsells its nearest competitor by almost two to one and the regular Black Label contributes heavily to these impressive sales figures.
However, Double Black takes the inherent smokiness to a different level. Firstly, more peaty whisky is added to the blend, and then the blend is matured in heavily charred barrels, which further dial up the smoke and spice.
A powerful whisky and excellent example of a smoky blend.
Buy now at The Whisky Exchange
Laphroaig 10 Years Old Sherry Cask
The iconic Islay distillery of Laphroaig is the biggest selling Scotch single malt brand in the smoky and peaty genre. The classic 10 Years Old accounts for a large percentage of sales but it has recently been joined by this delightful sibling.
The whisky has been finished in ex-sherry casks for a short period prior to bottling, which has given a fabulous extra richness and sweetness. This balances superbly well with the high-octane level of medicinal and acrid peat smoke of Laphroaig.
Mackmyra Svensk Rök
Svensk Rök translates as 'Swedish Smoke' and this wonderful offering from Mackmyra shows that good smoky whisky is not just from Scotland. Peat from an area to the north of Gävle, Mackmyra's home city on Sweden's eastern coast, is burnt with juniper twigs from local forests to create a woody and herbaceous smokiness. This extra dimension elevates the whisky to a new level.
Worth a try if you want something a little quirky and different on your whisky shelf.
Peat Monster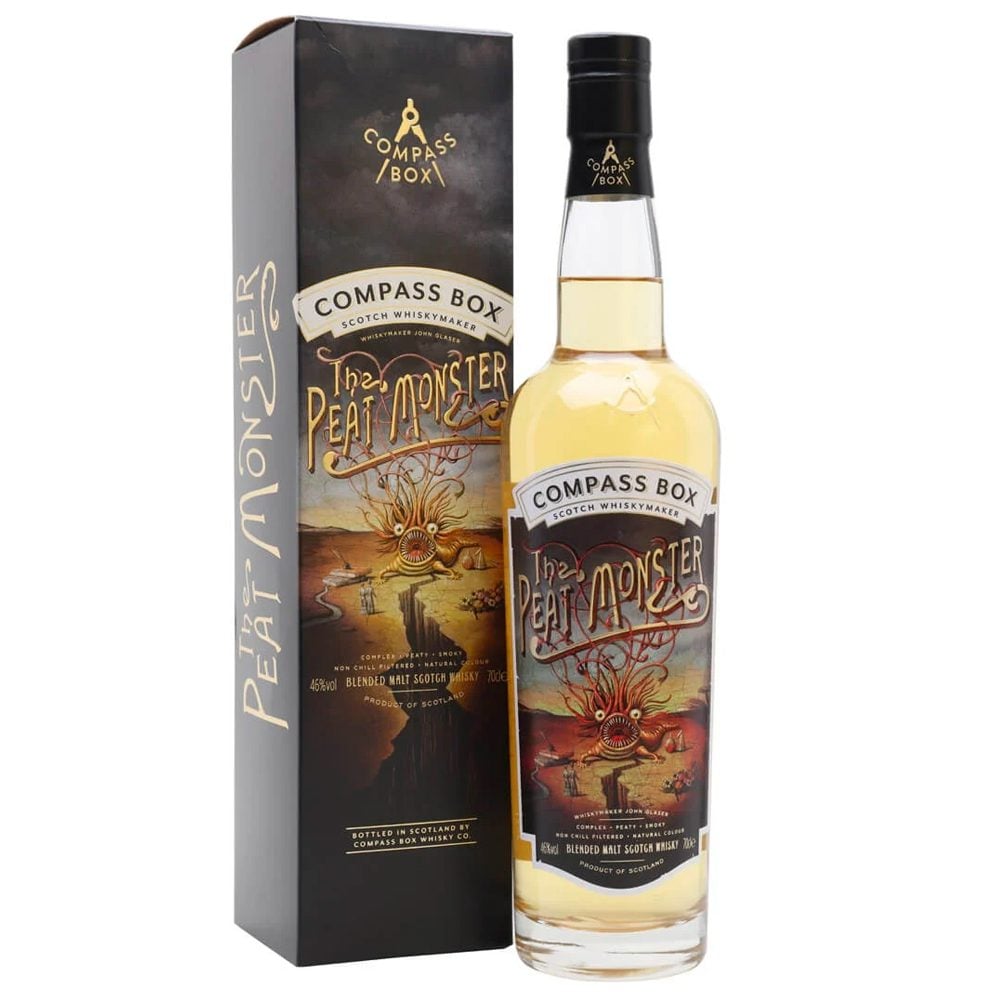 The name gives this whisky away – it is packed full of peaty smoky aromas and flavours. Sreated by the artisanal blending house of Compass Box, it was one of the first commercially available blended malts on the market.
Peat Monster uses smoky single malts from Islay and the Highlands to create its hefty character. The Islay whiskies give a medicinal quality with plenty of salinity, while the Highlanders offer softer and gentler smoke. This monster is an absolute stunner.
Buy now at The Whisky Exchange
Port Charlotte 10 Years Old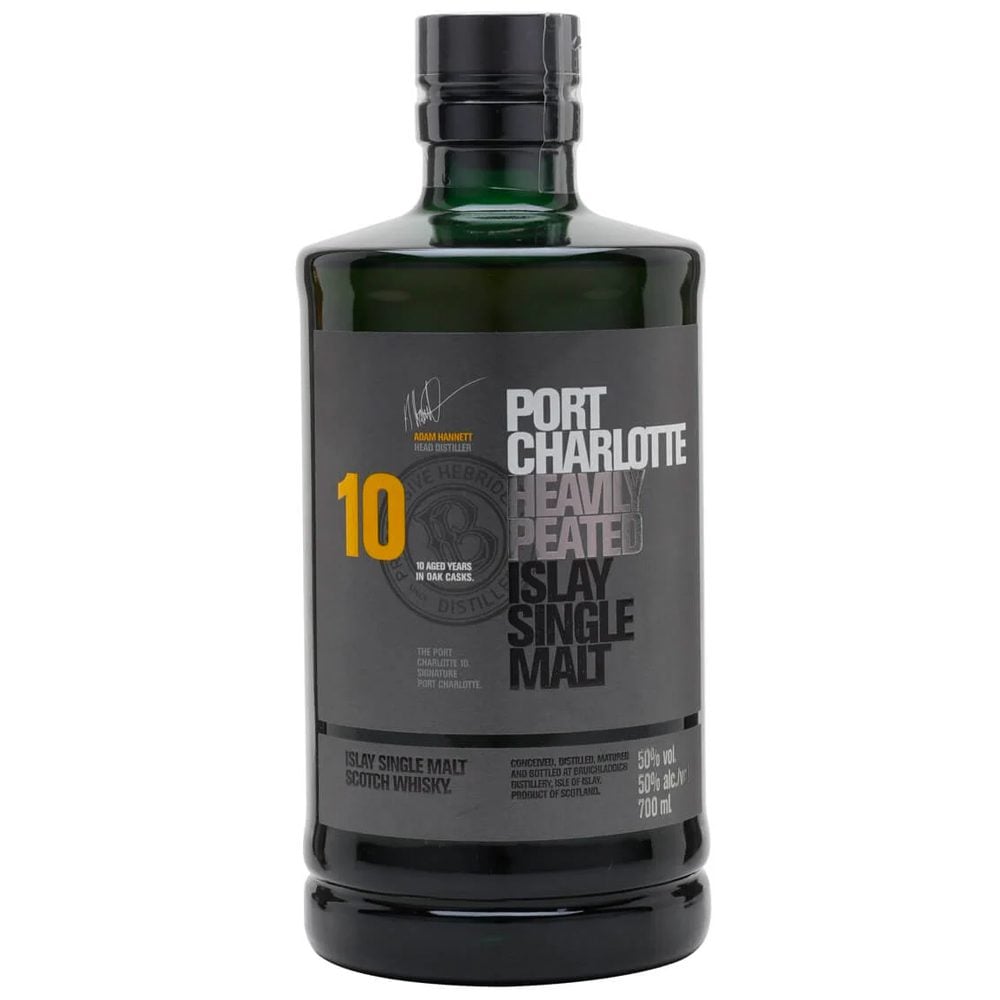 The village of Port Charlotte is close to the Bruichladdich distillery on Islay, who give the name to their peated spirit. Bruichladdich sits on the remote western side of Islay and has been reborn after troubled times at the end of the 20th century.
The Port Charlotte whiskies sit alongside the non-peated Bruichladdich and heavily peated Octomore ranges. The 10 Years Old is full of earthy and mineralic notes that transport you straight to Islay. Bold, smoky and delicious.
Stauning Smoke
This delicious offering from the award-winning Stauning in Denmark shows off a contemporary style of smoke. Local peat is collected from close to the distillery in Jutland with local dried heather added to the peat fire. This creates a unique style of smoke in the kiln that permeates the cereal grains.
The result is sweet, soft and elegant smokiness that wisps around the other characteristics superbly. A fine example of what is coming out of the new world of whisky makers.
Wire Works Small Batch
Peat is not just found in Scotland and Ireland but also across large areas of northern England, stretching as far south as the Peak District. This is where the White Peak distillery is based, and they decided very early on to use local peat to produce a lightly smoky spirit.
Distillation only began in 2018 but the small craft distillery has already made a name for itself with a handful of award-winning Wire Works releases.
Soft and deliciously earthy, this would be perfect for a smoky whisky beginner.