Sneaker Reselling: Everything You Need To Know To Make Money
We've all heard the stories about the 16-year-old kids who've out-earned their parents by selling Yeezys on the internet. They might sound a tad farfetched to the untrained ear, but make no mistake, sneaker reselling is big business.
What started out as a niche market for hobbyists, collectors and fanatics is now a booming billion-dollar industry that spans the globe. Successful businesses have been built off the back of it, countless millionaires have been made and it's all the result of simply buying and selling sneakers.
Maybe you're thinking of having a go yourself, or perhaps you're just curious about how the whole thing works. Whichever it is, hopefully our guide to the basics of sneaker reselling will help you to figure it out. From raffles to bots, here's everything you need to know.
What Is Sneaker Reselling?
It might seem like a stupid question, but sneaker reselling is far from simple. This is a rapidly growing global market that has been valued at over $1billion. If you have the right pair of sneakers, they could be worth anywhere up to $100,000. It's no wonder so many people are keen to get involved, but there's a lot to know if you want to be in with a chance of copping a pair of limited-edition kicks. Let alone reselling them at a large profit.
In a nutshell, sneaker reselling is all about buying low and selling high. The trick is knowing which releases are likely to command a significant price premium on the secondary market and targeting them with everything you've got. How do you know? That can only really be achieved through research and experience. It's a good idea to keep an eye on upcoming drops too. Websites like The Drop Date and Sneakernews are useful for this.
There are sneaker releases every day, but it's the ones with limited numbers that are likely to fetch the highest prices as they will sell out fastest. Brand collabs and rare colourways are some of the drops that tend to boast the highest resale value. Look at the recent Dior x Air Jordan collaboration, for example, which can now fetch up to $10,000 on the resale market.
The Tools Of The Trade
Copping a limited-release sneaker online is invariably a fruitless endeavour. This is because it's never a fair fight. Seasoned sneakerheads and resellers have lots of tricks up the sleeves of their Supreme box-logo hoodies to ensure they get the goods, and unless you're wise to them, you're never going to stand a chance.
First up, bots. These software applications do things like auto-fill payment and delivery details instantaneously, accelerating the checkout process. They've been a scourge on the sneaker community for many years now but are a necessity for anyone attempting to get hold of hyped sneakers online. They're often built by sneakerheads turned amateur developers and can cost well into the hundreds.
Then there are what are known as 'cook groups'. These are online communities in which users pay a fee to access inside info on upcoming drops. They're usually hosted on Slack or Discord and include collectors, resellers and elite sneakerheads.
Sneaker Raffles Explained
One of the tactics retailers have been implementing in recent years to combat bots and week-long shopfront campouts is the use of raffle-only releases. The idea is that anyone who wants to cop a particular sneaker will fill in their details ahead of the release and 'winners' will be selected at random on the day of the drop.
Raffles can be in-store but most are online. Buyers fill in their payment and shipping info ahead of time and if they win, the amount is automatically taken from their account and the sneakers are shipped.
The trouble is, modern bots can also be used to put mass entries into raffles, which means those who use them still have the edge.
5 Of The World's Most Valuable Sneakers Right Now
Sneakers can be expensive. Really expensive. To give you an idea of just how much rare sneakers can be worth, here are five of the most valuable pairs in the world right now according to online sneaker trading platform StockX (featured image, top).
Nike MAG Back To The Future (2016)
Fans of Back to the Future will recognise this as a replica of Marty McFly's self-lacing sneaker. In 2016, 89 pairs were released and the most recent pair sold on StockX went for £36,892.
Nike Dunk SB Low 'Yellow Lobster'
Your odds of finding a yellow lobster are roughly one in 40 million. That's where the concept for these ultra-rare Nike SB Dunks comes from. Only 34 pairs were made for Nike SB friends and family and the last sale on StockX was £12,175.
Nike Air Jordan 1 OG 'Bred' (1985)
Arguably the shoe that sparked the birth of sneaker culture, the original Air Jordan 1 was the first sneaker in the Air Jordan line. The NBA famously banned this particular colourway for breaking regulations and it currently fetches over £11,000 on StockX.
Nike Air Jordan 4 Retro Travis Scott Purple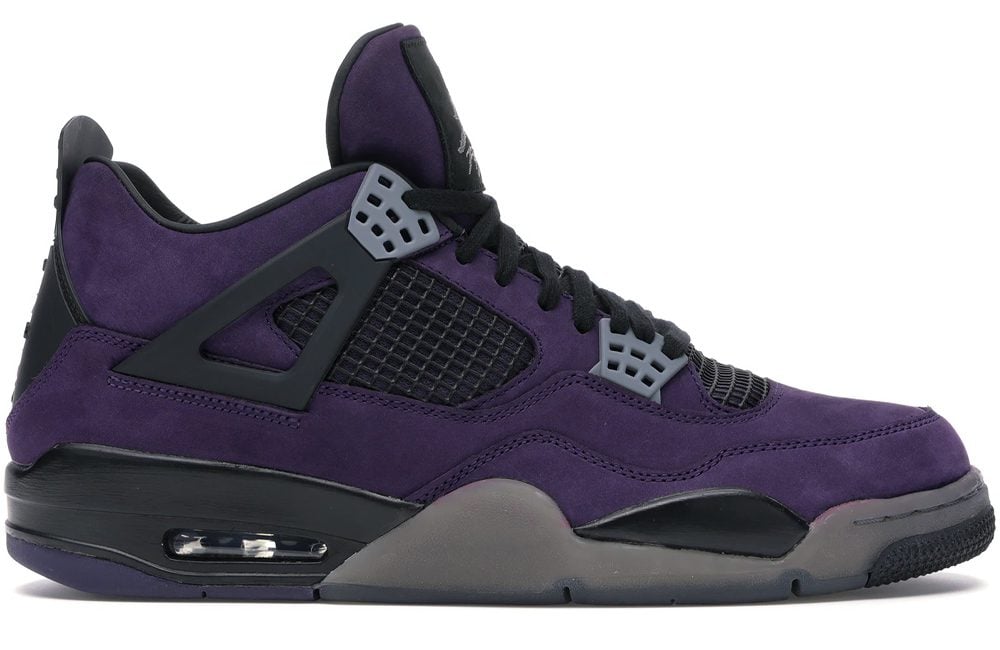 Sneakerheads went wild for these purple suede Jordan 4s when they spotted Travis Scott wearing them in 2019. Unfortunately, Nike only gave a small batch to friends and family, making finding a pair near impossible. The going rate on StockX is currently £19,000.
Nike Dunk SB Low 'Paris'
These ultra-rare Dunk SB's are made from the printed artwork of Bernard Buffet and no two pairs are alike. Rumour has it that only around 200 pairs were ever released and the average sale price is somewhere in the region of £20,000.
The Best Places To Buy And Sell Sneakers
One of the fundamentals of sneaker reselling is knowing where to buy and sell. There are hundreds of online marketplaces and bricks-and-mortar shops dedicated to rare sneakers. In our opinion, these are a few of the best.
StockX
StockX is an online bid/ask marketplace and one of the most popular platforms for sneaker reselling. Buyers place bids, sellers place asks, and when the two match up, a transaction happens automatically. It's also a great place for keeping an eye on going rates as it allows you to see metrics like price trends and popularity for specific shoes in real-time.
Flight Club
Flight Club's New York City store became a cultural hub for sneaker resellers long before online reselling took off. It's known for dealing in seriously rare sneakers and catering to celebrity clientele. The store works on a consignment model, but if you can't get your sneakers to the shop in person, there's an option to mail them in instead.
GOAT
There's no shortage of online services for buying and selling rare kicks, but GOAT lives up to its name. Like others, the service works on an auction format and then acts as a middleman, authenticating a seller's sneakers before shipping them to the buyer.