Value Drams: 10 Of The Best Whiskies Under £50 A Bottle
There are many great whiskies that sit in the under £50 category so it can be very difficult to choose which to buy.
Here are a few 'must haves' for your collection that cover various styles and combine a mixture of all-time classics, underrated gems and the occasional curve ball.
Arran 10 Years Old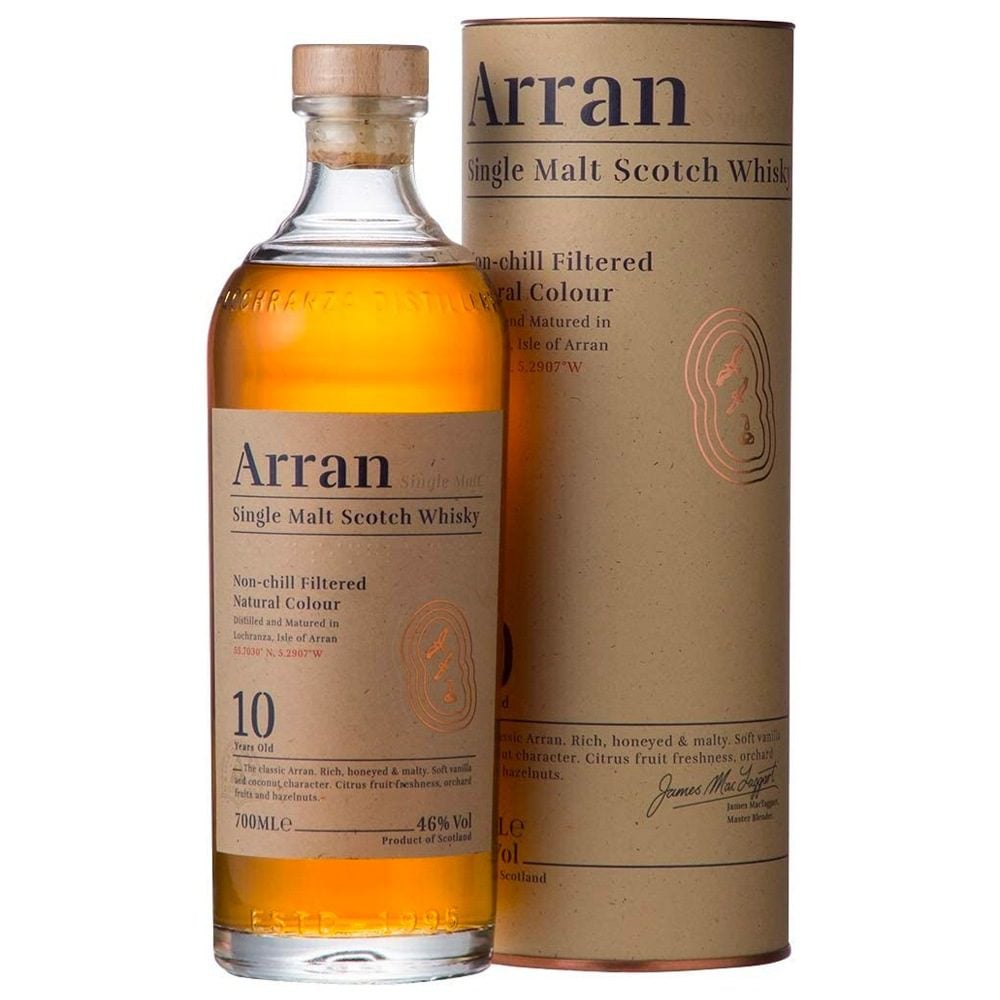 Arran was well ahead of the Scottish craft whisky movement when founded nearly 30 years ago in the early 1990s. It became the first legal distillery on the island of Arran for over 140 years and has gone on to great things. The 10 Years Old is the cornerstone of the popular core range and first appeared back in 2006.
What to expect: gentle, soft and highly fragrant with plenty of green apple and pear combining with honey, vanilla, golden syrup and a good pinch of baking spices.
Balvenie 12 Years Old Doublewood
This Speyside single malt is a timeless classic. Balvenie was a trendsetter back in the early 1990s as they were one of the first to introduce the concept of finishing. First maturation was in American oak ex-bourbon barrels and then transferred to European oak ex-sherry casks for a shorter period, hence the Doublewood name.
What to expect: butterscotch, toffee and dried fruits mingle with vanilla, honey, nuts and woody spices to stunning effect. So good that it is almost unbelievable.
Bushmills 10 Years Old
Bushmills in Northern Ireland is the world's oldest licensed distillery and dates back to 1608. It sits just a few miles from the fabulous natural wonder that is The Giant's Causeway and is a great place to visit. The 10 Years Old is an approachable, refined and delicious example of triple-distilled Irish single malt.
What to expect: light and fruity with a delicate honeyed sweetness, green apple, refined wood spices and underlying cereals. So velvety in the mouth. This is elegance personified.
Chivas Regal 12 Years Old
One of the world's best-selling Scotch blended whiskies and has been for decades. This blend is a cracking combination of largely Speyside and Highland whiskies and is also one the most awarded whiskies. It regularly scoops high prizes in competitions around the globe. Think blends are rubbish? Try this exquisite example and then tell us that.
What to expect: a delicious blend of honey, dark dried fruits, vanilla, cereal, nuts and earthy spices. It is just so fragrant and flavoursome. Great value for money.
Buy now at The Whisky Exchange
Glendronach 12 Years Old
An absolute stunner from the east Highlands of Scotland. Glendronach is known for its use of old sherry barrels and has been for a long time. Very few do this style of whisky better. The brand's 12 Year Old single malt combines two styles of sherry – medium dry ex-Oloroso casks and sweet dessert ex-Pedro Ximenez casks. The result is amazing.
What to expect: a rich mix of caramel, toffee and dried fruits (especially sultanas) with further notes of toasted nuts, candied orange and a hint of black treacle.
Glengoyne 12 Years Old
Glengoyne sits on 'The Highland Line' that separates the Scottish Highlands from the Lowlands. The distillery is technically in the Highlands, while the warehouses are in the Lowlands. They make a very slow and considered single malt and this 12 Years Old is a fabulous example of what they do at a price point that doesn't break the bank.
What to expect: soft and fruity with green apple, sultanas and raisins followed by vanilla, coconut, milk chocolate and a late oaky dryness. A great all-rounder.
Buy now at The Whisky Exchange
Nikka From The Barrel
This Japanese whisky has been around since the mid-1980s but has gained huge popularity outside of Japan in the last decade. The blend is said to contain a complex mix of over 100 single malt and grain whiskies, and is bottled at a high strength as if coming straight from the barrel.
What to expect: multiple layers of aroma and flavour, punchy and bold with plenty of warming spice and pepper followed by caramel, dried fruits, robust cereals and a lovely twist of orange peel.
Springbank 10 Years Old
Nowadays many drinkers are looking to support traditional brands and they do not come much more traditional than Springbank. Owned by the same family since 1828, Springbank shuns modern technology and maintains a hands-on approach to whisky making. This single malt from Campbeltown is a true hall of famer.
What to expect: earthy and slightly peaty with notes of malty cereal, toffee, vanilla and heather honey with a lovely creamy feel.
Starward Left-Field
Starward is Australia's rising whisky star. The Melbourne-based distillery marries quality with a mischievous sense of innovation, and to great effect. Left-Field is no different and skillfully combines whisky matured in three different Aussie red wine barrels from the Barossa and Yarra Valley regions.
What to expect: big, bold and sweet dried fruits with toffee, caramel and warming baking spices with a pleasantly dry and slightly tannic finish.
Talisker 10 Years Old
Another classic Scotch whisky, this time from the rugged island of Skye. This single malt carries the 'made by the sea' tagline and you can taste it. Close your eyes, take a sip and Talisker transports you straight to the Hebrides. If you like smoky whiskies, then this simply has to be on your shelf.
What to expect: a fabulous marriage of salty sea spray, seaweed, tangy and peppery peat smoke, butterscotch and toffee alongside malty cereals and caramelised pears.