Everyday Essentials: 5 Casual Shoe Styles Every Man Should Own
Sometimes dress shoes are overkill and sneakers are just too sloppy. That's when you need something that sits in between those two extremes. It's this type of day-to-day footwear that we refer to collectively as 'casual shoes'. And no man should be without them.
The term 'casual shoe' is fairly broad and encompasses many different styles. Generally speaking though, these are versatile silhouettes made from leather or suede that are distinctly unsporty and typically presented in a more varied colour palette than their dress-shoe counterparts. Think beige, brown, blue and – if you're feeling brave – beyond.
Consider them your daily drivers; the type of shoes you can count on for work or play. These are what you'll be reaching for most mornings, so they're worth giving some careful consideration. To help, we've rounded up the five key styles you need to know and the reasons why each one is deserving of a place on your shoe rack.
Suede Derbies
Admittedly there is some overlap when it comes to Derby shoes. Some styles can actually be more smart than casual, black leather in particular. However, when rendered in suede and finished in a lighter colour, the Derby shoe becomes a casual classic, better suited to slumming it with jeans than striding around with a business suit.
A Derby is defined as a round-toe shoe that features an open-lacing system. This means that the pieces of leather featuring the eyelets are stitched onto the upper of the shoe. It's generally considered less formal than the closed-lace system seen on its dressier Oxford cousin.
Why You Need Them
The suede Derby sits at the smarter end of the casual-shoe spectrum, making it a great choice for occasions like dates, evenings out and anything that requires a smart-casual dress code. It's a step up from a desert boot, but a step down from a polished leather Derby and a valuable ally when the time comes to dressing up without going OTT.
Suede Loafers
With their polished look, traditional leather loafers are best suited to smarter attire. But if you want to take the same style into a casual setting, all you need to do is change the material.
The term 'loafer' is pretty broad but it generally includes anything with a slip-on design and a moccasin-style toe. Outside of that, pretty much anything goes. Opting for suede over leather gives the shoe a more laid-back feel that lends itself nicely to anything from soft tailoring to shorts.
Why You Need Them
Loafers have long been the footwear of choice for dandy gents and our Mediterranean cousins. So, if you're looking for something with a bit more personality than a classic Derby or desert boot then this could be a good option. They're also surprisingly versatile and easy to style as long as you stick to the basic formula of keeping legwear either cropped or cuffed and garments well-fitting.
Desert Boots
Popularised by Clarks in the 1950s, the desert boot quickly became a menswear mainstay. Today, this iconic footwear style is widely regarded as a design classic and has managed to remain stylish and relevant for more than a quarter of a century.
The shoe is easily identifiable by its simple, uncluttered styling, mid-top silhouette and crepe sole. Leather versions do exist but suede is the classic option and colours range from subtle earthy and pastel tones to outlandish prints. We'd recommend sticking to the former.
Why You Need Them
Put simply, the desert boot is a true does-it-all piece of footwear. Outside of formal attire, there are no limits to how it can be styled and for that reason, it's well worth having in your rotation. The mid-top design makes it well suited for all seasons while the simple styling means it can step from outfit to outfit with ease.
Espadrilles
With a history that can be traced back over 4,000 years, it's fair to say that the humble espadrille has earned its place in the footwear hall of fame. This simple summer shoe has long been a staple of Southern Europe and is as stylish today as it ever was.
With a minimal canvas upper and rope sole, the espadrille is fundamentally casual and about as basic as a shoe can get. But that's all part of its charm. It's the footwear of convenience; something that can be slipped on and off with ease. The good looks are merely a bonus.
Why You Need Them
Espadrilles are a great summer option for those who dislike sandals. They're also ideal for holidays when you need something easy that you can wear from beach to bar to evening meal. The good news is they're extremely affordable too. That said there are plenty of upscale options around if you want something a little more sophisticated with a number of contemporary examples featuring suede uppers.
Driving Shoes
It probably won't come as much of a surprise to learn that driving shoes have their roots behind the wheel. They were originally designed to be changed into before driving and boast flexibility and grip that makes them sturdy and comfortable on the pedals.
Today, they've been replaced by more technical styles in the world of motoring, but in menswear their appeal has remained. It's all thanks to their moc-toe styling, slip-on design and the signature pebble sole that differentiates them from their cousin, the loafer.
Stick to suede styles and don't be afraid to experiment with colour – the eccentric nature of this shoe affords you some tonal freedom.
Why You Need Them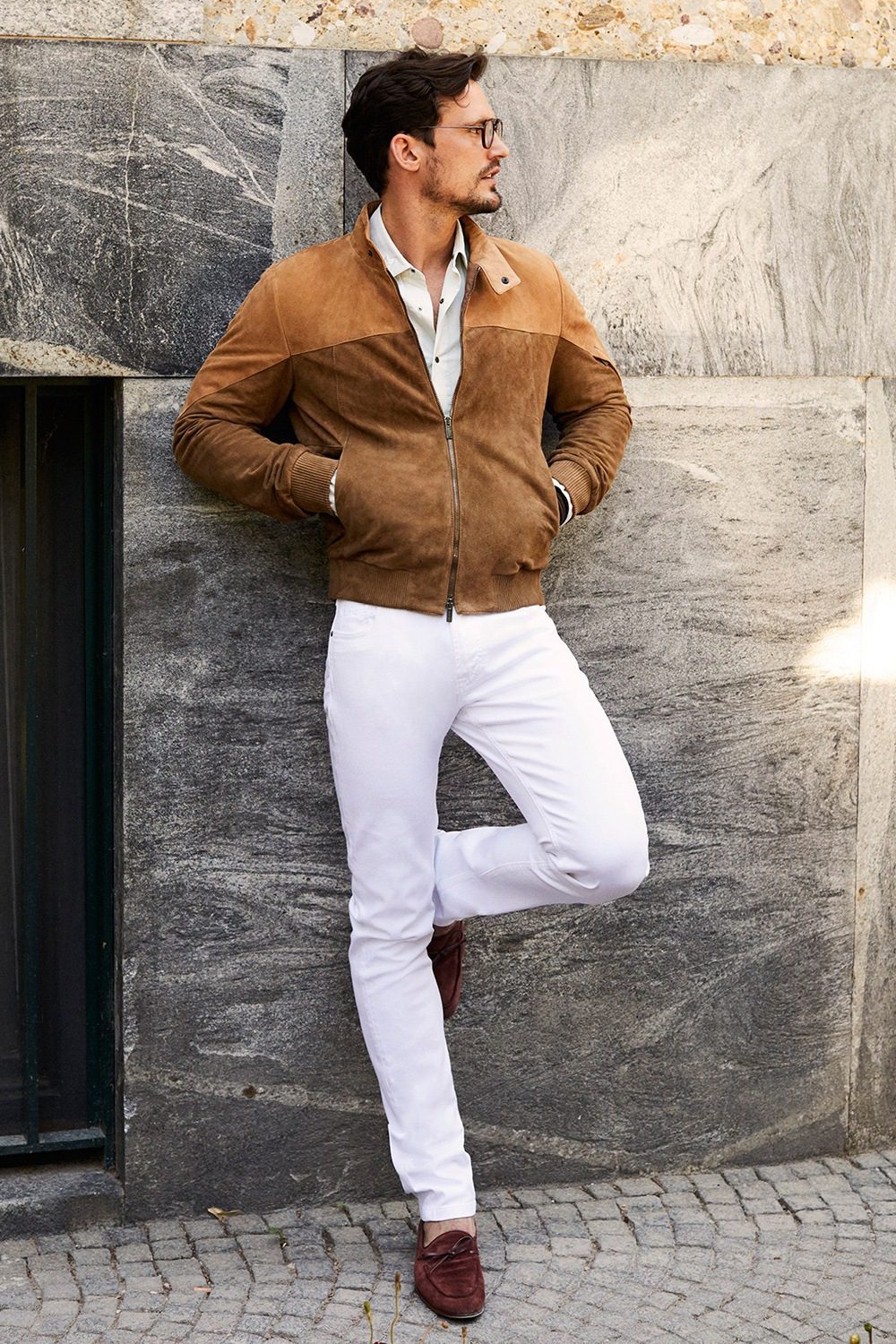 Where a traditional loafer can be either smart or casual the relaxed look given by the driving shoe's pebble sole makes it a casual shoe through and through. It's well suited to the warmer months with its slip-on design and can work well with shorts when worn with no-show socks.
Steer clear of pairing it with ill-fitting denim though, lest you enter Jeremy Clarkson territory. We're sure we don't need to tell you but that's not a place you want to be.