11 Most Stylish Men's Sandals For Summer 2023
Sandals have long been looked upon as the antithesis of cool. They were always associated with decidedly unsexy words like "practical", "sensible" and "comfy". The sort of words likely to inspire elderly deep-vein thrombosis sufferers to invest in a pair, but young stylish men? Surely not.
You couldn't be blamed for thinking this way, but we'd urge you to reconsider. For while the existence of uncool sandals is impossible to deny, open-toe footwear doesn't have to look like it stepped straight off an advert on the back page of Retirement Today. Know which styles to shop and the brands doing them best and you can take your summer footwear game from OAP to GOAT.
To aid you on your quest for the best sandals around, we've done the hard work and handpicked some of the most tasteful options. From luxurious leather slides to quirky canvas straps – these are the sandals to invest in this summer.
Leather Slides
Grenson Chadwick Sandals
Hailing from the shoemaking mecca of Northamptonshire, Grenson is no stranger to fine footwear. Of course, this usually takes the shape of an Oxford wingtip or a Goodyear-welted Derby but summer shoes haven't been overlooked.
Take this fine leather sandal, for example. Its calfskin upper oozes quality while a ripple sole adds a dash of that contemporary character for which Grenson has long been known and loved.
John Lobb Cross Leather Sandals
British shoe and bootmaker John Lobb has been in business since 1849, making some of the finest footwear on the face of the earth. The brand's black leather Oxford shoes are some of the most coveted around, but we'd be lying if we said they look good with shorts. Thankfully, that problem has been addressed in the label's leather sandals, which retain the feel of a dress shoe in a package that wouldn't look at all out of place at the beach.
A.P.C. Colas Sandals
A.P.C. has a knack for taking the most basic of designs and making them look sleek and elegant. Clean lines and uncluttered styling are two threads that run through all of the French brand's output and sandals are no exception.
The Colas sandal features cross-over leather straps and a cork footbed for comfort. Perfect for whisking away on holiday or just day-to-day summer duties at home.
Rubber Sliders
Adidas Adilette Sliders
Sandals don't have to be made from premium materials and cost the earth. Sometimes all you need is a daily beater that looks good and that you don't have to worry about ruining. Adidas' rubber sliders are affordable, stylish and although they do feature Three Stripe branding, it's not as in your face as a giant logo. No wonder they're some of the most popular slides around.
Gucci Web Sliders
Admittedly, £180 is quite an investment for what is essentially two lumps of rubber. Still, we'd be lying if we said there wasn't something alluring about Gucci's sliders. There's no shortage of designs to choose from but it's the simplicity of the signature green and red web version that really caught our eye.
Plus, the latest iteration features a chunky commando tread to the sole. All the better for keeping your footing around slippery poolsides.
Thongs
Orlebar Brown Haston Flip Flops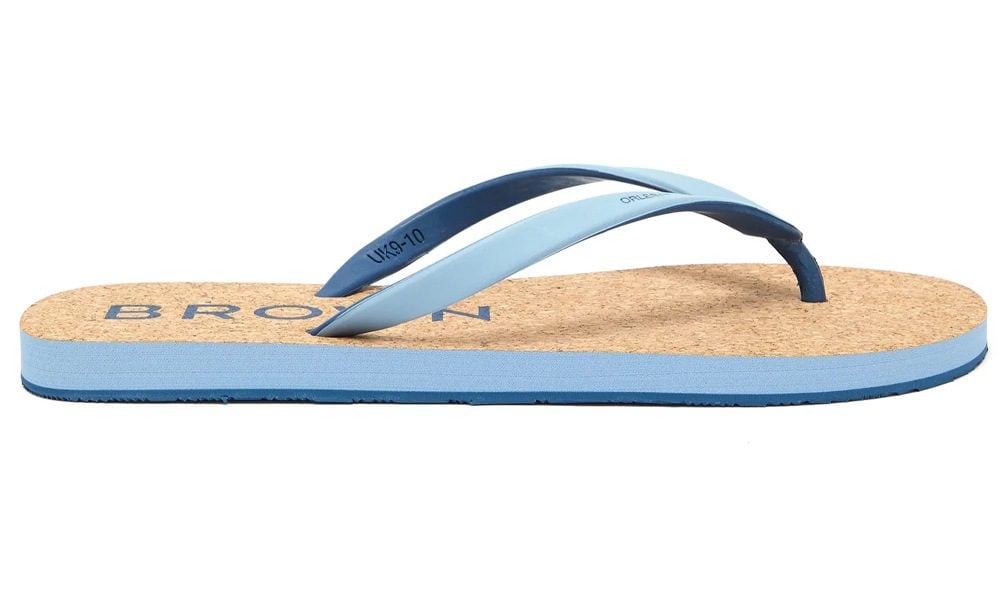 Orlebar Brown has carved out a niche for itself crafting some of the slickest resortwear in the world. The British label's tailored shorts started a revolution in swimwear, centred around form-fitting cuts, premium fabrics and photorealistic prints.
Staying true to the theme of beach-friendly luxury, the brand's footwear offering is packed with style-conscious takes on summer essentials. Think cork footbeds, subtle branding and a calming colour palette.
Vilebrequin Coral-Print Flip Flops
Admittedly, the French have a bit of a reputation for favouring budgie smugglers at the beach, but not where Vilebrequin is concerned. This premium label from Saint-Tropez is responsible for some of the most stylish swim shorts we've ever laid eyes on – and there's not a banana hammock in sight.
Amongst the brand's highly desirable collection of resortwear you'll also find a wide range of flip flops featuring some eye-catching yet tasteful prints. Perfect for bringing a touch of personality to your poolside attire.
Brunello Cucinelli Striped Grosgrain Flip Flops
Not everyone can justify spending upwards of £200 on a pair of thongs. Still, if you're one of the lucky few then Brunello Cucinelli is the label you should be giving your money to. The Italian brand has long been known for its upscale take on casualwear, which can still be seen even in something as basic as a sandal.
Expect Italian craftsmanship, high-end materials and plenty of that understated sophistication for which Brunello Cucinelli is known.
Straps
Teva Hurricane XLT2 Sandals
OK, admittedly Teva's strappy canvas sandals aren't for everyone. However, if the outdoorsy styling doesn't turn you off, you'll actually find they're some of the comfiest sandals around. It's just a nice bonus that they're firmly on-trend too. Designs range from the subtle to the, well, not so subtle and as far as styling goes, just throw on a T-shirt and shorts.
Suicoke Depa-Cab Sandals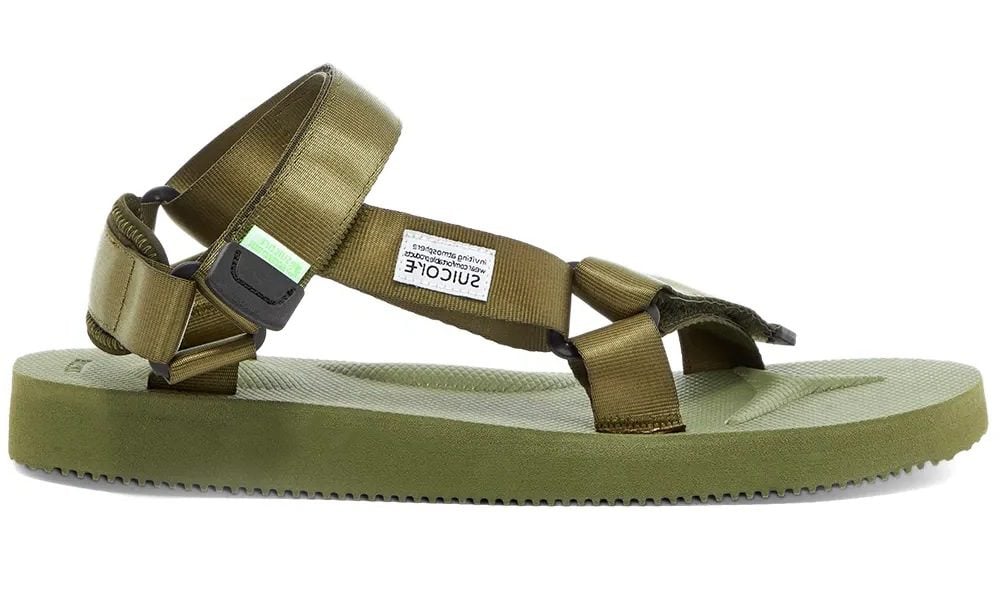 If you're wondering who's to blame for bringing chunky casual sandals back into the spotlight, look no further than Suicoke. This Japanese label is probably the best-known name in the strappy sandal resurgence and has achieved its fashionable status by collaborating with some of the coolest names in the game.
There are plenty of eye-catching designs to choose from but the Depa-Cab is the most wearable in our humble opinion. Try it with pretty much anything in your summer wardrobe if you don't believe us.
Birkenstock Arizona Suede Sandals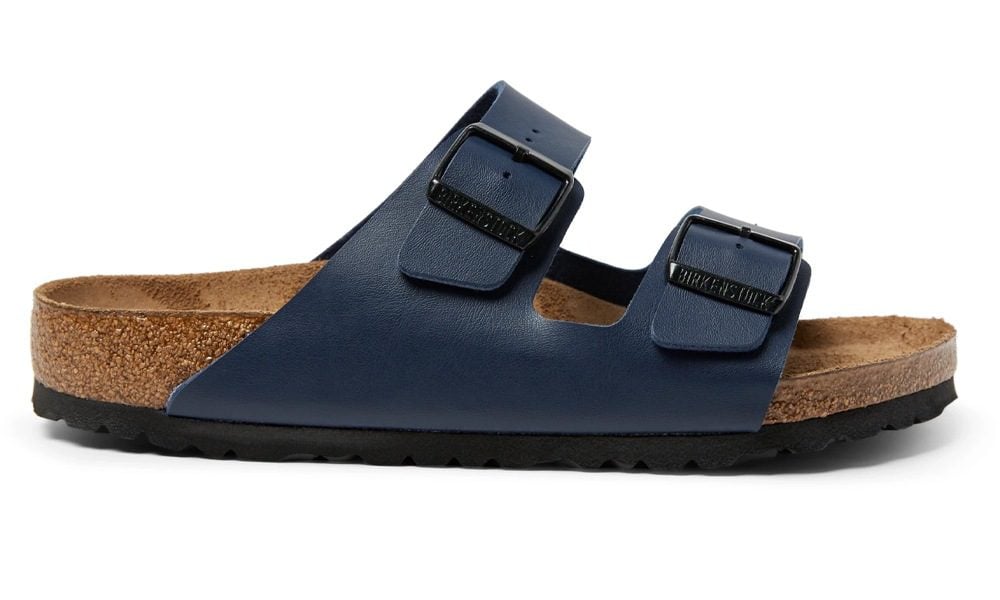 You thought we were going to pen an entire article about the best sandals without mentioning Birkenstock? Absolutely not. Birkenstock is to sandals what Biro is to ball-point pens – and if you don't already own a pair, you should.
The Arizona sandal is probably the most popular design in the brand's range, featuring two chunky leather straps and the iconic cork footbed. It's the easiest sandal to style by far and probably the most comfortable to boot.