Sophisticated Slides: The Best Leather Sandal Brands For Men
Nothing sours a killer summer fit quicker than a terrible sock tan. And if you're choosing to spend the hottest days in your sneakers, that's the price you're going to have to pay.
Our suggestion would be to spend some cash on a pair of leather sandals that can be dressed up or down. This way you can let your feet see the light of day without having to resort to ruining otherwise stylish looks with a pair of boring plastic slides or flip flops.
Leather sandals are great because they're long lasting, comfortable when broken in, and you can legitimately wear them with anything from T-shirts to tailoring. As far as we're concerned, this makes them essential for tackling the hottest part of the year in style. That much is clear. What can sometimes be less clear is how to choose the right pair.
As fantastic as some sandals are, there are plenty of inherently uncool pairs floating around. If you want to look the part, it's important to choose carefully and make sure you get a pair that look good, are versatile and won't go out of fashion a year or two down the line.
Leather Sandals Buying Considerations
Style
There are many different types of leather sandals. Some are casual, some are slightly dressier, some simply slip-on, pool-slide style, and others have all sorts of straps and buckles to keep them in place.
There's no right or wrong style, but the best one for you depends on what you want from your sandals, so we've listed a few of the key types and what they're good for further down the page.
Footbed
The footbed of a sandal is largely what determines how comfortable it will be. They range from flat, thin and with barely any padding to thick and cushy.
You should think about how much walking you'll be doing in your sandals and how far you'll be going when you do. The more steps you intend to do, the comfier the footbed needs to be.
Colour
Of course, there are all colours of the rainbow to choose from when it comes to leather sandals, but for versatility's sake, we'd recommend going for black, brown or tan.
These neutral options are more likely to work with the pieces in your vacation wardrobe, meaning you'll be getting more wear for your money over time.
Key Types of Leather Sandals
Fisherman Sandal
Fisherman sandals feature interwoven leather straps and usually a buckle, too. They have a closed-toe design and have been worn in many different parts of the world for centuries.
They tend to have a flat sole, or sometimes a very slight heel. They work well with trousers as well as shorts.
Walking Sandals
Walking sandals are designed primarily for comfort. As a result, they're not always the best looking option… particularly the leather ones.
Still, if you're going to be hiking around and need something more breathable than a boot or a sneaker, this is your best bet.
Leather Slides
Pool slides are known for their sloppiness, but in leather they can actually look pretty smart. They're defined by their slip-on, open-toe design, and they're perfect for teaming with casualwear.
Gladiator Sandals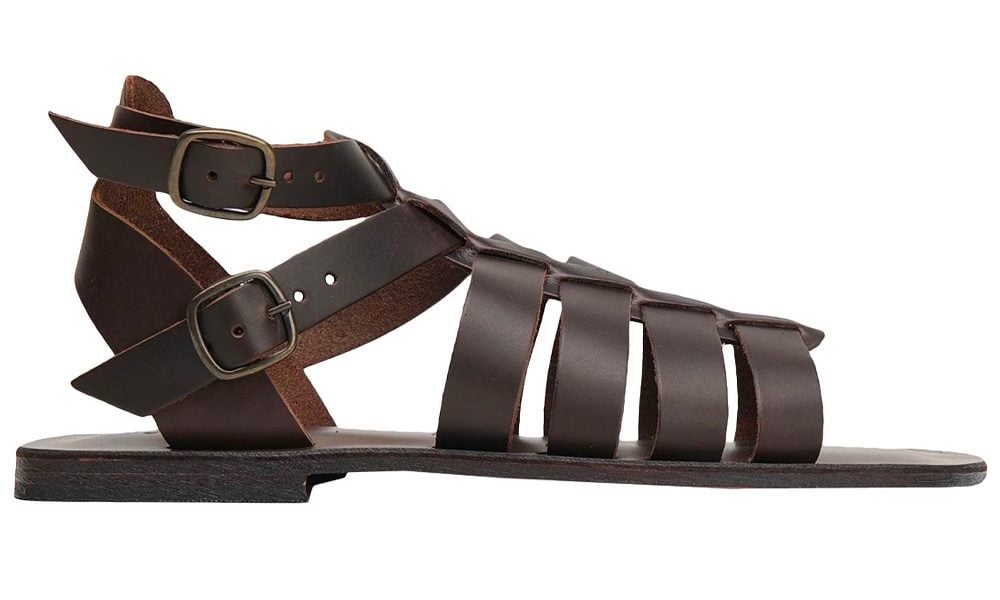 Gladiator sandals are similar to fisherman sandals in terms of their strappy design, but they're open toed, and the straps tend to be thinner.
They sometimes extend up to and even past the ankle, which means they're probably best left to the more adventurous dressers out there.
Huarache Sandals
Huarache sandals are a type of woven sandals that feature tightly woven uppers that give them an almost shoe-like appearance.
The Best Brands For Leather Sandals
Birkenstock
German brand Birkenstock is probably the most famous name in leather sandals. Its practical, functional footwear has been enjoying renewed interest in the men's fashion world over the last decade, and its classic styles like the Arizona and the Boston will always be excellent options.
Shop this brand if you're looking for comfortable, sensible sandals with classic looks and timeless appeal.
Grenson
You might know Grenson as one of the OG Northamptonshire shoemakers, but it's not all brogues and Derbies. In fact, the British brand makes some of the most stylish leather sandals you're likely to find anywhere, including both open- and closed-toe styles.
We're particularly fond of the Quincy fisherman sandals, which feature a thick wedge sole, a comfortable leather footbed and silver buckles.
Paraboot
French footwear brand Paraboot has a range of stunning, Italian-made leather sandals, most of them fisherman-style options with interwoven straps and buckles.
There's the Ferret and the Pacific, which are both fisherman sandals, with thin heeled soles and a thicker wedge sole respectively.
For anyone that prefers an open-toed design, there's the Noumea, which has chunky wraparound straps and is available in either black or tan.
Cos
Known for its sleek minimalist aesthetic, Swedish brand Cos is a great option when it comes to sourcing a pair of stylish leather sandals.
Designs chop and change from season to season, but you can usually find a mixture of open- and closed-toe styles for around the £60-£100 mark.
Expect stripped-back designs, simplicity and understated neutral colours.
Gucci
For those who have the budget, Italian fashion house Gucci has some stunning leather sandals to choose from.
Again, styles change frequently, but you can generally expect to find a mix of slides, fisherman sandals, wraparound styles and even leather flip-flops if that's your thing.
You can also expect high prices, with sandals starting at around £300, but unrivalled cachet.
Dr Martens
If you're looking for something chunky and a bit alternative, Dr Martens is a solid option. Best known for its big round-toe boots, the British brand applies the same rugged styling to its sandals, resulting in some truly unique-looking footwear.
They're not the most versatile sandals out there, but they're great if you're looking for something to make a statement.