Top 10 Whisky Brands (And The Bottle You Should Buy From Them)
The world of whisky offers so many options these days. There is more choice than ever before. Here we delve into that world and take a look at some of the leading brands in their field – Scotch or bourbon, Irish or Japanese, blend or single malt, classic or contemporary, there's something for everyone.
Dalmore
No one does prestige Scotch single malt like Dalmore. Even their core range products have an air of luxury about them, from the decanter-style bottle to the silver stag's head on the front. This Highlander oozes decadence and sophistication and offers a bold style with superb richness and sweetness.
Bottle To Buy: Dalmore King Alexander III
Created from a complex combination of six different cask types – ex-bourbon, ex-French red wine, ex-Madeira, ex-Marsala, ex-Port and ex-sherry – this is a true masterpiece and must have in any collection.
Glenfiddich
How could we not include the No.1 Scotch single malt on our list? Glenfiddich is also Scotland's largest single malt distillery, having just completed a huge expansion. The Speysider has long been an innovator, from their iconic triangular bottles to starting the travel retail revolution in the 1960s. They have not looked back since.
Bottle To Buy: Glenfiddich 21 Years Old Gran Reserva
An absolute stunner from Scotland's most famous distillery. Elegant, refined and full of flavour thanks to influence from ex-rum casks sourced from the Caribbean. It does not get better than this.
Buy now at The Whisky Exchange
Hibiki
Japan's most awarded whisky brand has come a long way since Bill Murray's 'Suntory Time' scene in Lost In Translation. It has grown to be one of the best-selling Japanese whiskies in the world, earning plenty of accolades and kudos along the way. If you only ever taste one Japanese whisky, then make sure it is a Hibiki.
Bottle To Buy: Hibiki 17 Years Old
This fantastic blend is the epitome of Japanese elegance and whisky-making skill. Made from exquisitely aged single malts and single grains from Suntory's three distilleries, this is tough to beat for flavour and quality.
Buy now at The Whisky Exchange
Johnnie Walker
The world's biggest-selling Scotch whisky. The brand has been at the forefront of the Scottish whisky industry since John Walker opened his grocery shop in Kilmarnock in 1820. Creative advertising, expansive distribution and exceptional quality have helped this pioneering whisky institution achieve world domination.
Bottle To Buy: Johnnie Walker Blue Label
Held by many around the world as a status symbol and has been since it was first released back in the 1980s. A classic that features many old whiskies within the blend, including some from closed distilleries.
Laphroaig
If you like your whiskies big and bold, then they do not get much bigger or bolder than Laphroaig. We had to include an Islay Scotch on our list and Laphroaig is quintessentially Islay – it is like drinking the island in liquid form. Peat, seaweed, smoke and barley seep out of every pore and take you straight to the Hebrides.
Bottle To Buy: Laphroaig Quarter Cask
It's difficult to look beyond a classic sometimes and Laphroaig's 10 years old is a classic. But the Quarter Cask takes things a step further by spicing up the heavy peat smoke with maturation in small American oak barrels.
Macallan
Scotland's answer to Disneyland has long been a popular single malt brand, but the new eco-friendly and eye-catching distillery building has elevated Macallan to a new level. Known for its smooth, rich and sweet style it is easy to see why this classy Speysider is James Bond's current Scotch whisky of choice.
Bottle To Buy: Macallan 18 Years Old Double Cask
The pinnacle of the Speyside distillery's Double Cask range. A classy combination of American oak and European oak casks, both seasoned with sherry prior to maturation, give a silky feel with plenty of sweetness and spice. £250.
Buy now at The Whisky Exchange
Mackmyra
The new kid on the block. Sweden's first ever single malt was well ahead of the world's artisan and craft distillery curve when it started in 1999. Innovative from the very beginning with a policy of 'controlled experimentation', this has produced groundbreaking whiskies and the world's first gravity operated distillery.
Bottle To Buy: Mackmyra Bjorksav
Twice a year those crazy Swedes release a 'seasonal whisky' that uses funky casks within the maturation. Recent editions include barrels seasoned with lingonberry wine and Japanese green tea. This latest one features ex-birch wine casks. Who knew?
Pappy Van Winkle
Bourbon is not just for mixing with cola. Especially when that bourbon is as good as the legendary Pappy Van Winkle. This is produced in the famous American whiskey state of Kentucky and in small batches each year. Unusually for bourbon, it is suited to long maturation and this creates wonderful complexity.
Bottle To Buy: Pappy Van Winkle 15 Years Old
An intense but superbly balanced whiskey that is creamy and fruity with a delicious biscuit-like quality and punchy wood spices. An absolute brute of a bourbon, but rare as hen's teeth these days.
Redbreast
There is more to Irish whiskey than Jameson and there is now wider choice than ever out there. But very few whiskeys come close to the effortless quality of Redbreast. Described as the 'definitive expression' of the Irish single pot still style, Redbreast is known for its use of high-quality ex-sherry casks.
Bottle To Buy: Redbreast 15 Years Old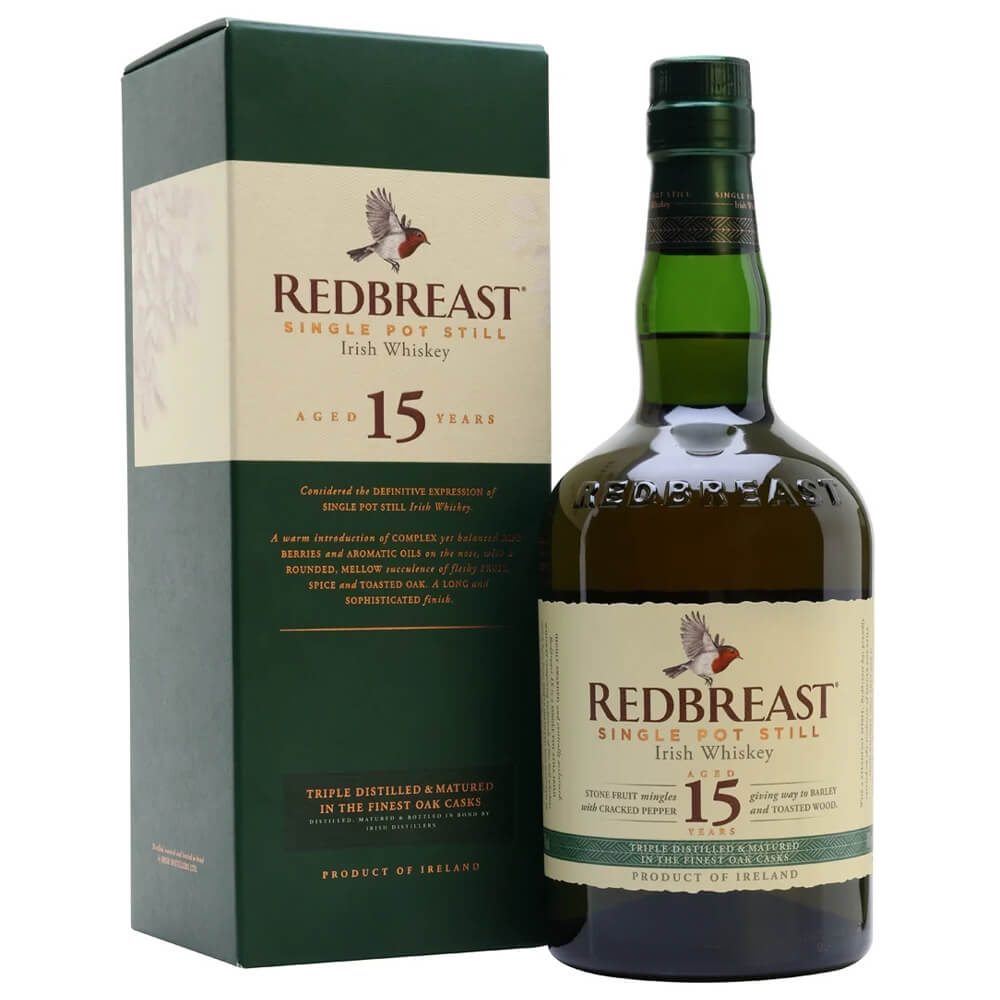 This multi-award winner stands out amongst the fabulous range from Redbreast. The sherry cask sweetness wraps around the single pot spiciness and richness. Became an instant Irish classic as soon as it was released.
Woodford Reserve
Another Kentucky bourbon of great quality, but a little more affordable. Woodford is the ultimate American cocktail whiskey and a bartender's favourite. Equally as good for mixing classics, such as a Mint Julep or Old Fashioned, or something with a contemporary twist. Woodford hits the spot perfectly.
Bottle To Buy: Woodford Reserve Distiller's Select
The classic expression and one that offers superb versatility. Great taken neat or on the rocks, but also stands up to having a simple mixer added or being used more creatively within a cocktail.