8 Scotland Whisky Distilleries That Are Well Worth A Visit
From the Highlands to the islands, the Lowlands to Speyside, Scotland has many whisky distilleries to visit. As they open up post-Covid, visitors can take tours and purchase exclusive bottlings as a memento. Here we take a look at eight of the best Scotch distillery experiences and that special bottle to buy when you are there.
Bowmore
If you want to visit a traditional distillery, then things do not come much more traditional than Bowmore on Islay. Perched on the shores of Loch Indaal, Islay's large sea loch, Bowmore is Scotland's second oldest distillery. All aspects of whisky production are covered, including a rare chance to witness floor malting in action. Very few distilleries follow this traditional, labour intensive practice, but Bowmore is one.
Another highlight is the No.1 Vault, the UK's oldest whisky warehouse, and the magnificent view across the loch from the tasting room.
Bottle To Buy: There are currently no distillery exclusive bottlings, so our recommendation would be the Vault Edition. This honours the No.1 Vault warehouse and gives everything you expect from an Islay whisky.
Glenallachie
Tucked away behind the Speyside village of Aberlour you will find the hidden gem of Glenallachie. Built in the 1960s, this former workhorse of a distillery was little known and supplied Scotland's big blending companies. Now it has found a new lease of life under different ownership, who have quickly established an award-winning range of single malts.
Covid restrictions mean they are currently running an innovative 'virtual tour' from their tasting room with visitors seeing the distillery in 3D while sipping through four drams.
Bottle To Buy: A brand new distillery exclusive has just been announced – the Glenallachie 2008 Moscatel Barrique. This 12-year-old single malt ticks all the Speyside boxes, and joins two other whiskies that you can bottle yourself.
Glendronach
This old distillery is another traditional gem. Sitting amongst the rolling hills and barley fields of Aberdeenshire in the Highlands, it feels like a step back in time and pace.
Glendronach is historically known for its use of old sherry casks from Spain. Transport yourself to Jerez with the Sherry Masterclass tour, where after taking in the sights and sounds of the distillery, you will learn about and taste some sherry alongside your drams. Further rare drams are also on offer in the plush Glendronach Bar.
Bottle To Buy: Two 'bottle your own' whiskies are available and these change regularly. Current options are a sweet ex-Pedro Ximenez barrel from 2005 and a drier ex-Oloroso cask from 2008. A tough choice, so why not buy both?
Glenkinchie
If you are in Edinburgh then Glenkinchie is a short day trip away. This Lowland distillery has undergone a recent major makeover and boasts one of the most contemporary visitor centres in Scotland.
Glenkinchie is a key ingredient in the famous Johnnie Walker blended Scotch range. The distillery has become one of the Johnnie Walker 'Four Corners of Scotland' experiences along with three fellow distilleries – Caol Ila (Islay), Cardhu (Speyside) and Clynelish (Highlands). The result? A very cool mix of distillery and brand history with a modern interactive vibe.
Bottle To Buy: To celebrate the revamp, Glenkinchie has released a special exclusive whisky for visitors to the distillery. Aged for 16 years and matured in re-fill and freshly charred ex-bourbon barrels. A classic Lowlander.
Glenlivet
The Glenlivet distillery in Speyside is one of Scotland's largest. Their brand new visitor centre has opened following an 18-month restoration programme. A blend of immersive activities and traditional history of Glenlivet and Speyside await guests, including an archive wall and an indoor field of barley.
Aside from the tour and interactive experiences, there is The Glenlivet Cocktail Bar to sip and savour a range of specially created drinks. Take time to try one of their revolutionary cocktail capsules – just pop it in your mouth and wait…
Bottle To Buy: There are three hand-fill options available (12, 15 or 18 years old) giving the chance to bottle your own whisky from the barrel. If you have deeper pockets, there is the distillery-exclusive 38 years old Cellar Collection.
Glen Moray
Being one of the most accessible distilleries in Speyside makes Glen Moray an attractive option. Sitting on the edge of Elgin by the banks of the River Lossie, this large distillery has grown rapidly over the last decade but the friendly welcome you receive has remained the same.
The visitor centre is packed with whisky and gifts, and boasts an award-winning café. The knowledgeable tour guides bring the distillery to life and there is a wonderful selection of drams on offer to enjoy at the end. A difficult one to beat.
Bottle To Buy: There are three distillery exclusive bottlings, each matured in a different wine cask. It is a tough choice. All 16 years old, they have been matured in either Burgundy, Chardonnay or Chenin Blanc barrels.
Lagavulin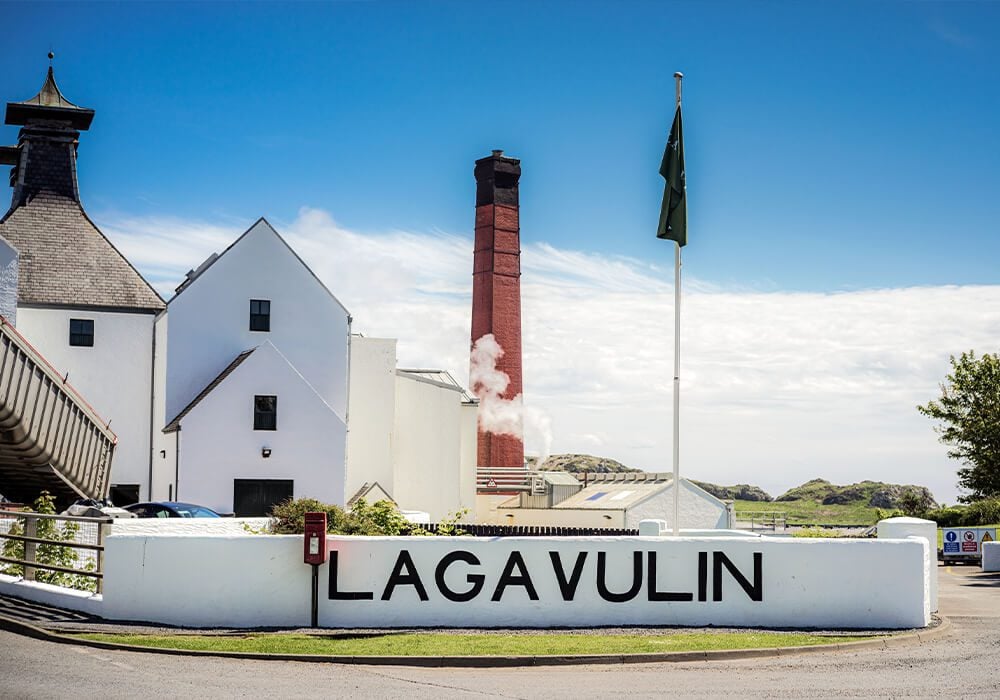 With nine distilleries on the famous whisky island of Islay, it was difficult to pick just two for our list. Lagavulin is our second as it offers everything that you could possibly want. A short bus ride (or a brisk walk) from the village of Port Ellen this distillery gives a great tour, idyllic location and fabulous peaty drams. It's a winning combination.
From the Victorian-era decor of the visitor centre to the magic of the still house with its imposing stills and the stunning views across the secluded bay from the pier, Lagavulin is a must visit.
Bottle To Buy: Each year the distillery releases a special bottle for the Feis Ile, the annual whisky and music festival on Islay. Lagavulin's 2021 limited edition is a 13 year old finished in ex-Port barrels. It is a marriage made in heaven.
Nc'nean
No one does eco-friendly distillation better than Nc'nean. This pioneering newcomer, located on a remote west Highland peninsula, has been sustainable since its planning stage. Having just become the UK's first distillery to gain Net Zero status (meaning their carbon dioxide emissions are as close to zero as possible), they also bottle their whisky in 100% recycled glass.
The distillery is certified organic, powered by 100% renewable energy, plus recycles 99.97% of its waste. Expect great views, a warm welcome and a vision of the future.
Bottle To Buy: As a new distillery Nc'nean have not released much whisky to date. The choice has to be the Organic Single Malt, their core product. It has already scooped a number of big awards, so the future looks very promising.