Casual Elegance with Common Projects
With the first warm rays of spring bathing the UK over the last week we feel it's time to officially retire the winter footwear and opt for something far more befitting of the temperate climes.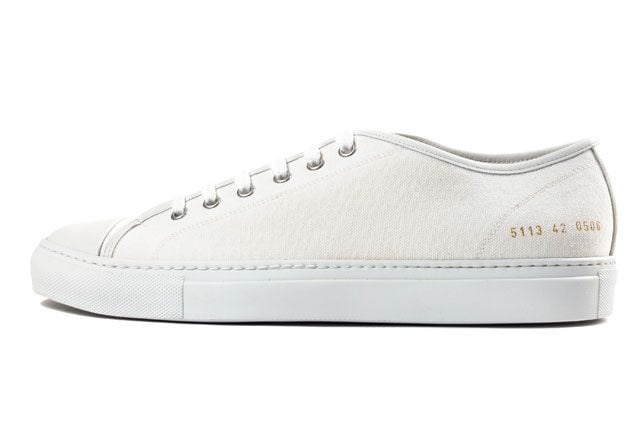 With an established list of male followers the refined lines of Common Projects' sleek footwear makes them the most suitable of additions for weekend city sojourning, their uncomplicated design working well with both casual or louche-suited ensembles: essential for anyone seeking versatility from their footwear.
Founded in 2004 by Prathan Poopat and Flavio Girolami the company has several designs to choose from, though their Original Achilles Low-Top is a firm favourite with many wearers. Available annually in a select palette of shades, standouts this year are several shapes that come with a subtle camouflage sole attached. For those seeking newer designs from the company we recommend the leather-trimmed Tournament trainer, available in several versatile shades of canvas.
Handmade in Italy, and with their signature serial number stamp a modest mark of the quality behind each pair, Common Projects remain the perfect uncomplicated choice for the dressed-down man about town.