This Heated Razor Will Take Your Shave To The Next Level
"The best a man can get." It's a bold claim, but one that iconic shaving company Gillette, parent company of The Art of Shaving, has managed to deliver on consistently for well over a century.
Over the years, the Boston-born brand's elite unit of engineers has revolutionised our morning routines. A precision blade here, a gel cushioning strip there; little tweaks and innovations designed to make the shaving experience as enjoyable and efficient as possible.
It's difficult to imagine where they can go with it from there. But not for the crack team at GilletteLabs, a new tech-focused initiative tasked with bringing shaving into the future. Because somewhere – in what we can only imagine is a top-secret, underground facility – they created something truly unprecedented: the world's very first heated razor. A technological marvel of a tool that promises to deliver grooming luxury at the mere push of a button.
A Hot Towel Shave, Minus The Hassle
Being able to enjoy a hot-towel shave each and every morning is a privilege few of us can afford, both in terms of time and cost. However, this revolutionary new piece of kit from The Art of Shaving enables you to bring the full barbershop experience to your bathroom, simply by pushing a button.
Forget shaving with a sink full of tepid water and bits of stubble. The Art of Shaving's new heated razor delivers constant warmth, replicating the feeling of a hot-towel shave with every stroke.
Science tells us that applying heat while shaving opens up the pores, reducing resistance, eliminating razor burn and, overall, providing the smoothest, most effective grooming experience.
How Does It Work?
If you were thinking it's the blades of the razor that heat up, you'd be wrong. In actual fact, the temperature trickery lies just south of them, in the form of a stainless steel warming bar.
Once the button on the handle is pressed, the bar activates instantly, providing soothing warmth directly to the skin for a superior shave.
If you find the temperature isn't to your liking, an extended push of the button will bring the heat down from 50°C to 43°C, allowing you to achieve optimal comfort based on your own personal preference.
It's got good looks on its side, too. The razor's aesthetically-designed, ergonomic handle is composed of premium- grade aluminium zinc. It's the first thing you'll notice right out of the box: this is one seriously handsome piece of kit, and a welcome addition to any bathroom counter.
The Future Of Shaving
In addition to the obvious, The Art of Shaving's heated razor brings a myriad of smart features to the table. First off, automatic overheat protection employs four intelligent heat sensors to deliver a safe and consistent temperature during each and every shave. The razor will maintain whichever setting it is placed on, never straying above or below the degree of heat specified.
Meanwhile, Flexidisk and advanced five-blade technology work in conjunction to make shaving as smooth and close as possible. The Art of Shaving's magic number of blades glide effortlessly over the skin, while the Flexidisk follows the curves and contours of the face, ensuring no spot is missed.
Wireless charging is also included, courtesy of a magnetic charging dock. And don't worry if the razor does happen to take a tumble and fall into the sink – it's 100% waterproof.
From Chore To Experience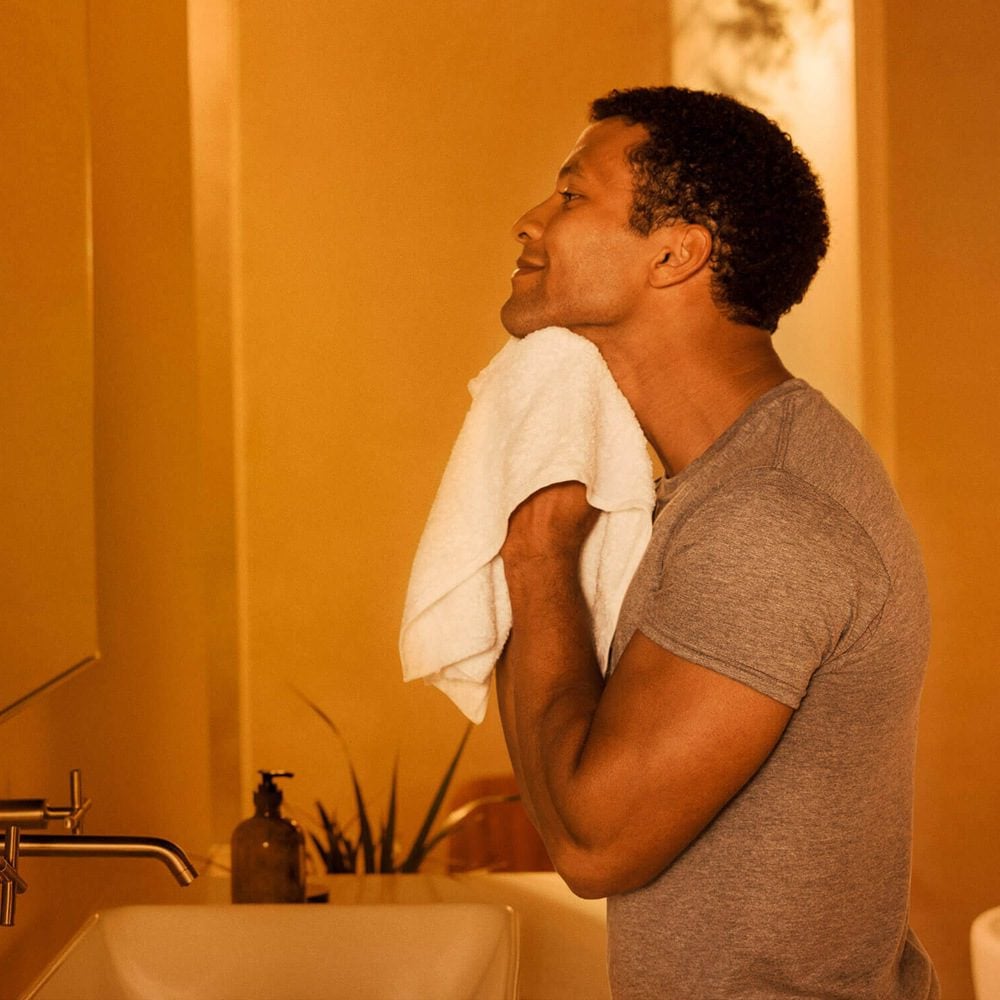 The bottom line is that The Art of Shaving's heated razor turns shaving from a daily chore into a luxury grooming experience. It replicates the comfort of an old-school barbershop shave without any of the hassle, meaning you can enjoy it every morning.
It's what we've all been waiting for: a real shaving innovation that doesn't just involve sticking another blade on. This is your morning routine reinvented, putting you at the cutting edge of modern grooming.
How To Buy & Availability
The Art of Shaving Heated Razor is available to purchase now at theartofshaving.com, priced $115.
Best Combined With
We all know, or should know, that a great razor is nothing without the right product to augment the shaving process. And no one does shaving 'software' better than The Art of Shaving. We recommend you begin with a shaving kit, which provides everything you need to achieve the perfect shave.
Key elements include a pre-shave oil, shaving cream, shaving brush and after-shave balm. The combination of quality ingredients, handcrafted accessories and expert shaving techniques provide an optimal closeness while helping to ward off ingrown hairs, razor burn and nicks and cuts, all while leaving behind a soft and smooth face. What more can a man ask for?
In partnership with The Art of Shaving – words and opinion Ape's own.