The Best Oxford Cloth Button-Down Shirt (OCBD) Brands In The World
By most accounts, the Oxford cloth button-down shirt (or OCBD for short) should be one of those garments too loaded with negative connotations to ever be cool. It's unimaginative; just a shirt with a collar that's, well, buttoned down. It's somehow still middle-aged, even when that concept seems diminishing. It's so very middle-management, so middle of the road, so… middling. And then you see an old still of Paul Newman in a pair of khakis and an Oxford shirt and that entire, misguided perception of the button-down just melts away.
OK, so the button-down shirt is not, in design terms, in any way revolutionary. Originally it was called a polo shirt – because polo players wore it, back when sportsmen really knew how to dress to play – before tennis and the pique shirt stole its name. Ironically, polo players then started wearing that instead. The Oxford shirt's revolutionary idea was to button down the collar to stop it flapping up in the rider's face – hence, perhaps less confusingly, it later also being referred to as a polo collar shirt.
Brooks Brothers – 'The Original Polo Shirt'
It took one John Brooks in 1896 to see the Oxford shirt's true potential. Here was a shirt that, due precisely to this collar design, managed to look smart without the need for a tie, yet quite capable of taking one when required. Brooks just happened to be the grandson of the founder of Brooks Brothers. He promptly snaffled the idea and America's most important menswear retailer made the button-down shirt its own.
Indeed, the button-down became one of the core garments of preppy, Ivy League style – arguably the most influential look in modern-day menswear history.
Famous Oxford Shirt Wearers
To say that over the next half century or so men of influence took to the OCBD would be an understatement. Clark Gable, who had a 44-inch chest and a 32-inch waist in his prime, was generally unable to wear ready-to-wear clothing except the Brooks Brothers button-down shirt, which he promptly did, day in, day out. John F. Kennedy wore it too, helping to make him the first style icon with his finger on both the fashion and nuclear buttons.
Chet Baker and Miles Davis – both outfitted for fame in Charlie Davidson's The Andover Shop, the mecca of preppy – both took to button-downs like Charlie Parker to the trumpet. Miles would wear it in his own way: with a knotted handkerchief tucked into the open collar. Gianni Agnelli, of the family behind Fiat, wore his with the collar buttons undone, a touch of sprezzatura that was echoed by revered designer Thom Browne. When Andy Warhol wasn't in a black polo neck sweater – which has nothing much at all to do with polo – he was in a polo collar shirt.
In summary, when you don your own OCBD, you'll be in good company.
The Best Men's Oxford Shirt Brands
L'Estrange London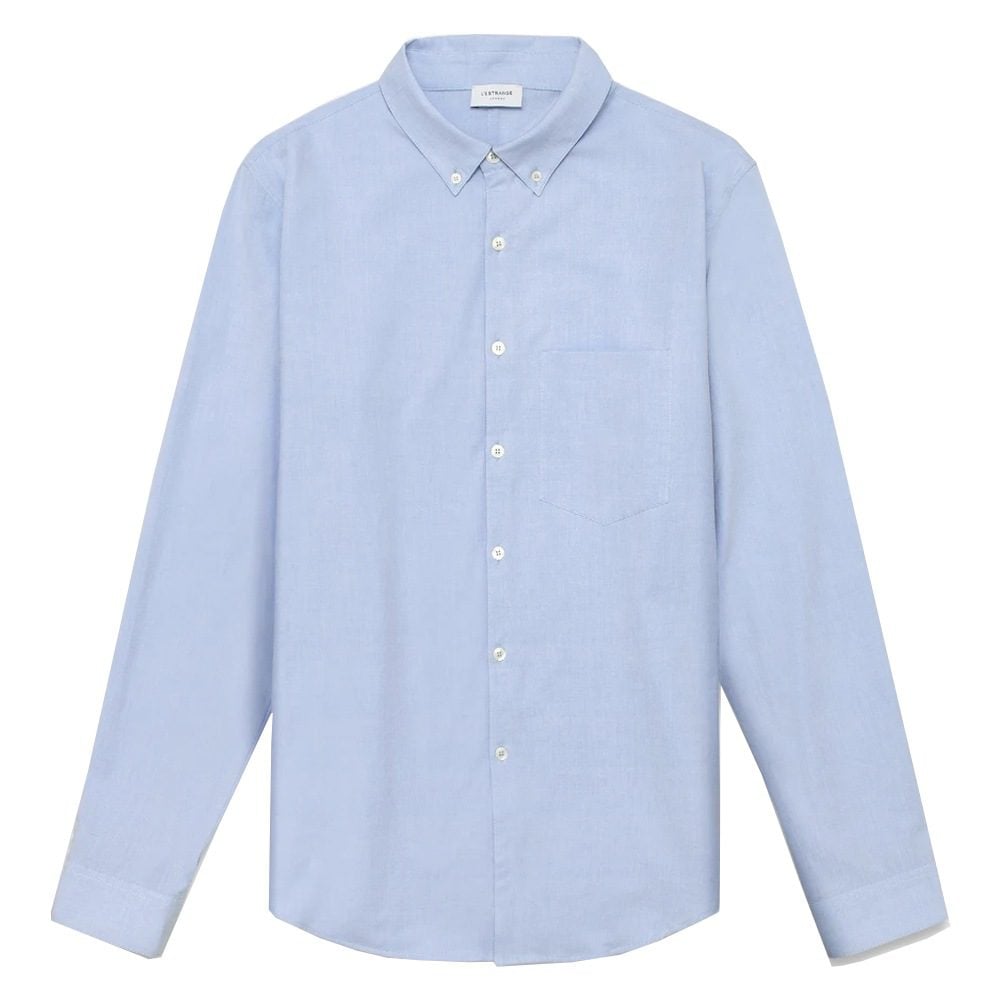 L'Estrange is an environmentally-conscious brand that has set out to to simplify the male wardrobe. It's doing this by creating a modular clothing system comprised of seasonless pieces that can be mixed and matched for any setting or occasion. The Oxford shirt is the epitome of this versatile approach to dressing, and as such has become a core part of the London label's offering.
The All Day Oxford Shirt sees the classic OCBD reimagined for the modern man, combining durability, comfort and style all in one. Crafted from premium Italian Oxford cloth with 2% stretch, it's lighter than its traditional counterparts and features a looser weave that ensures it's softer to the touch. The result is a shirt that's supremely comfortable to wear for long periods, allowing you to go from day to night effortlessly.
Uniqlo
We'll rarely advocate a budget option as it's almost always more cost effective to buy better in the long run. However, we're willing to make an exception for Uniqlo's highly reputable Oxford cloth button-down shirts.
Nicely cut, reassuringly thick and without any of the usual telltale signs of high-street cheapness, these shirts can happily go toe to toe with options twice their price and, in many cases, still come out on top.
Some colours vary from season to season but a core selection of white, light blue, pink, navy and grey is available all year round. And with change from £25 there's no reason not to stock up on all of them.
Asket
Swedish brand Asket deals exclusively in wardrobe essentials. No gimmicks, no seasonal trends, just simple, well-made garments that look great today and still will decades down the line.
As such, the Oxford cloth button-down shirt sits squarely within Asket's remit and perfectly encapsulates what the brand is all about. It's classic, it's simple and it's never going to go out of style.
The focus, as ever, is on fit and quality, but also on ethical production. Asket's garments are fully traceable, meaning there are no grey areas in terms of where your shirt came from or who made it. Peace of mind and some of the best Oxford shirts around. What more could you want?
Brooks Brothers
Where better to buy an Oxford shirt than from the outfitter that popularised the style in the first place? Historic retailer Brooks Brothers brought this iconic garment into the spotlight in the late 1800s and it remains the brand's hero piece to this day.
We could wax lyrical about how good Brooks Brothers' shirts are all day, but we don't need to. Why? Because this NYC institution is one of the most reputable menswear retailers on the face of the earth and Oxford cloth button-downs are its bread and butter.
If you still need convincing just go and take a look at the label's Original Polo Shirt. Clean cut, crisp and just oozing with that famous East-Coast preppy cool.
Club Monaco
Founded in 1985 and owned by Ralph Lauren since 1999, Club Monaco is a Canadian brand built about the concept of better basics. In other words, the garments that nobody should be without, made with a clear focus on quality.
This has been Club Monaco's mission since day one and it's something it still does to this day. For proof, look no further than the brand's Oxford cloth button-down shirts.
Crisp, meticulously crafted and built to last, Club Monaco's Oxford shirts have a reputation as some of the best for good reason. Plus, with no distinguishable branding apart from a contrast bottom buttonhole, it's a great option for anyone who likes to keep things stripped back and clean.
Arket
A minimalist subsidiary of Swedish retail behemoth H&M, Arket has quickly become one of our favourite Scandinavian brands. Its surgically curated collections and trademark quality serve as the perfect antidote to the usual high-street story of confusion and excess and the shirting is certainly a highlight.
A simple Oxford button-down was one of the first garments Arket introduced and one it still makes now. It's simple, unbranded and fits just right.
Another great thing about getting an Oxford cloth button-down shirt from Arket is the price. While it may be more expensive than other high-street options, the build and materials are far superior and still reasonably priced when compared to many of the brands listed here.
Everlane
American label Everlane is another staunch advocate of both ethical, traceable production and the benefits of a simple approach to style.
The Oxford cloth button-down shirt is part of the brand's Uniform collection, and in addition to being ethically made and built to last, it's also competitive in terms of price.
This boils down to Everlane's direct-to-consumer model and transparent pricing, meaning there are no nasty retail markups and that you're getting the best possible garment for the absolute fairest price.
Ralph Lauren
New York's Ralph Lauren took the preppy, Ivy League style of the American East Coast and exported it worldwide. The Oxford cloth button-down shirt was and still is a key garment in the overall look and RL is still making some of the most popular versions on the market.
Instantly recognisable thanks to the iconic embroidered polo player motif to the chest, Ralph Lauren's Oxford shirts are classic, well fitting and reliable.
There are too many styles and seasonal variations to go into fully, but for us it's the classic version that will always be the favourite.
GANT
Another brand that was instrumental in the OCBD's rise to prominence is GANT. The Swedish label may not have had as big a part to play as Brooks Brothers but it certainly helped to popularise the style.
It's was also responsible for introducing the hanger loop to the shirt. Something which is now a common feature of the Oxford shirt from brand to brand.
GANT's designs, while classic and timeless, keep things moving forward with tasteful modern twists and tweaks.
J.Crew
Known for its preppy wardrobe basics, J.Crew is a longtime proponent of the Oxford cloth button-down shirt. This classic piece of casual shirting has long been a staple of the brand and epitomises the label's clean-cut image.
Customers can choose from four different cuts – slim fit, untucked, classic and tall – so a glove-like fit is possible for every body type. There's also an almost unrivalled selection of styles, patterns and colours to suit all tastes.
Best of all, many of the products are now made using sustainable materials like recycled cotton, meaning you can feel better about buying.