How a Personalised Ski Boot Fitting can enhance Performance and Comfort
For those of you who ski regularly you'll be well aware of the trauma surrounding ski boot hire. Poorly fitting, ugly, unclean and damaged ski boots can ruin not only your aesthetic for après-ski but more importantly your skiing performance and comfort. Combine this with the associated costs of hire and it makes sense to consider buying your own pair of ski boots.
Ski boots rarely fit correctly out of the box so the best option is to invest in a pair of boots with a personalised fitting. There are specialist retailers who do this- but often charge an expensive rate, versus high street retailers such as Ellis Brigham where Will visited, who offer a free fitting with each pair of boots bought.
Our experience at Ellis Brigham began with a biomechanical assessment where your ski ability, any past issues, foot function and leg shape are analysed by an expert ski boot fitter. This began with a physical test of foot function- examining foot flexibility and ankle range of motion. This is done to visualise how the foot will behave in the ski boot and highlight any biomechanical limitations. As you'd expect, your feet are measured too, to gage length, width and instep height of your foot.
Moving on, it's time to select your ski boot. Ellis Brigham told us that many customers arrive with a boot preference in terms of aesthetic. While this is fine, it's important to remember that you'll be advised a boot based on the best option for performance and comfort according to your biomechanics and not what you believe looks best. Of course the choice is up to you ultimately though. It's important to select the right shell for your foot shape for the best fit. We deliberated over the Salomon X Pro 120 at £350 in black and blue or the all black version- finally choosing the latter.
The Salomon X Pro 120 despite being chosen for its handsome aesthetic, actually happened to be perfectly suited to Will's medium-width feet advanced to expert ski ability. Weighing in at less than 2kg, the X PRO 120 is designed for resort-based skiing performance with a Twinframe 2 shell design that delivers power to the edges, and an exclusive, lightweight polyamide chassis. A pleasing outcome in terms of aesthetics and performance but also comfort and fit.
The next step (forgive the pun) was for the custom insoles, which help distribute pressure, reduce fatigue and improve proprioception- a foundation for comfort and performance. Ellis Brigham offered a SUREfit boot fitting service, available either on the day you buy the boots, once you have skied in them for the first time or even three years down the line. We had to go down this route as Will had particularly difficult flat-feet. Alternatively, the Salomon X Pro 120 has a 360° Custom Shell which is heated and moulded in-store to each skier's feet, evening out pressure and maximising retention; the My Custom Fit 3D Race liner is heated too and in both instances, further increasing quality of the fit and ensuring a comfortable, precise foothold.
This free service includes stretching, grinding and modifications such as softening or stiffening the boot- they aim to remedy any problems before you encounter them on the slopes. More than likely a simple stretch or grind to the ski boot to slightly alter the shape is enough to cure common misfits.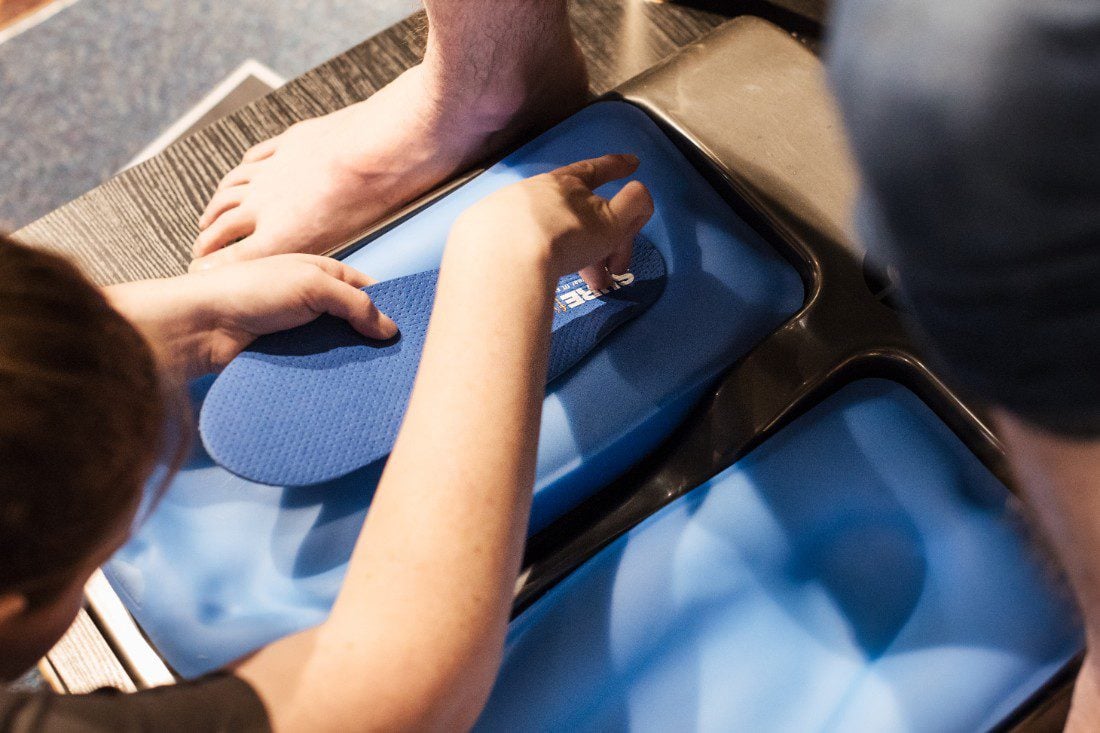 Will was asked to stand on heated plastic pads with microscopic gel balls inside which forms a mould which is the basis of the multi-layered heat mouldable composite that conforms to your exact foot shape. Not only does the insole in the ski boot ensure contact to the whole underside of the foot, but it stabilises the whole body too providing an optimum foundation for the foot in the boot. The better contact assists with better pressure distribution, reduced fatigue and improved proprioception resulting in an increase in sensory feedback, comfort and performance. And as you'd expect from any insole- stabilising the foot in the ideal position within the boot helps to reduce pressure points and alignment issues. Once the heated insoles are heated and moulded to your feet, they are then shaped and tooled for a perfect fit.
A similar process is applied to the liner within the boot- it's heated before being stuffed back into the boot, with the original insole removed and replaced with the new custom insole. Will was then asked to wear the boot for ten minutes to ensure optical comfort and further precision moulding of the insole. Beyond this there are custom liners where foam can be squeezed into the tongue of the liner, and or shell stretching and grinding for those of you who struggle with particular abnormal feet.
The fitting took around an hour, and there wasn't much waiting around- the process was very hands on and involved with the lady fitting us full of knowledge and experience. The end result was a pair of boots that didn't feel perfect to begin with, being extremely comfortable yet totally secure- very impressive. Will looks forward to trying the Salomon X Pro 120's out in February, and reporting back with our findings but initial thoughts are- no more rolling around in poorly fitting, ugly, unclean and damaged ski boots.