Saturdays NYC – Inspired by Ancient Trade Routes
SoHo, New York City based Saturdays NYC as long been a favourite style brand of Ape. Noted for its high-quality craftsmanship, minimalist ethos and classic style across clothing, footwear, sunglasses, candles, bags and small leather goods the brand has grown from its Crosby Street origin to nine retail locations internationally including five in Japan, two in Manhattan and two in Australia. It's a brand which proffers casual yet chic style and a reasonable price point.
Image top courtesy of ricardobravo.pt
For its Spring Summer 2018 collection Saturdays NYC have drawn influence from ancient trade routes by treating contemporary silhouettes with seasonal prints and fabrications that mimic traditional Kasuri and Batik tie-dyeing techniques. Naturally, the spice route inspired colour palette is regal featuring dusty amber, dark mauve and copper rose reflecting the rich pigments encountered on the silk roads.
Cooper Jacket and Everett Track Jacket
New styles include the double garment dyed Cooper Jacket, a classic coaches jacket featuring a hidden snap-button placket, oversized collar and an elasticated hem and cuffs and the Everett Track Jacket, constructed of breathable linen and rayon. The collection also sees the introduction of the oversized Kasuri dyed Miles Short, perfect for traveling in comfort.
Lim Studio Jacket
Key pieces of the season include the Lim Studio Jacket, the Wade Sweater and the Pacho short sleeve sweater constructed out of breathable paper yarn that drapes handsomely on the wearer. An array of fabrics and textures are seen throughout the light knitwear category this season with the use of a crepe knit in the Graham and Duey Long Sleeve shirts and a soft terry boucle in the Sanders and Jake Loop shirts.
Canty Shirt
If we had to pic a stand out piece it would be the woven shirts with button-downs in unique washes, dyes and fabrics that reference ancient traditions. Kasuri fabrics, Shibori prints, and Batik-inspired dyeing techniques all make an appearance in a variety of fits and styles this season including in the camp collared Canty Shirt and the linen Marco and Pontus shirts. While a brand new fabric treatment introduced this season is the rude-back wash. Applied to the Nathan Parka and Field Pants, over time it mimics an acid wash to provide more depth in colouration, creating the perfect worn in look.
Sam Full Zip Sweatshirt
Mimicking Batik Tie-Dyeing, popular sweat styles such as the Ditch Hoodie, Ken Sweat Shorts, Eric Pull over and the re-introduced Sam Full Zip Sweatshirt are put through a process that produces subtle highs and lows in colour, making each piece unique. Prominent prints highlighted throughout the collection include the Water Stack and Water Floral print, which pulls inspiration from the rich landscapes found along the Silk Road and the Pendant print, found traditionally in a jade form that signifies luck.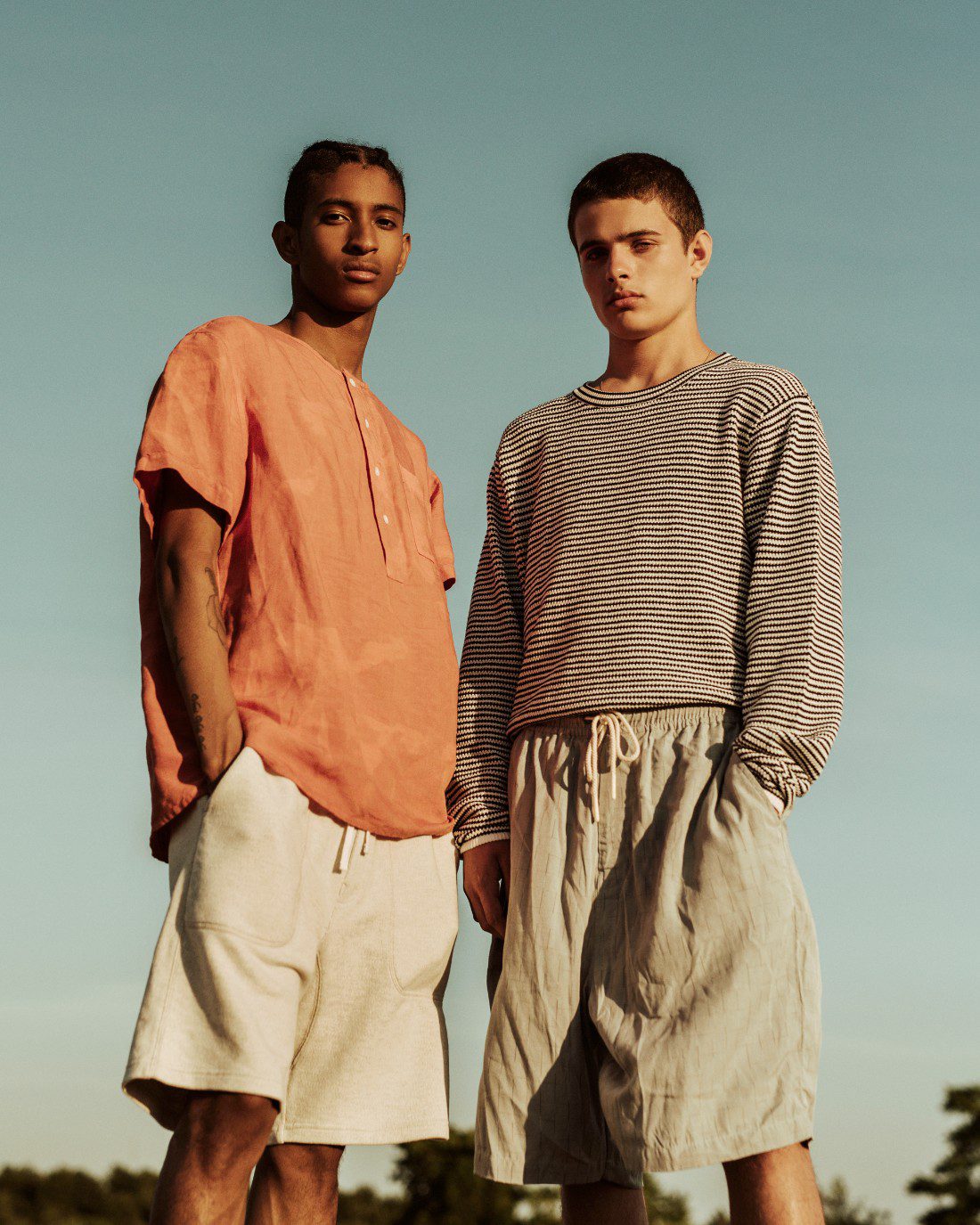 The collection will be available online at saturdaysnyc.com and in stores at all US Saturdays NYC locations on February 1st and worldwide on February 2nd, 2018.