We Shall Fight on the Beaches
Churchill's dress style is well documented but not quite as well known yet omnipresent with almost every outfit was his trusty Breguet No. 765 pocket watch.
On May 26, 1940 Winston Churchill, within days of becoming Prime Minister, launched the famed Operation Dynamo. Tasked with considering a negotiated peace treaty with Hitler or standing firm to fight as Nazi forces powered through France. This alongside the threat of invasion, an unprepared public, a skeptical King, and his own party plotting against him, Churchill was faced with his darkest hour. His decision – rally the nation, evacuate the British Expeditionary Force from Dunkirk and attempt to change the course of world history.
Operation Dynamo was a success, with over 335,000 troops rescued by a flotilla of small vessels which became known as the 'Little Ships' – privately owned boats which ferried troops to the safety of home. Sadly, the BEF lost 68,000 soldiers but those saved would go on to defend Britain and defeat the Nazi regime. The Dunkirk evacuation was hailed the "miracle of deliverance".
In honour of this military disaster, but equally victory in adversity – there are two films you must watch, both released in 2017. The first is Dunkirk and the second universalpictures.co.uk – depicting the days leading up to Operation Dynamo. I had the pleasure of viewing the latter at the One Aldwych hotel in London, and more specifically – seeing a replica Breguet No. 765 pocket watch. Affectionately known as "The Turnip" by its owner Winston Churchill, Breguet, one of our favourite watch brands created a replica of this exceptional chronograph for the Darkest Hour.
Churchill's dress style is well documented but not quite as well known yet omnipresent with almost every outfit was his trusty Breguet No. 765, with minute repeater and flyback seconds hand, it was commissioned in 1890 by John Spencer-Churchill, the 7th Duke of Marlborough and Uncle of Churchill. It became Churchill's faithful time keeper in which he would use in favour of all other clocks, much to the distress of both his family and manor staff, but was not his only Breguet. Churchill was a frequent visitor to the House, sometimes in order to make a purchase and other times to have his pieces serviced. Like many men of his stature the pocket watch was favoured over the wristwatch, which today is considered the more practical choice; yet testament to Abraham-Louis Breguet's keen eye for refined aesthetics, the unmistakeable Breguet style codes engineered in the 18th Century continue to be honoured today. His design aesthetic is undoubtedly timeless as demonstrated by the current pieces and notably the Breguet Classique Collection; which for those of you not willing to commit to a pocket watch – host an equally stunning array of modern gentleman's wrist watches.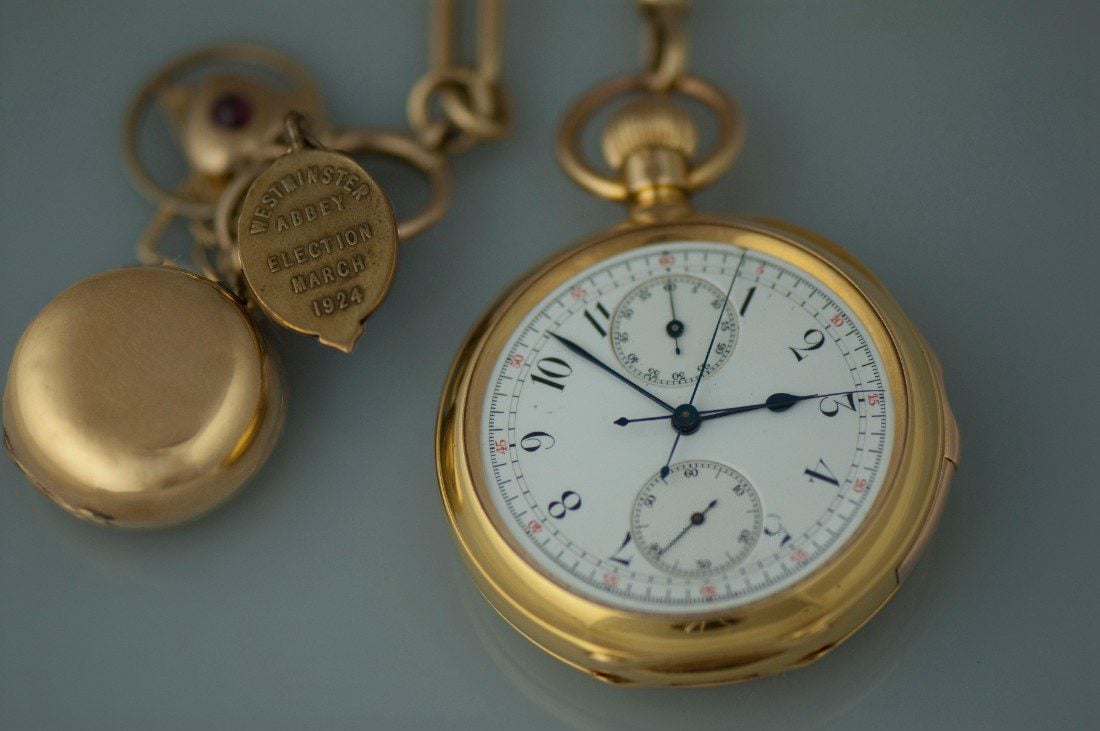 The Breguet No. 765 as seen in the film, Darkest Hour, sits on display within the Imperial War Museum in central London, the yellow-gold timepiece remains in perfect working order.