Ape's Ten Commandments of Menswear
Ape's goal has always been to educate and assist men with making better informed decisions when buying across menswear, skincare and lifestyle choices. With a focus on menswear today, we thought it important to summarise the framework in which we advise. Our featured content and product recommendations revolve around Ape's Ten Commandments of Menswear. This way ensures we are always on a consistent path to advising you the right way. We trust you'll find the below useful whether buying from our recommendations or when making any decision to purchase your next piece of menswear.
Invest in Quality
"When you buy the best, you only cry once." – Old Chinese Proverb
Forget fast fashion, invest in quality – this method will not only preserve a timeless style but save you money in the long run. A good example is footwear; a cheap pair of shoes will look, well, cheap and no doubt fall apart sooner than a quality pair of Northampton made shoes.
Crockett & Jones brogues, Northampton made
Keep it Classic
There's a difference between fashion and style. Fashions or trends come and go whereas timeless style is for ever. Keep your menswear purchases classic – buy quality from brands that are masters of their trade. Think Savile Row for suiting, Northampton for shoes, John Smedley for knitwear or Sunspel for loungewear.
"The proud peacock of today may be only a feather duster tomorrow." – Rick Barnes (also attributed to E. P. Atkins)
Use a Tailor
A good tailor could be the simplest trick in the book. Your favourite slim fit shirt, that isn't quite slim enough? Take it to your local tailor, ask for it to be darted at the back and instantly, it fits like a dream. Depending on you go to, the cost will be minimal and can rescue a fine quality item of clothing from the depths of wardrobe despair. The levels of tailoring obviously vary here – from a bespoke suit, handmade to your exact measurements through to your local tailor (or seamstress) making minor alterations.
Ape Recommended Reading: A made-to-measure suit service like no other with English Cut
Fit over Price
Don't make the common mistake of buying clothing that is expensive or adorned with the label of a well known brand over fit. Buying an expensive item doesn't automatically mean it will fit you well if at all. How many times have you seen men wearing blue chip brands but their attire just doesn't look right. Money can buy menswear, but not style. Well fitted clothing makes all the difference, regardless of price. A good tip here – find a brand that fits your body shape, generally and stick with it. If items need tweaking, refer to point three above. Well fitted clothes should work with your proportions and accentuated or conceal your qualities or flaws.
Fitted never Tight
There's a key differential here – Fitted means your clothes fit you like they should do; comfortable. Figure hugging in all the right places but never tight. Tight means uncomfortable, ill-fitting in the wrong places and generally unsightly. Denim jeans are a perfect example – buy slim fit if you posses a slim or athletic figure, ensure they are the right length and finish tidily and 'slim' around the ankle. Avoid super-skinny fit that restrict movement, resemble leggings and leave question marks as to where your manhood could possibly be located.
Blackhorse Lane Ateliers craft jeans the right way, in every sense of the word
Learn Menswear Rules to Break Them
Emulating style icons is fine. They're generally considered a style icon because they are stylish. Consider this your place of education, learn from the masters of style. Three gentlemen to begin with include; Steve McQueen and James Dean for laidback, off-duty style and Gianni Agnelli who mastered the art of Italian business-wear. Once you've figured out your own style and education, you can then consider breaking the rules.
"Learn the rules like a master, so you can break them like an artist." – Pablo Picasso
Properly Tie a Tie
The amount of men who struggle to tie a tie correctly is more than you might think. It's most likely due to the facts that a.) their fathers never taught them or b.) there are too many options. The Windsor and the Half-Windsor are particularly common but our preference is for the Four-in-Hand.
Noted for its simplicity and versatility, it is easy to tie, slender, tapered, mildly asymmetrical and self-releasing. If you only learn one knot, make it the Four-in-Hand.
Simple Wins
If you're ever deliberating over what to wear to an event, a social occasion or an important business meeting, simple wins. A navy suit, dark brown shoes and a white shirt for instance will always look good. Take a look at our guide; The Rail: A Tie for Every Suit, and White Shirt. It's important to build good quality basics throughout your wardrobe, simple in style – these will last and never go out of style.
Take Care
Referring back to point one above and spending £400+ on a pair of Crockett & Jones Oxford shoes is a good thing, not looking after them isn't. It's simple enough to do. Keep your shoes boxed and in their no doubt provided dust bags, with a pair of shoe trees for protection. Clean, waterproof and polish them regularly, and repair or replace the soles when required. The same goes for every other item of clothing or footwear you've invested in.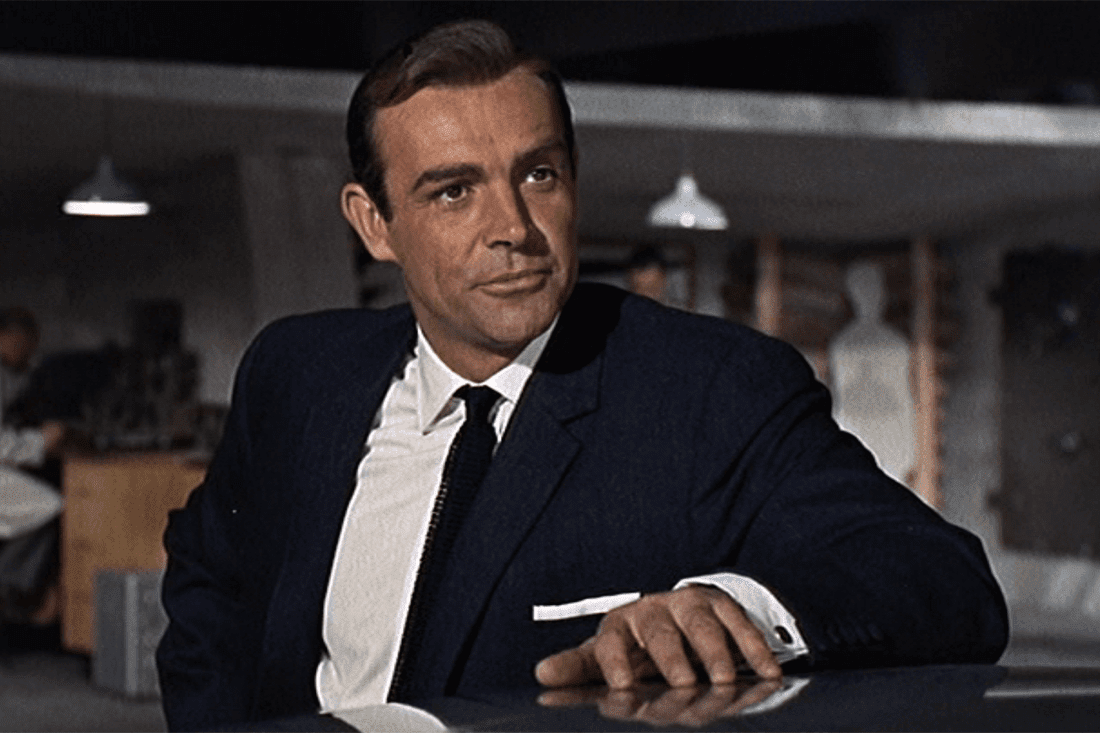 Sean Connery feeling good in a navy suit
Feel Good
Our final commandment; if what you're wearing doesn't make you feel good, don't wear it. You've invested in quality, classic style and well-fitted attire – all the principles are in place. Therefore, you shouldn't feel uncomfortable. Before buying in the future, make sure you're completely satisfied with what you're adding to your wardrobe.
"A man should look as if he has bought his clothes with intelligence, put them on with care and then forgotten all about them." – Hardy Amies
Be weary of that expensive, garishly coloured shirt – that looked so good in the brands' advertising campaign but just doesn't suit you. Good menswear is all about confidence, how does it make you feel? Like a champion, is the goal. It's all about how you feel.