Michelin Star Grilling: The Hub Will Take Your BBQs To The Next Level
The time is almost upon us. The clouds are easing up, temperatures are rising ever so slightly, the sun is making an appearance and before you know it, barbecue season is upon us. At this point you've got two choices: pick up a one-summer-wonder or choose a BBQ that's not only going to last for years to come but also provide the sort of mouth-watering food that'll give your garden parties mythical status. If you're just here for the novelty of a few bits of charred meat, step aside.
If you're serious, you need to consider The Hub: an electric ignition charcoal barbecue that's part of the new Everdure range by Heston Blumenthal.
Now, we're not talking about a grill that a former boxer found so much pride in that he put his name on it. We're talking a complete charcoal barbecue setup designed by one of the world's foremost three-Michelin-starred chefs. If it was a restaurant it would be booked out for months.
The Hub is a barbecue so forward-thinking in its design, use of quality materials and cooking ability that you could be forgiven for thinking it was an item kept solely for the confines of professional kitchens. That's where the inspiration came from. The results are for everyone. To prove it, Ape took it for a road test.
The Authentic Made Extraordinary
The Hub was inspired by considering what makes charcoal cooking so mesmerising and yet so difficult to master. By approaching these questions with the design team from Australian barbecue experts Everdure, Heston was able to design a product that ticked all of the boxes, with ease of use at the forefront.
Thanks to the Fast Flame Ignition System, The Hub leaves you ready to cook in just 10 minutes without going anywhere near toxic lighter fluids and harmful chemicals.
Commercial-Quality Rotisserie In Your Garden
Always dreamt of a hog roast at home? Look no further. A built in retractable rotisserie system means an authentic, commercial-quality rotisserie setup that's ready to go in a matter of minutes, with jaw-like Cliplock Forks ensuring everything from chickens to a suckling pig can be cooked perfectly over coals at three different heights.
All of this is powered by a discrete motor tucked away in the body of the barbecue itself, ensuring evenly cooked meat every time.
Function And Form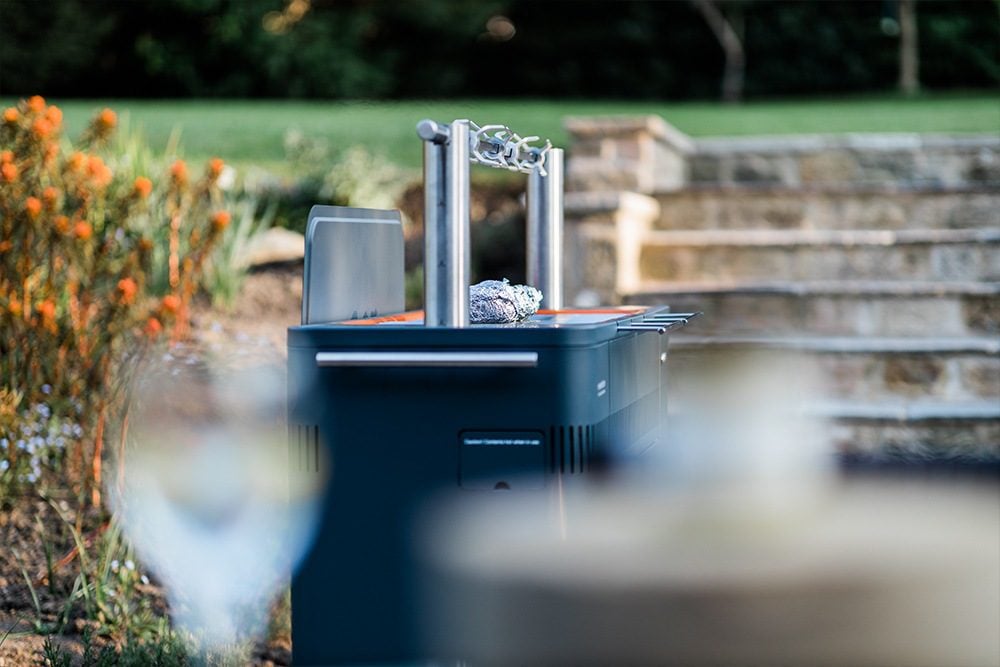 The barbecue scene can so often be substance over style, but The Hub sacrifices neither. Taking cues from minimalist Scandinavian design, with nods to the modern and the retro, sleek tapered legs meet a stylish smooth body, with everything optimised for the ultimate in outdoor style.
This effortless approach extends to the barbecue's cleaning and maintenance. When you're finished for the day, simply brush out the ash from the porcelain enamel firebox and charcoal tray and wipe everything down. It truly does take the hassle out of what is easily the worst part of any get together.
Smart touches are also littered throughout, from the integrated retractable power cord to the wind shield and fully enclosed cupboard, complete with shelf and double-lined doors for storage. Every feature plays a part in providing the ultimate barbecue system.
A Professional Outdoor Cooking Experience
With The Hub, it's about the whole package. A dynamic outdoor barbecue setup that allows you to cook a diverse range of meats and sides with the added features of a professional kitchen.
Whether firing it up for simple steaks or going the whole hog for an epic suckling pig roast, The Hub is the perfect BBQ for outdoor entertainers and serial hobbyists alike, forming the centre piece for any garden party or family gathering, big or small.
Available now at kettler.co.uk, priced £1,699
In partnership with Kettler – words, opinion and photography Ape's own.