Home Bartender: 9 Classic Cocktails That Will Get You Through Lockdown
There are some skills modern men should just have, no questions asked. Being able to make a mean cocktail is on that list. Every gentleman should know their way around a drinks cabinet, and every man should be able to combine popular spirits into something more, whether entertaining friends or drinking alone.
With your local closed, now is the perfect time to finally nail all the classics – and the below list is a good place to start.
Negroni
A perfectly balanced cocktail beloved by barmen worldwide. Equal parts gin, vermouth and Campari combine for a delightfully bitter concoction. Although simple, always opt for the best quality spirits and aim for a sphere of ice rather than cubes. Finesse with that slither of orange peel and you've got yourself the perfect barfly cocktail for when things are winding down.
Method: For the perfect pour, combine one-part gin, vermouth and Campari into a mixing glass with ice and stir until the glass begins to feel chilled. Strain into a tumbler and garnish with a slither of orange peel.
Old Fashioned
Another traditional cocktail for late night sessions that works well with both bourbon and scotch, with the same rules applying on quality of spirit. The cocktail was originally invented to disguise bootleg whisky, with the bitters and sugar bringing out the sweetness of the spirit.
Method: Add a teaspoon of caster sugar to a rocks glass with a few splashes of Agostura Bitters and a splash of hot water or soda water to dissolve the sugar. Stir until all of the sugar has dissolved and add a few ice cubes and one part whisky (50ml). Stir for one minute before topping up with ice and an orange peel/slice to garnish.
Espresso Martini
If you're not lucky enough to have a coffee machine at home, a stove-top coffee maker or even canned espresso work just as well for this classic vodka cocktail that's recently come back into the spotlight. The ideal early evening drink to bring a bit of pep to proceedings, Kahlua is our coffee liqueur of choice.
Method: Combine 100ml vodka, 50ml cooled espresso, 50ml of coffee liqueur and plenty of ice into a cocktail shaker and rigorously shake until the outside of the shaker is cold. Strain into chilled martini glasses and garnish with three coffee beans.
Bloody Mary
For fragile mornings when the only way forward is hair of the dog, the humble Bloody Mary is a saviour. Said to hail from 1920s New York where an off-the-cuff half-and-half mixture of tomato juice and vodka took off, there really is nothing like it when you're in need of a hangover boost.
Method: Add plenty of ice to a shaker along with two-parts vodka, four-parts tomato juice, half-a-part of fresh lemon juice, four dashes of Worcestershire sauce, four dashes of Tabasco and a sprinkle of salt and pepper. Tilt the shaker back and forth before shaking vigorously. Strain into a tall glass and garnish with a celery stick.
Margarita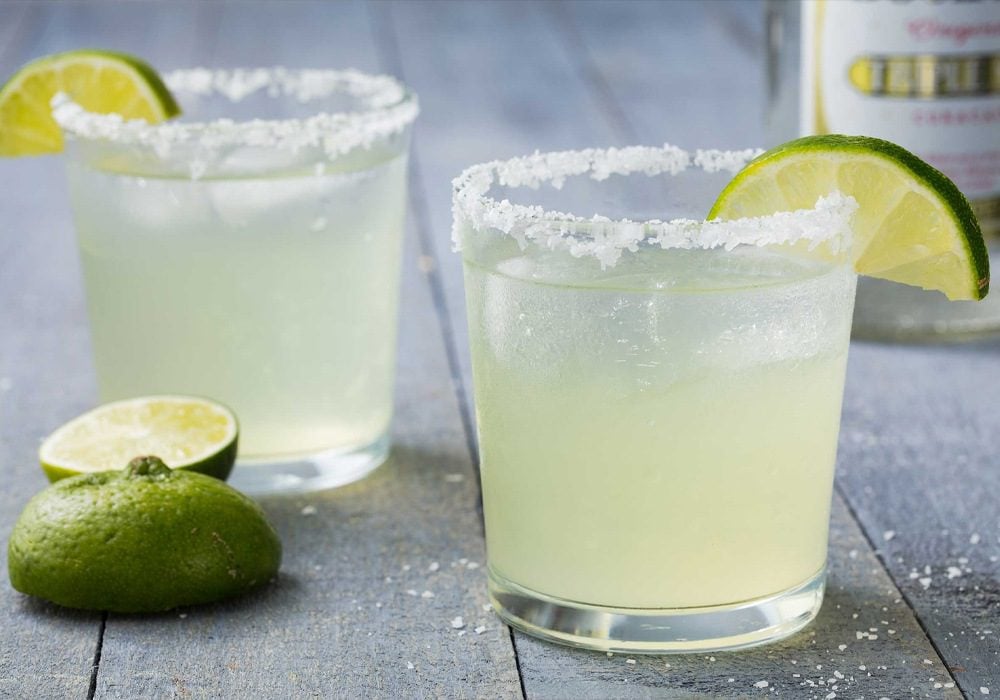 You can't beat a margarita when the sun is beaming down and you're in the midst of that heady garden party spirit. Many people's fear of tequila quickly dissipates when the Mexican spirit is combined with that sweet double combo of lime juice and triple sec.
Method: First things first, prepare the glass by wiping the rim of the glass with a lime and then placing it upside down on a bed of salt so that the rim has a light covering all the way round. Combine 50ml tequila, one tablespoon of triple sec and ice in a shaker and serve with extra ice and lime to garnish.
Dry Martini
Another great excuse to get the vermouth out, the Dry Martini is such a simple but delicious signifier of any barman worth their salt. Undoubtedly an evening drink, have your martini glass chilled and opt for an upmarket vermouth for a more indulgent drink.
Method: Fill a mixing glass with ice and then pour in 150ml dry gin and 25ml vermouth (a dash of olive brine if you want your martini dirty) and stir until the glass is chilled. Strain into chilled glasses and garnish with olives on a cocktail stick to serve.
Sidecar
You don't see enough sidecars about these days, despite the classic 1920s London cocktail being an underrated tipple. A good way to make the most of any spare cognac lying around, the Cointreau and lemon juice give this vivid orange mix a lively kick.
Method: Combine 50ml cognac, 25ml Cointreau, 25ml lemon juice, one teaspoon of sugar syrup and plenty of ice in a cocktail shaker and once shaken hard, strain into a coupette glass with a twist of orange for garnish.
Pisco Sour
Another underrated but summery go-to that has been a long disputed export of either Peru or Chile depending on who you're trying to impress. Rumour has it though that it was actually an American who concocted the original in a Lima bar.
Method: Add egg white, 50ml Pisco, 50ml lime juice, 50ml sugar syrup and plenty of ice into a cocktail shaker and shake vigorously before straining into a rocks glass. Top with a few drops of Agostura bitters and a slice of lime.
Mojito
Last but not least, the ultimate crowd-pleaser, nothing beats a cold Mojito as alternative refreshment when barbecuing. Fresh mint is essential here and make sure you take a bit of time to muddle properly so you get the most from your ingredients.
Method: Muddle together the juice of one lime, sugar and mint in a mixing glass and pour into a tall glass with plenty of ice. Add 60ml white rum and mix with a long-handled spoon. Top up with soda water and garnish with a spring of fresh mint.