A First Look at the New BMW M5
BMW's new M5 continues to build on the tradition which the German manufacturer's began in 1984 with the original M5: the concept of a luxurious four-door business saloon with a taste for the racetrack.
The latest M xDrive all-wheel drive system features in the high performance M5 for the first time, seeing the series exploring new dynamic dimensions and offering greater everyday practicality in all driving conditions.
BMW describe M xDrive as "the most emotionally engaging all-wheel-drive system yet to grace the high-performance segment", designed to distribute drive fully variably between the front and rear axle as required, and to give supreme traction in all road and weather conditions.
With a raucous 600bhp, the Beemer will take the driver from 0-62mph in 3.4 seconds, although top speed is electronically limited to 155mph. However, the optional M driver's package will provide a considerable boost up to 189mph.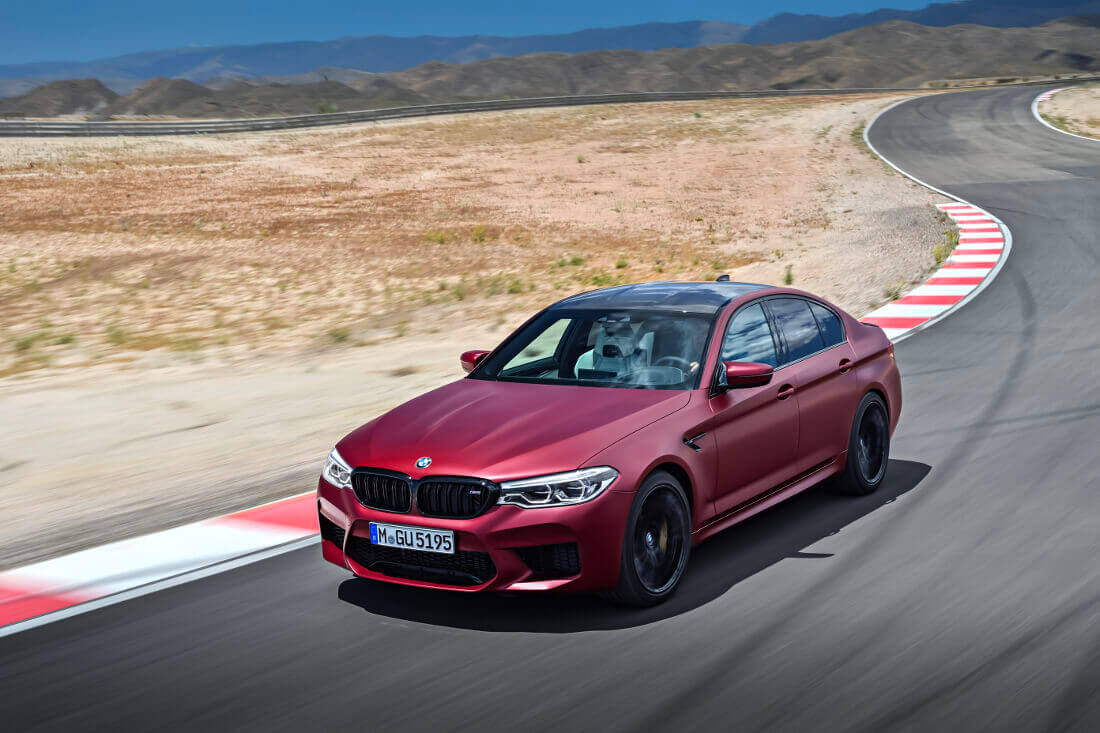 The M5 channels all that power through it's eight-speed manual transmission, although in D mode the car will cruise along with automatic transmission, which can be switched to manual using either the compact selector lever on the centre console or the steering wheel-mounted paddles. For track use, the eight-speed shift serves up lightning-fast shift times, helping to give the new M5 its exceptional agility and dynamic flair.
Likewise, the suspension was also designed to give maximum comfort for everyday use as well as great track performance. Along with the engine and transmission, it's been put to the test at a range of racing venues across the world, including the infamous Nürburgring.
The BMW is fitted as standard with M compound brakes, which are lighter than conventional grey cast iron items and therefore also bring down the car's weight. The optional M carbon ceramic brakes, which can be identified by their gold callipers, shave another 23 kilograms off the M5's weight and can withstand even greater punishment.
The new BMW M5 can be ordered from September 2017, with delivery beginning in Spring 2018, although it will set you back a cool £108,000 before options. If money is no object, however, for an extra £17,900 you can get your hands on the M5 First Edition, limited to only 400 models worldwide, with Frozen Dark Red Metallic paintwork.
The new M5, from £108,000, by BMW