Three of the Best: Aftersun Lotions
Holiday tans always leave you feeling healthy and looking radiant, but the key to maintaining your colour and avoiding the dreaded peeling is slathering on the after sun. After sun replaces the moisture lost and instantly cools the skin. If you're on holiday for up to a week, take it slow and make sure you take regular breaks from the sun, covering up your shoulders and back and drinking plenty of water.
To prevent redness and oedemas make sure you moisturise, sunburns are really easy to treat when you have the right products. The key is to rehydrate the skin to assist the repair process, protect the skin from further damage by sealing in moisture.
Malin+Goetz Replenishing Face Cream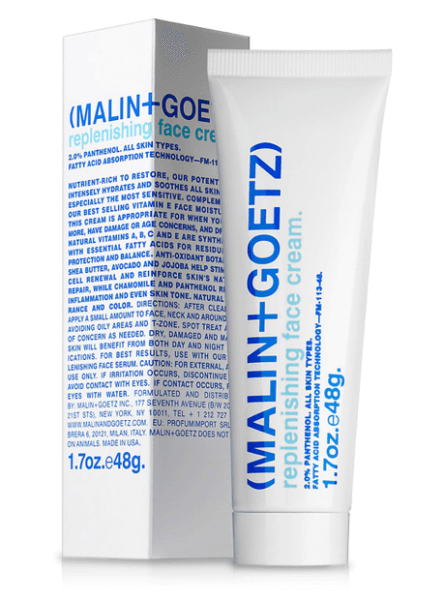 Getting burned on the facial area, can be sore and painful. The face, being such a sensitive area, even when protected using sun cream can run the risk of burning. The replenishing face cream is infused with antioxidant botanicals, shea butter, avocado and jojoba to target dry and broken areas of the skin, reinforcing the skins' natural renewal, repair and barrier function. Perfect for sensitive skin this moisturiser is gentle and cooling with out leaving an oily irritating residue behind.
Sun Bum's 'Cool Down' Hydrating After Sun Lotion
Containing aloe vera and vitamin E, Sun Bum's cool down lotion soothes burnt skin and gives an intense hydration boost. A non-greasy quickly absorbed formula, that prevents peeling and pro longs your tan whilst restoring and protecting sun damaged skin. For the ultimate cooling sensation keep you Sun Bum after sun lotion in the fridge.
Coola Radical Recovery
Save your skin, with this moisturising and deep-soothing lotion. Using organic Agave's natural moisture binding mechanisms it acts as a environmental defence and calms sunburn. This miracle plant provides superior hydration and promotes collagen synthesis while offering UV boosting protection and clinically proven relief from sunburn. Rich with organic ingredients, Radical Recovery After-Sun Lotion will nourish, repair and keep skin youthful and naturally glowing all year long.