Whether you call it body wash or shower gel, the liquid-gel has become an omnipresent part of the modern gentleman's grooming routine, alongside other essentials such as a face wash and razor. Traditionally a mixture of water and cleansing agents with added fragrance, it's important to note that body-specific shower gels shouldn't be used on the face or hair. Instead, opt for a specialist face wash and haircare products designed for more delicate facial skin and the unique needs of hair, respectively.
Of course, there are many two-in-one products available today that combine a body wash and shampoo, which are better but still not perfect. Nevertheless, let's be clear: using a body wash on your hair isn't the end of the world. Many contain milder surfactant bases than shampoos, meaning a shower gel would just increase the hair's moisture levels. That said, shampoos will be designed with specific hair-benefiting ingredients in mind – so don't miss out.
pH-balance
The choice of shower gels for men is of course endless, but what makes a good body wash? Nearly all shower gels on the market today are pH-balanced. Why is this important? A poorly-balanced skin pH can result in wrinkles, inflammation, sensitivity and even acne, as a result of a disrupted skin barrier (also known as the acid mantle).
This barrier is crucial as it's responsible for keeping in lipids and moisture while blocking germs, pollution, toxins and bacteria. In an ideal world your skin would be slightly acidic, at a 5.5 pH-balance for optimal performance. If skin is too alkaline it becomes dry and sensitive. Conversely, too acidic means breakouts of spots and acne. For reference, a lower number indicates increasing acidity whereas a higher number indicates increased alkalinity.
Ingredients To Avoid
Furthermore, with the basics of pH-balance covered, shower gels differentiate themselves using a variety of ingredients from herbal-infusions to aromatherapy benefits. Many contain menthol, particularly within the men's bath and body sphere, due to its masculine and refreshing scent.
Naturally, many brands experiment with aroma, lather and texture. Having sampled everything under the sun here at Ape, the variance in quality is quite startling. Especially relevant are affordable supermarket brands, which often include cheaper, potentially skin-irritating ingredients – so it's a good idea to pay a little more.
Key ingredients you should try to avoid are: DEA (Diethanolamine), MEA (Monoethanolamine), TEA (Triethanolamine), Phthalates and Parabens, Quaternium-15 and Triclosan.
Top 10 Men's Shower Gels & Body Washes
A good men's shower gel should lather well, smell fantastic, be highly concentrated, incorporate high-quality ingredients and offer value for money. So, without further ado and in numerical order of supremacy, this list – derived as a result of reader feedback, popularity, innovation, ingredients, results, price and the opinion of Ape to Gentleman's expert testers – displays the best body washes the male grooming world has to offer.
1. Molton Brown Re-Charge Black Pepper Shower Gel
No surprises here. A Molton Brown bestseller and it's easy to see why – it offers an incredibly manly scent with a rich and satisfying lather. No surprise, then, that it's popular with men across the globe and the winner of countless industry awards. The price is more than reasonable when you consider it has a concentrated formula which lasts a long, long time. Use sparingly.
£22 for 300ml; johnlewis.com
2. Malin+Goetz Rum Body Wash
This Rum Body (+ Hand) Wash, from science-meets-nature experts Malin+Goetz, is designed to gently yet effectively purify and balance all skin types. The foaming cleansing gel synthesises 0.5% fragrant warm Dark Rum EDT fragrance with amino acid-based cleansing agents. Skin is left thoroughly cleansed and hydrated thanks to the inclusion of protein amino acids and natural glycerin. It produces a rich lather and rinses off without residue whilst being non-irritating, drying or stripping the skin, reducing epidermal stress. Available in a variety of other incredible scents too.
£20 for 250ml; libertylondon.com
3. retaW Fragrance Shampoo For Body And Soul
Anything with "a fragrance for your body and soul" in the product title will instantly capture our attention. Combine this with the richest lather you've ever seen, a truly special scent, potent organic ingredients and you get an incredible shower gel worthy of any bathroom.
£29 for 300ml; endclothing.com
4. Korres Guava Shower Gel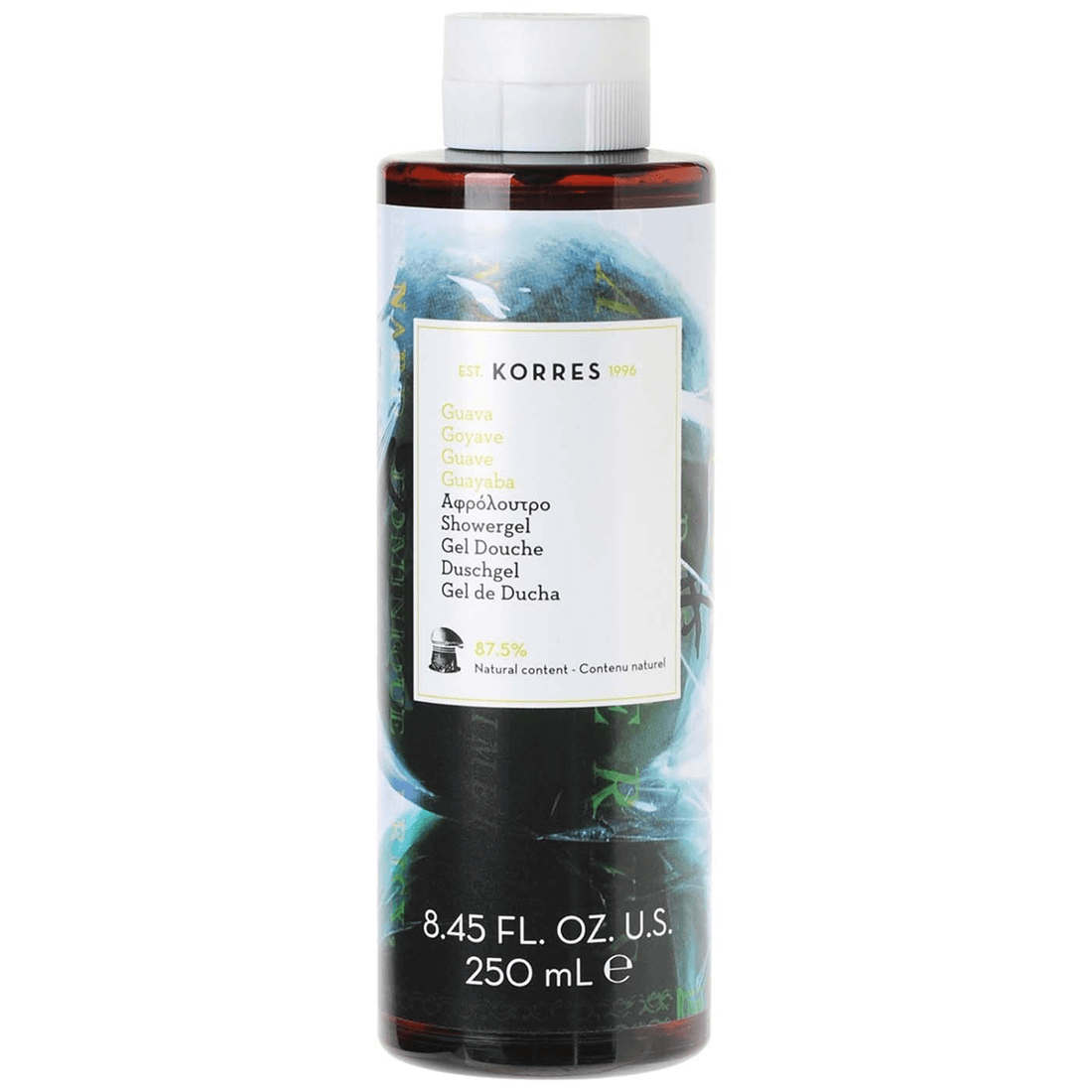 Delivering a deliciously invigorating blend of tropical fruits, this creamy-foam shower gel featuring wheat proteins and Althea extract helps maintain the skin's natural moisture levels and leaves you feeling fresher than a Starburst.
£8 for 250ml; amazon.co.uk
5. L'Occitan Shower Gel For Men
An award-winning two-in-one formulation cleanses hair and body in one step. Made with authentic A.O.C. lavender, blended with the peppery, nutmeg scent of burnt wood, this shower gel will leave you smelling magnificent with the added bonus of shiny, healthy hair.
£16.50 for 250ml; marksandspencer.com
6. Kiehl's Pour Homme Bath And Shower Liquid Body Cleanser
A truly masculine smelling shower gel from Manhattan's oldest pharmacy (now part of L'Oreal). A rich texture which produces a generous lather. This smells like the gentlemen of yesteryear, very manly.
£18.50 for 250ml; kiehls.co.uk
7. Aesop Coriander Seed Body Cleanser
This low-foaming cleanser – noted for its warm, unorthodox scent derived from the oils of crushed coriander seeds and black peppercorns – offers a superb cleansing experience that refreshes both skin and spirit.
£33 for 500ml; mrporter.com
8. D.R.Harris Windsor Head-To-Toe Wash
Great for both showering and bathing, D.R.Harris Windsor Head-To-Toe can be used to wash the hair as well as the body. Windsor is a fresh fragrance that opens with bracing citrus notes that mature into a warm, leathery scent thanks to its base of black pepper and vetiver. The perfect mix of traditional, understated luxury and fresh, contemporary vibrancy.
£23 for 250ml; drharris.co.uk
9. Baxter of California Invigorating Body Wash
A super-hydrating shower gel for men that gently washes away dirt and debris without stripping skin of moisture. Featuring bracing notes of zesty Italian lime, bergamot and pomegranate, it's great for jump-starting your morning routine or post-workout showers.
£15 for 236ml; mrporter.com
10. Cowshed Awake Bracing Bath & Shower Gel
No parabens, petrochemicals, sulphates or artificial colours, it's even suitable for vegetarians. The Cowshed offering from the Soho House group is an excellent option that produces a creamy rather than foamy lather. The scent is great – very masculine – and we really like the name and bottle design, which would look great on your bathroom shelf.
£20 for 300ml; johnlewis.com