Winter dressing – an edit of the best styles to keep you warm and stylish this winter
Staying warm is the name of the game during winter. Adding a bit of attention to the style stakes will do you the world of good and guaranteed to help you enjoy your winter layering. Think of your schedule and note whether you need to be smart, casual or ready for the elements. We want you to be comfortable at all times while keeping to a timeless mentality that will put you in good stead and able to go back to them time and time again.
We've selected a range of garments from our friends at End. that should aide you in building a strong wardrobe while also supplementing what you may already have. Winter of course is a more expensive season due to the nature of materials used in the manufacturing of the garments. But the benefits they offer will be well worth your while.
Shirting
When forming your outfit, think what you'll being doing throughout the day to help make an informed judgement of what to wear. The great thing with shirts is that you can still have layers on top, so the warming factor doesn't necessarily play. However, the colour palette does play a part, and it's best choosing a range of colours that can work with your wardrobe and the other items we suggest in this piece.
You can never go wrong with a white shirt – we could go on and on, but getting one that fits well will make the impression in the boardroom as well as it the bar. Think casual and smart. Shirting can remain formal throughout the day, but depending on your choice of jacket or knitwear, will have the desired affect. Blue is a great colour to compliment dark outfits and can come in an array of shades and materials to suit your lifestyle. Shirts can either be you your blank canvas to compliment your outfit, or be the central point of it.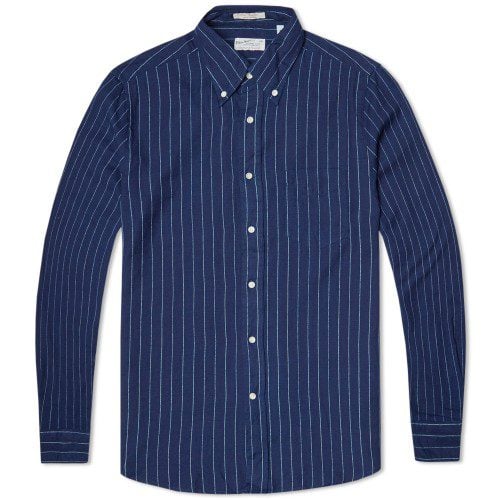 Blazers
In an age where smart and casual often blur there are plenty of options that can serve you well on both occasions. Patch pocket blazers, for example, are the easiest to point out that offer a more relaxed aesthetic. However, don't let that fool you or others as it can be effortlessly smarted up with a crisp shirt and tie. Blazers offer elegance and comfort and are not to be taken lightly, so for winter, focus on texture to enhance your outfit. Boiled wools, wool flannel, wool blends, virgin wool and nylon blends are just an example what's on offer. Find what works best for you and remember that your choice can to look great worn casually or dressed up
Knitwear
Roll necks
Chunky knits in new wool are always going to be useful in the winter as a comfortable and effective way of keeping warm. Paired with just a an overcoat, you'll be ready to face the cold. However, if you like to layer, then a thinner merino wool or cashmere option will be perfect to layer underneath an unstructured sports jacket or gilet.
Crew necks
A more classic look can be achieved with crew neck knitwear – again, either going for a chunky cable knit or a finer merino knit. With it's clean neckline you can wear them on their own to great effect, either in a smart or casual outfit. Timeless designs will stay in fashion and won't have too much of an affect to your wardrobe. We believe it's better to invest into knitwear that you'll genuinely wear. Don't fall into the trap of getting knits in bright colours that you won't be able to wear beyond only a handful of times. Classic colours of navy, black, grey, green and camel may sound uninspiring, but there's a good reason why they work so well. Keep it simple and choose quality so that you'll have a timeless piece that you'll go back to time and time again.
Trousers
Smart wool trousers will always keep you looking elegant and sophisticated. Getting the right fit is important. Be aware of your sizing and don't be afraid to get a little large if necessary so that you can get it altered by your tailor. Ensuring you have a good fit on the seat and then a perfect break on your hem is a must. Slim fitting trousers look good on some gentleman, but regular fit will always be timeless. If you want, try a slightly wider leg with a chino for a relaxed feel. Remember to aim for casual elegance at all times.
Outerwear
Overcoats
Nowadays it is acceptable to wear smart overcoats with a casual outfit. That doesn't mean to drop standards, rather be aware of your whole outfit and dress accordingly. Sneakers or hiking boots can be worn as well with jeans and a quality knit. The overcoat shouldn't feel rigid, but a comfortable extension of you and your style. It can be a solid timeless piece for your business dressing during the week, but then a comforting go-to at the weekend for social events. In those circumstances break it up with a textured or printed scarf such as tartan or even a sophisticated camouflage.
Parkas & Bombers
The parka is an obvious choice for those in extreme weather locations, as well as men who like to go on adventure. It's also a decent choice for when the ski season will kick in. The bomber on the other hand, is something for the man-about-town who finds himself traveling a lot within the city. You can stay warm and yet not feel restricted by a larger coat. It is also versatile and can offer a casual alternative if going out for drinks in the evening. We do however recommend not to wear bombers with suits.
Accessories
There will come a moment in the winter where it becomes a necessity to have a scarf for practical reason more so than anything else. Wrap up with something stylish and that shows your sartorial eye. Choose colours that compliment and balance your outfit. Smart attire should have elegant colours and designs, whereas more casual outfits can be afforded more texture and details such as print or tartan.