Adidas Football x David Beckham – Capsule Collection
Adidas Football's new footwear collection alongside David Beckham celebrates the twenty-plus year partnership between the player and the brand, and includes a remastered version of the Predator Accelerator boot.
Beckham himself played a central role in creating the collection with concept meetings in London and follow-up design trips to adidas HQ in Germany. During the concept phase, Beckham identified the Accelerator as his favourite boot and the colours of red, white and black as the most important to his career – likely due to the colours of the teams he played in, such as Manchester United, Real Madrid, AC Milan and England. The result was a collection that celebrated these colours – a triple-white 'Stadium' boot, triple-black 'Street' shoe and triple-red 'Cage' shoe.
"When I look back on the best moments of my career, the one defining theme of them all is the adidas Predator. It has always been there, helping me play my best when it mattered most. That's why when adidas offered me the chance to design an updated version of the boot for on-pitch, in the cage and on the street, I absolutely jumped at the chance." – David Beckham
Beckham wore the Predator Accelerator for the majority of his career for club and country, and some of the most iconic moments created while wearing this boot were chosen by the midfielder and stitched into the collar of each item of the collection.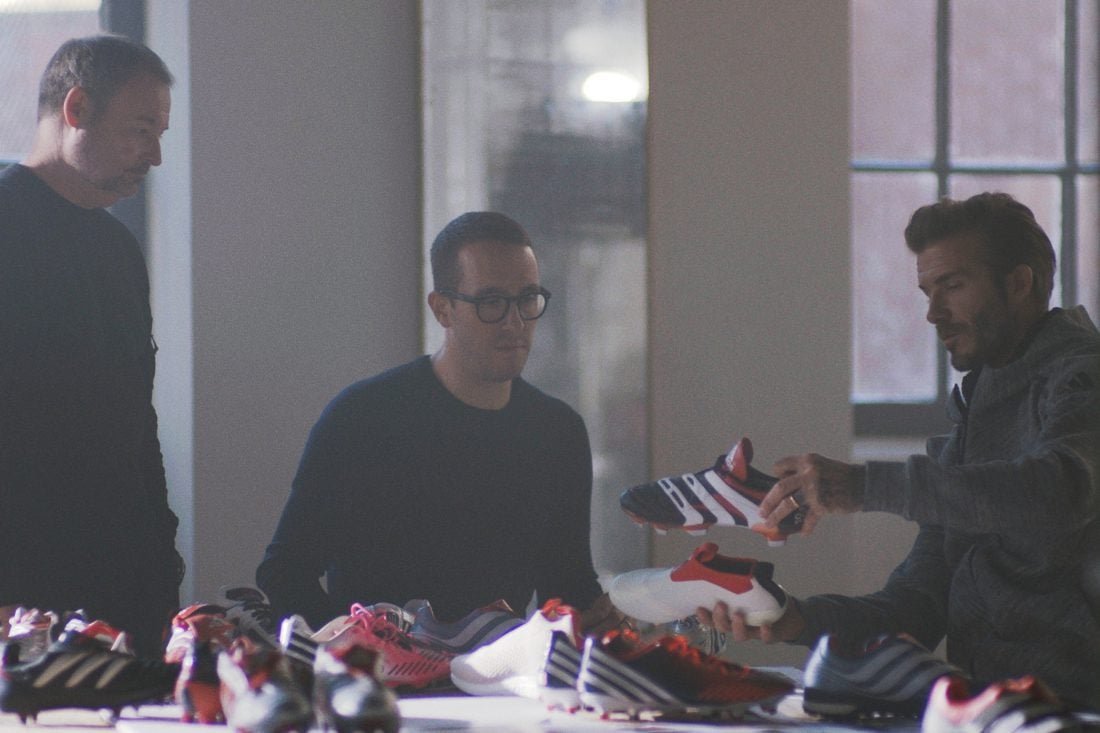 The three shirt numbers synonymous with Beckham's career are marked on the heel of each shoe – 23 (for Real Madrid) on the triple-white 'Stadium' boot, 32 (for AC Milan) on the triple-black 'Street' shoe and the famous number 7 (for Manchester United and England) on the triple-red 'Cage' shoe. The lettering on the shoe also blends the original Predator typeface with Beckham's name and number.
"Our limited-edition capsule collection releases are designed to pay homage to the rich history of adidas while introducing modern technology that keeps pace with the requirements of peak performance. There are few more longer-standing partnerships in sport than David Beckham's with adidas and so working with David on his own footwear collection was something we were all extremely excited about. We know that these will be iconic products for so many fans and collectors." – Sam Handy, Adidas Product Design Vice President
The Capsule Collection, by ADIDAS FOOTBALL x DAVID BECKHAM