The Best Men's Face Scrubs For Every Skin Type In 2023
Anyone who has lovingly restored an old piece of furniture will appreciate the process of peeling back the dead layers and creating a new glossy finish. Standing back, admiring your own handiwork and marvelling at the new lease of life you've given an old cast-off is a satisfying feeling.
Now, imagine that tumbledown table or tatty chest of drawers is your face, weathered by the wonderful years of living, plus a bit of work, stress, sun exposure, booze and illicit substances. Wear and tear is only natural of course, but we could all get handy with a bit of elbow grease and reap the rewards. Do the furrows in your brow look a little deeper than usual? You can blame increased stress levels and being indoors more than usual (two things most of us have experienced over the last few months). Here's your chance to rewind the clock (a bit).
A face scrub is an integral part of an effective skincare routine for any skin type as physical exfoliation has numerous benefits; it stimulates the circulation, removes dead skin and encourages cell turnover (a process that slows with age), cleans away grime and pollutants, lifts hairs for a better shave and clears pores and ingrown hairs. Less breakouts and smoother, younger-looking skin are a pretty good trade off for about two minutes of your time per week. Feel free to use your scrub more or less frequently if needed, but be wary of overuse which can strip healthy skin more than necessary.
Pumice, silica, nut shells or kernels, coffee grounds, rice grains, sugar and salt make some of the best natural exfoliators. Most major skincare brands have removed plastic micro beads from their formulations since legislation was introduced in 2018. However, not all countries have the same regulations, so if you are shopping abroad, always read the label to avoid these unnecessary pollutants.
Now, start buffing up a shine with some of our favourite scrubs.
The No-Fuss Skin Saver
Horace Face Scrub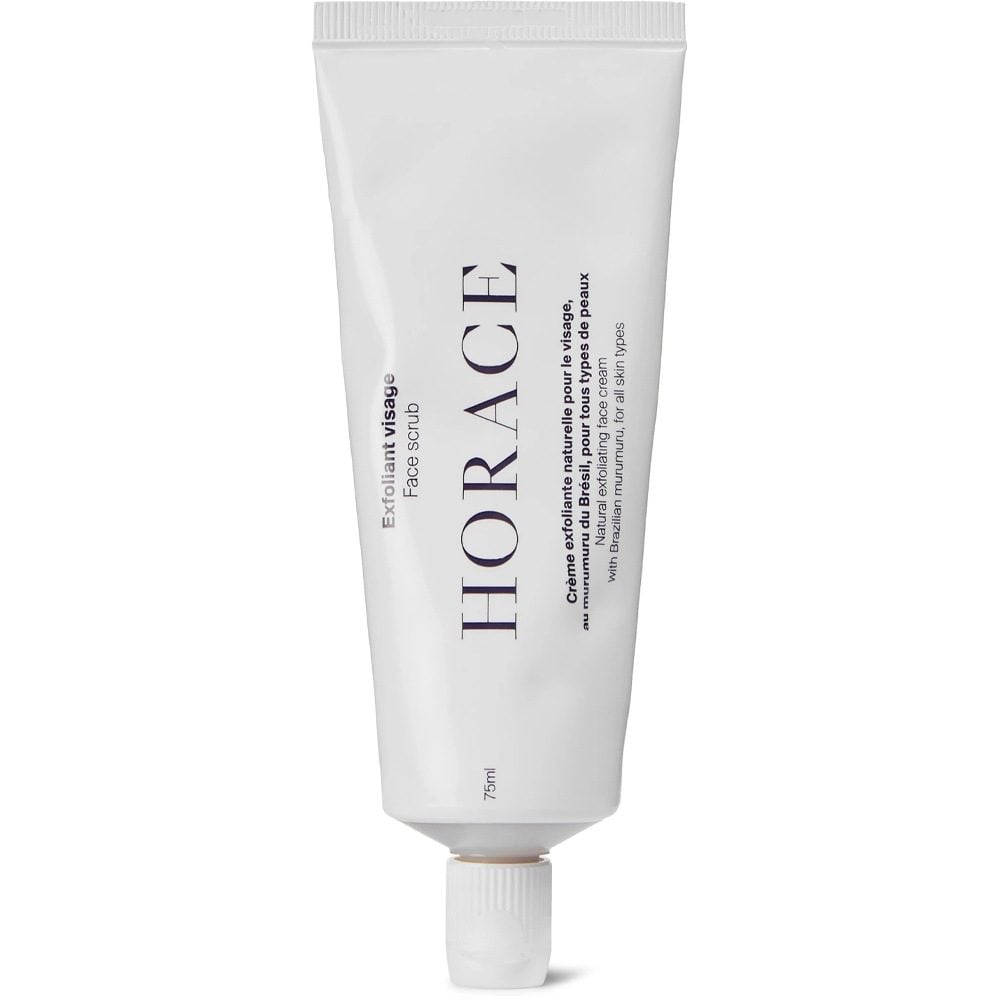 Horace is fast becoming our go-to brand for no-fuss skincare. Amazonian murumuru seeds provide the buffing traction, while murumuru seed butter and vitamin E will soften your chops. It's unscented for those who prefer fragrance free, so it won't interfere with your schosen signature scent.
Need to feel confident when you purchase a new product? Over 1,000 happy customers have awarded it five stars to date.
The Hollywood Glow Up
Ole Henriksen Walnut Transforming Face Scrub
Danish import and Hollywood skin guru Ole Henriksen has scrubbed both Justin Timberlake and Daniel Craig into shape for the red carpet. His best-selling walnut face scrub has a creamy consistency and a pleasant smell. Texture wise, it feels rough like it means business but never harsh. Walnut powder, ginseng and chamomile extracts purify pores and visibly diminish dullness.
The Heavy Lifter
Aesop Purifying Facial Exfoliant Paste
Consider this thick quartz-based paste as the super sander you need in your life: for the tough jobs or the big overhaul. Lactic acid backs up the tough grains and lavender, rosemary and evening primrose extracts provide the scent.
For frequent flyers, wannabe smooth shavers and general winter proofing, this is an excellent choice. Prone to dry hands, feet or elbows? This works marvellously on those areas too.
The Wake Up Call
Tom Ford For Men Exfoliating Energy Scrub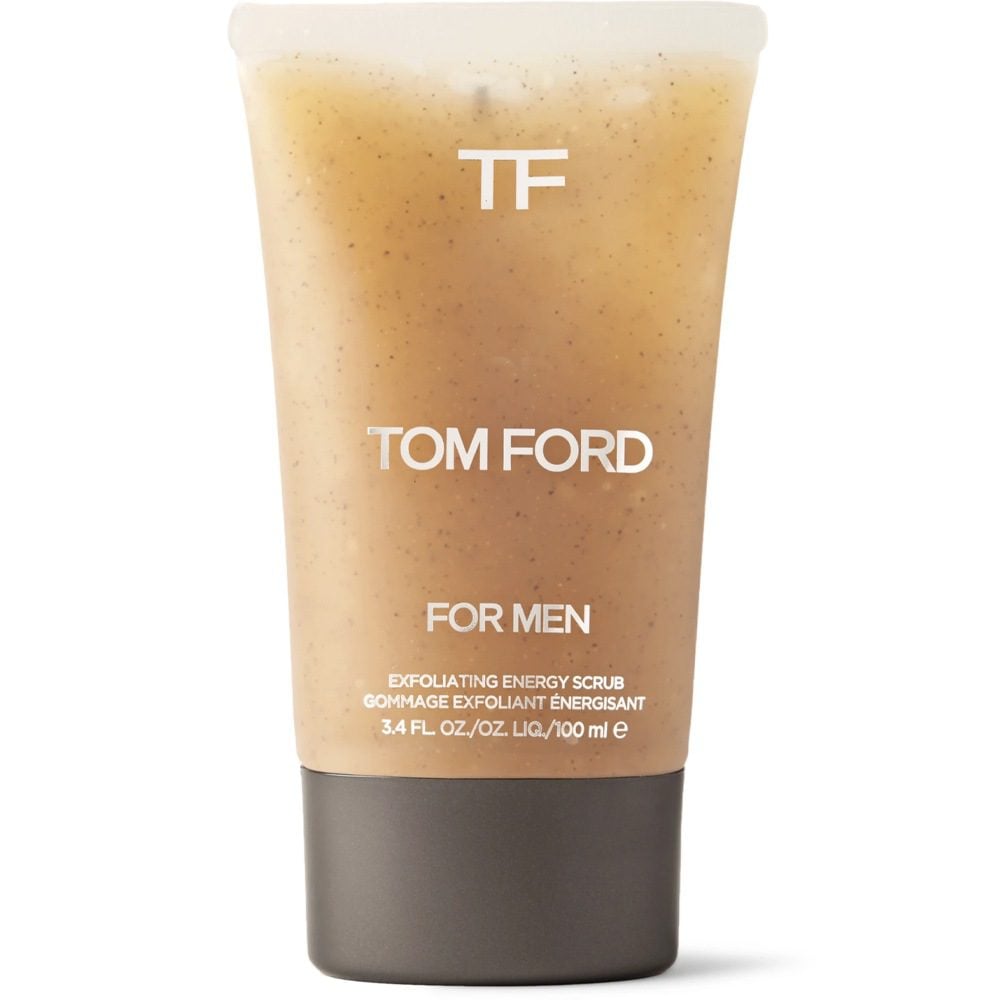 This very gentle scrub contains silica and crushed apricot seed powder to blast away dead skin as well as caffeine and ginseng to pep up that tired-looking pallor. The soft gel formula spreads well and rinses off easily.
The Affordable One
Bulldog Skincare Original Face Scrub
Too much month at the end your money? Join the club. The Bulldog club, that is. It's for people who want really great skincare but hate paying over the odds for it.
At £5 (or less, if you buy in bulk) the original scrub is hard to beat. Sweet almond and olive seed powders actively exfoliate, while aloe vera, oat extract, shea butter and green tea soften and soothe.
Available in original, oily, energising and sensitive, you can tailor your scrub to suit your needs.
The Luxe-for-Less Treat
Acqua Di Parma Barbiere Pumice Face Scrub
A non-foaming scrub made with micro granules of pumice stone, pumpkin and sunflower seed oils, elderberry and rosemary extracts. It will gently exfoliate and leave the skin feeling fresh and scented with the classic Colonia fragrance, for less money.
The Soothing Scrub
Sisley Gentle Facial Buffing Cream
Part mask, part exfoliator, Sisley's buffing cream is ideal for easily troubled skin. Apply before cleansing to dry skin, allow to dry for a minute, then massage until the exfoliating particles have dissolved.
It contains kaolin clay to help draw out impurities and preps the skin perfectly for self tan products.
The Eco-Friendly One
UpCircle Coffee Face Scrub Herbal Blend
Harnessing some of the leftovers of the daily grind, UpCircle recycle spent coffee grounds from London cafés into zero waste face and body scrubs. The Herbal Blend is a natural exfoliator for oily and combination types and has antibacterial and antimicrobial properties.
It contains tea tree oil to treat blemishes and ingrown bumps while shea butter nourishes the skin and rosemary, thyme and petit grain give it an uplifting scent.
Retain the plastic cap for future purchases and pop the aluminium tube in the recycling – you can also buy a metal turn key to squeeze out every last drop.