Helping Hands: The Best Hand Sanitizers, Creams And Cleansers
Leaving the house used to be a simpler activity. The quick mantra of "keys, wallet, phone" covered the essentials, but now we need to add masks and hand gel to the mental load to make it safely through the day.
Over the last few months we've learned there are a few down sides to maintaining meticulously clean mitts; notably dry skin and irritation caused by harsh sanitisers and repetitive washing. With price gouging on limited stock, abrasive formulas that smell and feel akin to floor cleaner, ugly packaging and a lack of decent options, it's fair to say that living with this constant hand cleansing has been mildly stressful and kind of uncomfortable.
The situation presents a gap in the market for a more pleasurable ritual. Thankfully, a handful of brands read our palms, releasing a selection of sanitisers, cleansers and comforting salves that protect the skin, smell great and can be delivered straight to your door. It's hand care, but not as we've known it.
Hand Sanitisers
Cash points, hand rails, lift buttons, door handles, toilet flushes and mobile phones are just some of the high traffic spots that present a prime location for some germ hopping. The world currently feels like a mad obstacle course but with these virus-killing hand sprays you can just spritz and go.
Calming Scent: Anatomē Support + Protection Hand Cleanser Spray
This compact spray from anatomē is easy to carry around for on-the-go protection. Botanical ingredients including thyme, tea tree, Sicilian lemon and rosemary provide natural antiseptic and antimicrobial properties against common pathogens. Contains 60% alcohol as recommended by the WHO.
Russian eucalyptus, neroli peppermint give it a calming, holistic scent, which is helpful if you're anxious about going out. Spray on hands after contact or after washing for an antibacterial boost.
Pocket Sized: AMLY Botanicals Purifying Hand Mist
Protect your bubble with this pocket-size anti-viral spritz. It contains 62% alcohol and aloe vera to help hydrate the skin as well as calming chamomile.
Rosemary, lemon, eucalyptus and thyme provide naturally-powered germ protection.
Refillable: KINN Hand Sanitiser with Tea Tree Essential Oil
With a lower price and a higher alcohol content at 70%, KINN offer affordable hand protection that smells fresh and feels good on the skin. A little goes a long way and a 100ml refill is also available to help stretch supplies further.
Fragrance Free: Previse Instant Hand Sanitizer
For anyone who is sensitive to essential oils this unscented hand spray has the highest alcohol content at 75% and hydrogen peroxide for extra bug busting power.
Best Value: La Roche-Posay Hydroalcoholic Purifying Hand Gel
French dermatologists La Roche-Posay has put its skincare expertise into a 65% ethanol-based hand sanitiser. It's also unscented and comes in a tube, so you won't lose the lid and it's less likely to leak.
Hand Cleansers & Creams
Gentle cleansers and soothing hand creams are essential to maintain healthy skin.
The Designer Duo: Gloved Instant-Absorb Hand Lotion & Active Hydrate Hand Wash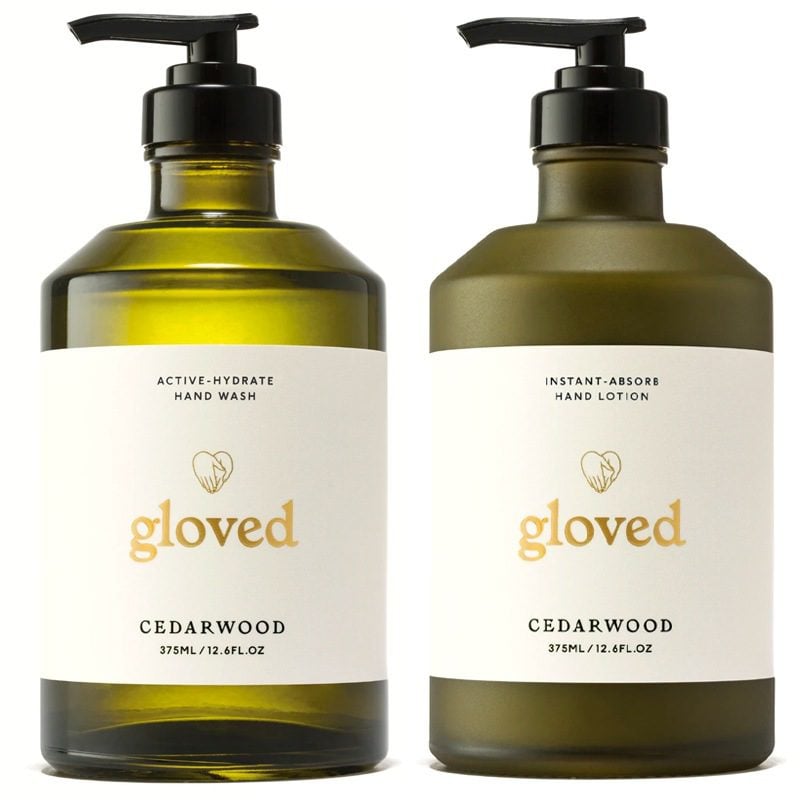 Perfume creator Tom Daxon has turned his talented hand to a timely new venture. He teamed up with his mother, Dale Daxon Bowers, to create Gloved. Dale knows a thing or two about creating successful bath and body lines, having worked as creative director at Molton Brown for over 30 years.
The gentle hand care line includes a lotion and hand wash, which is pH balanced. Both products are dermatologically tested, 100% vegan and contain hyaluronic acid – the same ingredient found in premium face creams. The formulas combat dryness and actively smoothes and softens skin without any greasiness or heaviness. Of course, this is from Tom Daxon, purveyor of fine fragrance, so it smells – and feels – vastly superior to your average hand cream.
The scent is underpinned with Virginian cedarwood oil, which has natural antioxidant, anti-inflammatory and anti-microbial benefits and delivers a longer lasting aroma that will successfully neutralise strong cooking odours.
Both formulas contain a high percentage of natural ingredients and come in glass bottles with aluminium caps. For each reusable plastic pump sold, Gloved donate £1 to anti-plastic campaigners, Surfer's Against Sewage.
The Good Cause: Nursem Caring Hand Cream & Caring Hand Wash
Clapping in the street is one way to show your appreciation for the NHS, buying a Nursem hand care product is another: they donate a month's supply to a nurse or midwife for every product sold.
Antonia, a paediatric nurse and one of the brand founders, suffered brutal contact dermatitis from the constant hand washing needed to protect her patients from infections – a common problem for healthcare professionals, never more so now.
The hand cream contains allantoin, which promotes skin healing, and Manuka honey, which combats infections, and it has an appealing scent of petitgrain, bergamot and grapefruit essential oils. It feels rich and comforting and absorbs quickly.
The Hand Wash is soap-free and has the same fragrance. Very good for sensitive skin, keen gardeners, washer uppers and general hard-working hands.
Tried & Trusted: Horace Superfatted Soap Bar Trio

At home, a good old fashioned bar of soap remains one of the most effective ways to nix any dangers that may be lurking on your skin. Like most coronaviruses, Sars-CoV-2 is a nanoparticle with a lipid outer bilayer. Soap dissolves this fatty membrane which renders the virus inactive and loosens its grip on the surface of the skin more effectively than just water.
Don't take that as a signal to start eating the stuff, even if it smells as good as Horace's new soaps do. These are made in Provence, the soap capital of France. Bulk buying seems like a sensible option these days and you'll get to sample each of the inviting scents: Italian Bergamot & Peppermint, Orange Blossom & Petitgrain and Peppermint & Tea Tree. Olive and coconut oils bring the extra fats that make these natural soaps extra kind and moisturising on the skin. And with just a paper wrapper, they are very light on packaging.