The Most Effective Hair Loss & Regrowth Shampoos For Men In 2023
If you're starting to see visible signs of your thatch getting a little scant up top, then using a shampoo that supports hair regrowth and keeps your scalp healthy is extremely important. The good news is, there's an ever-growing arsenal of specialist hair loss shampoos, conditioners and products that will strengthen and condition the hair you have left via follicle stimulation and scalp moisturisation – creating a hairline that's potentially thicker and fuller than it has ever been.
So, to save you time, stress and money, we've pulled together a list of the best hair loss and regrowth shampoos out there in this black hole of an industry. While it's worth remembering that hair loss happens due to a range of underlying causes – including stress, genetics, vitamin deficiency and even excessive styling – it's difficult to argue with the thousands of men around the world who are convinced that a good shampoo, with proven ingredients, is an integral part of an effective treatment plan. You simply need find the right one that works for your scalp.
N.B. Remember that everyone responds differently to the products they use. Although these shampoos are widely considered the best on the market, backed by numerous real-life customer reviews, you still may not respond well to them. They should also not be considered a magic fix – many work by plumping the hair strands, giving the appearance of thicker-looking hair, while simultaneously cleansing and stimulating the scalp to provide optimal conditions for hair to grow.
#1: DS Laboratories Revita Hair Stimulating Shampoo
Recommended by hundreds of dermatologists and with over 10,000 5-star reviews from customers (and more coming each day), DS Laboratories has been at the forefront of cutting-edge cosmetic dermatology for over 15 years. Their Revita Hair Stimulating Shampoo has quickly become a best seller within the industry, due to it being suitable for all hair types and delivering real-world results for both men and women experiencing hair loss.
Formulated to maintain scalp vitality and act against follicular dysfunction, the proprietary formula includes dihydrotestosterone blockers (DHT blockers) ketoconazole and caffeine, as well as biotin, which is essential for hair growth. But that's not all. Each and every compound used in Revita has been rigorously tested via clinical studies to back up its claims of effectiveness – if it can't do this, it doesn't go in. There's absolutely no filler ingredients here.
Revita gets to work on your scalp, reviving hair follicles, from the first time you use it. Expect to see visible results – including a decrease in hair loss, an increase in the speed of hair growth and an overall improvement in the appearance of hair – after 90 days with regular use (at least five times a week).
$32.00 for 205ml; dslaboratories.com
Need-to-knows:
Suitable for both men and women as well as all hair types and stages of hair loss
Propriety formula includes a blend of DHT blockers, caffeine and biotin
Each and every ingredient has been tested and verified effective by clinical studies
Designed, tested and recommended by dermatologists
Free of parabens, sulphates, phthalates and other harsh chemicals
Safe to use on chemically treated or coloured hair
Not tested on animals
#2: GroMD Shampoo & Conditioner
Compellingly promoted as a "doctor developed" hair regrowth solution, GroMD Shampoo & Conditioner is considered by many to be the GOAT of hair loss shampoos. Its combination of ingredients and a solid history of being tried and tested makes this a must-try for any man losing their hair.
Backed by years of research, this superbly engineered product uses a powerful combination of patented ingredients including HairGenyl™, Capixyl™, saw palmetto, stinging nettle and liquorice root extract.
GroMD's established and very credible founders state that when used daily, it promises to "grow your hair significantly faster, and increase the diameter of new hair, resulting in a thicker head of hair". Not only that, it smells great and leaves the scalp feeling fresh, too.
Try it in tandem with GroMD's Follicle Activator Spray, which is formulated to help maximise the hair's health and vitality.
$69.99 for 295ml; gro.md
Need-to-knows:
Combines a proprietary blend of DHT blockers to help reduce hair loss
Blends caffeine and menthol to help stimulate dormant follicles
Uses Argan oil, Biotin and Niacinamide to protect and nourish for a healthy scalp
Free of SLS, parabens, sulphates and other harsh chemicals
Safe to use for men and women
#3 Kiierr DHT Blocking Shampoo For Hair Growth
Kiierr's DHT blocker shampoo blocks enzymes that turn testosterone into DHT. It includes proteins for hair health, Vitamin E, Pro-Vitamin B5, Keratin, Jojoba Oil, and Collagen Amino Acids, and weighs in at 8 ounces.
Key ingredients include Zinc PCA to regulate sebaceous glands and block DHT. While Green Tea reduces DHT and Cholesterol and blocks DHT. With Kapilarine stimulating hair regrowth and maintaining it's strength. Kiierr's shampoo is a powerful DHT blocker for men and women.
$34.95 for 8 ounces/ 237ml (shipping worldwide); kiierr.com
Need-to-knows:
Zinc PCA, Green Tea, and Kapilarine not only block DHT but deep clean the scalp and hair too.
Kiierr DHT Blocking Shampoo helps inhibit the conversion of 5-alpha reductase enzymes to DHT – a leading cause of hair loss and thinning – primarily in men.
Male pattern baldness, also known as androgenetic alopecia, is the most common type of baldness in men. Hair at the temples and on the crown will slowly thin and eventually disappear. This DHT blocker shampoo will help control the production of this hormone.
#4: Hair Restoration Labs Hair Restore Shampoo
Engineered with a proprietary blend of ingredients, Hair Restoration Labs' Hair Restore Shampoo continues to be one of the best-selling products in the industry and, when used daily, has been shown to leave your hair feeling stronger and more voluminous, while encouraging healthy growth.
This shampoo works by incorporating a range of potent, natural ingredients including green tea extract, caffeine, pumpkin seed oil, black cumin oil, cayenne fruit extract and reishi mushroom – all of which have been clinically proven to block DHT, the primary cause of male and female pattern hair loss and thinning.
$24.95 for 473ml; hairlossdhtshampoo.com
Need-to-knows:
Features Proprietary DHT Halting Technology®
Formulated for both men and women
Free of parabens, sulphates, phthalates, silicone and harsh chemicals
Safe to use on chemically treated or coloured hair
Never tested on animals
No drugs or side effects
#5: Nizoral A-D Anti-Dandruff Shampoo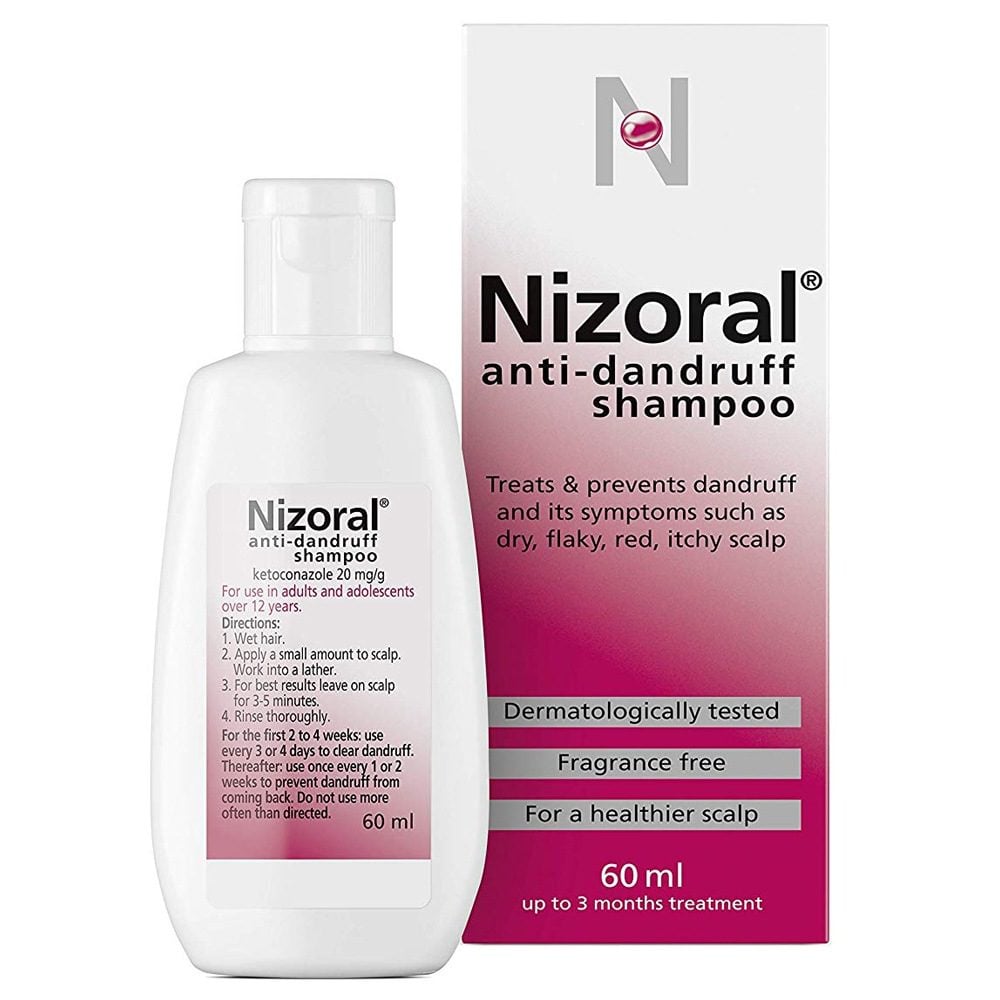 If you're unlucky enough to suffer from both hair loss and dandruff, Nizoral is a must-buy – particularly seeing as there is evidence to suggest that dandruff can contribute to an unhealthy scalp and ultimately resulting in balding.
The good news is, Nizoral is packed with a potent ingredient called Ketoconazole, which prevents dandruff and the associated inflammation and irritation caused by it too. But that's not all. Ketoconazole has also been shown to help prevent hair loss by temporarily inhibiting 5AR, the enzyme that is responsible for converting testosterone into DHT.
With 1% Ketoconazole (or 2% with a prescription), Nizoral has the ability to kill the fungi that naturally causes dandruff – and at the same time keep your hair where it belongs, on your head.
£5 for 60ml; amazon.co.uk
Need-to-knows:
Prevents hair loss and dandruff while thoroughly cleansing your hair and scalp
Blocks androgen receptors that can lead to thinning
Can cause irritation to the skin on the scalp if left on for too long
Controls flaking, scaling and itching associated with dandruff
Only needs to be applied twice a week (max) as otherwise it will dry out your scalp
#6: Alpecin Caffeine Shampoo C1
One of the most highly regarded and enduring brands (established in 1905) within the industry, many hair loss patients say that Alpecin produces the kind of results they've been searching for, for a long time.
Apart from reducing DHT, Alpecin stimulates hair growth directly at the roots and uses active ingredients such as caffeine to help encourage hair follicles to grow faster, while providing strength and volume.
While Alpecin absorbs smoothly into the scalp and covers the hair follicle from root to tip, one thing to note is that this shampoo does not specifically cause new hair growth. However, what it does do is nourish and stimulate those hair follicles that have, over time, become dormant and ultimately resulted in male pattern baldness. By strengthening the roots of your hair, Alpecin can prevent further follicles from falling out.
£6 for 250ml; boots.com
Need-to-knows:
Revives hair roots that are dormant
Is safe to use on any skin type
Can reduce the effects of DHT
Can be used to treat other scalp issues
Safe for men and women
Wild Card: Nioxin Instant Fullness Dry Shampoo
Rounding out the list is something a little bit different. Nioxin's acclaimed Instant Fullness is a dry shampoo that's been receiving rave reviews in the UK and US.
If you want fuller-looking hair, this one might just become your morning go-to. Promoted as a daily solution, the guys at Nioxin have developed their own proprietary technology, FUSION FIBRIL™, which in layman's terms absorbs natural hair oils and cleverly adds dimension and space between each individual hair strand – instantly resulting in thicker, cleaner-looking hair. And the best thing is you don't even have to step into the shower to use it – you can apply it on the go, anytime, anywhere.
£18.50 for 180ml; lookfantastic.com
Need-to-knows:
Available for on-the-go and at-home use
Volumising dry shampoo and cleanser
Promotes lightweight fuller and denser-looking hair
Incorporates proprietary FUSION FIBRIL™ technology
—
For further information on hair loss treatments please visit my website, spexhair.com