Eye-Catching: Introducing The CODE41 X41 Edition 5 Watch
There's been a shift in Swiss watchmaking. Not long ago, it was dominated by the old guard, traditionalists whose names have been around for centuries – whether or not the brand itself has been. These days however, the average watch lover is looking for more than a name to follow; they're looking for something unique, something with value. Something like CODE41.
Disrupting The Swiss Watch Industry
The crowdsourcing iconoclasts have been disrupting the Swiss watch industry ever since the first release of their phenomenal X41 back in 2019, taking cues from collectors around the world to create serious timepieces at accessible prices.
Now, on the back of their previous successes, they have revealed the latest, fifth edition of the X41 – and with it some hefty improvements on the formula.
Eye-Catching Architectural Look
The eye-catching architectural look that put the X41 on the map remains, of course, along with he peripheral rotor on the back, allowing an unobstructed look at the Swiss movement powering the entire watch. That movement is exclusive to CODE41 and is only built in short production runs, making it one to appreciate through the caseback.
This time however, the case has 100m water resistance – unnecessary for a haute horology-slanted watch but welcome to anyone looking for a rugged, everyday timepiece. The titanium that makes up that case has also seen an upgrade, moving from Grade 2 – solid but standard – to aerospace-level Grade 5 for greater scratch resistant and a finer finish.
If you prefer AeroCarbon over Titanium for that stealth, performance look then you'll be glad to know that those models are now available with two new bridge colours: steel blue and a gunmetal-adjacent grey.
An Evolution Of Quality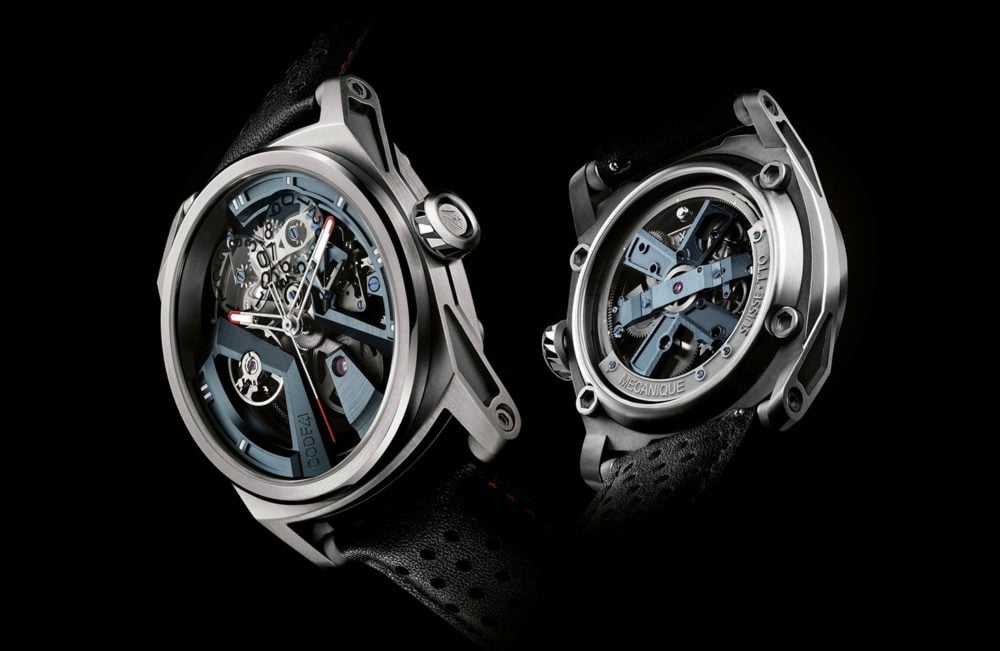 While the Edition 5 isn't a huge leap from previous models, it does show an evolution in the quality of the X41, which was high to begin with. More importantly, that's been achieved without sacrificing the accessibility of the watch. Despite its various horological flourishes, the X41 Edition 5 will set you back just £4,995.
Sure, it's not a cheap watch by any stretch of the imagination, but try finding something like the X41 for anywhere near that price mark elsewhere. Go on, we'll wait. Combined with the limited runs – the Edition 5 will come in three batches of 150 watches – and you have a collectors item on your hands.
And if all of this sounds too good to be true, then check out the CODE41 website where you'll find exactly what your money is going towards. After all, transparency is part and parcel of what the brand does and without it, the X41 would be much harder to recommend.
As things stand though, we'll be putting our name down for the Titanium Blue model before it's too late.
code41watches.com/projects/x41
A paid partnership with CODE41 – words and opinion Ape's own