First Class Travel: The World's Most Luxurious Rail Journeys
We've said it before and we'll say it again: if we were looking for a relaxing holiday that channelled style and exploring, we'd get on a train. Not first class on your average city to city commute – something more special. A luxury train trip that combines on-board decadence with some of the world's finest landscapes passing by the window as we either tucked into something delicious or sipped on something equally tantalising.
From India to Europe, Australia to Russia, here's a selection of the world's most luxurious rail journeys.
Belmond Andean Explorer
South America's first luxury sleeper train is a delight. Cruising across Andean plains from Cusco, capital of the Inca Empire, to the white city of Arequipa, this spacious and idyllic train is the perfect moving sanctuary as it glides through the heart of Peru. A choice of three cabin types await travellers, all with neutral relaxing palettes and artisanal touches including hand-woven fabrics and soft Alpaca bedding.
Elsewhere on board, guests can make the most of a dining car, boasting locally-sourced fresh and seasonal dishes, observation and lounge cars for unwinding with an expertly-made Pisco Sour and even a spa car offering a wealth of relaxing treatments. Itineraries include visits to Lake Titicaca and Taquile Island – expect to be blown away by awe-inspiring scenery as you trundle along in luxury.
Belmond Royal Scotsman
Let's start with the train itself: a piece of Edwardian perfection on two rails. Clad in rich mahogany and marrying a rustic Scottish country house feel with pure comfort, the Belmond Royal Scotsman is the ideal cosy environment for a slow journey through some of Britain's most captivating landscapes north and south of the border.
Dining is understandably extravagant, with fresh Scottish mussels, a delicate pigeon salad or spiced roast halibut just a few of the many world class options, courtesy of head chef Mark Tamburrini. Itineraries mix the fast and slow, with whisky distillery tours offering a more relaxed alternative to white water rafting. Excursions with astronomy expert Steve Owens provide a chance to experience Scotland's awe-inspiring dark skies.
Venice Simplon-Orient-Express
The world's most legendary train. A true work of art on rails. If you fancy it, you're going to need your glad rags at hand because the Venice Simplon-Orient-Express doesn't do casual in any sense of the word. With a route that takes in Europe's most captivating cities, few forms of travel in this world provide such unadulterated elegance. Brittany lobster? Champagne bar? Caviar? Check, check, check.
Dripping in roaring 1920s glamour, with some of the world's most historically decadent train carriages repurposed for modern-day luxury to form one glorious Gatsy-esque party on rails, the Venice Simplon-Orient-Express really is a once in a lifetime experience.
Golden Eagle Danube Express
A real sightseers treat, the Golden Eagle Danube Express is the perfect way to explore some of Europe's most intriguing regions with journeys that allow passengers to visit cosmopolitan capitals and the picturesque towns in between. Itineraries include trips that take in the dramatic landscapes of Transylvania en route to Istanbul, or a chance to experience the alpine delights between Budapest and Venice.
On board, a range of cabins awaits with the premium superior deluxe versions providing lush furnishings and en-suites for the ultimate in comfort and ease. Bar and lounge cars offer chances to relax and unwind with on-board entertainment as well as informative talks on local history and culture. The culinary experience reflects the countries that breeze by the window, with fine dining complemented by specially-selected wines and spirits.
The Ghan
One of the world's great rail journeys, the legendary Ghan train – which dissects Australia north to south between Adelaide and Darwin – is 90 years old. Although a lot has changed since its inception, the stark red, yellow and luscious green hues of Australia's stunning landscape still await passengers, as well as a world-class food and drink offering. External excursions include luxury sightseeing flights, wildlife cruises and visits to cultural centres and national parks.
Most will be content to sit back and enjoy the ride. The longest passenger train in the world boasts an Edwardian-styled dining car, an impressive lounge car perfect for enjoying an array of delicious wines and ample sleeping options with gold twin berth sleeper cabins that transform from comfortable lounging into luxury sleeping quarters.
Maharajas Express
The Maharajas Express is arguably the most luxurious sleeper train in the world. There's rarely a year when India's foremost luxury train doesn't win big, most notably the "world's leading luxury train" at the World Travel Awards. It's a train that can only be described as palatial, with every aspect of every journey fine-tuned to provide the most decadent and majestic travel on two rails.
Restaurants drip with splendour, whilst deluxe and presidential suites resemble something you imagine royalty to travel in, with no expense spared on gold-flecked interiors, furniture and sumptuous bedding. An on-board butler service caters to every need whilst two restaurant cars and a lounge car hark back to a time of unrivalled vintage glamour.
Shongololo Express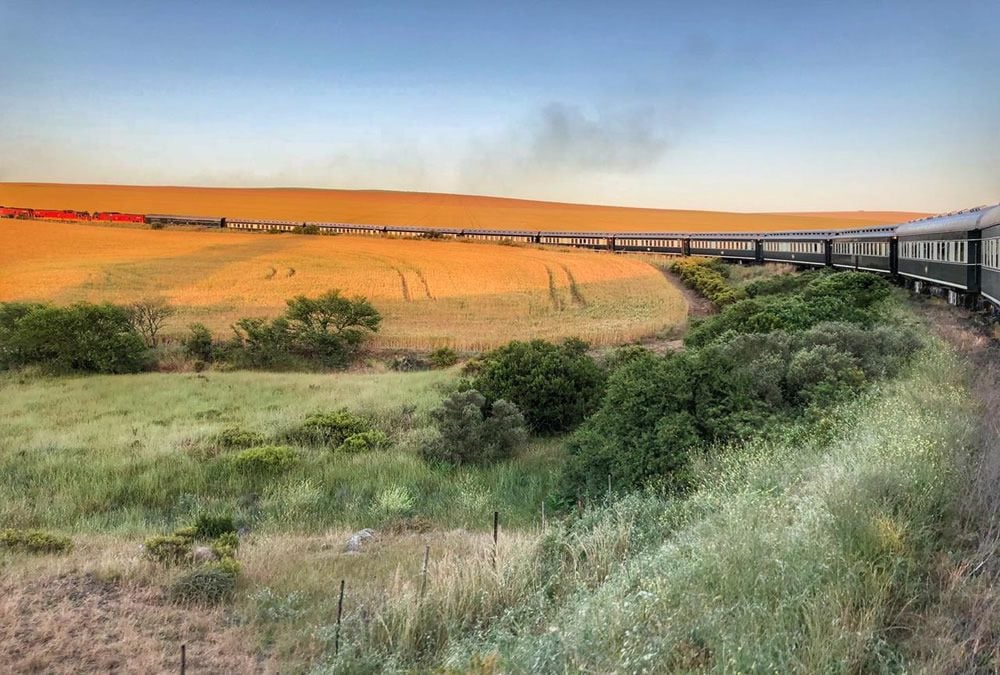 Another train that is a beautifully-restored piece of pure craftsmanship. Rich wooden interiors, rustic homely touches and beautiful decoration make for a unique travelling experience moving through some of southern Africa's most vivid landscapes, all of which can be viewed from a quaint observation car that's as picturesque as the savannas it passes through.
Key to the Shongololo Express appeal is the safari experience by rail. As you crawl along dramatic plains, expect to see a wide array of wildlife, passing through parts of the world that are simply unreachable by car. Excursions allow travellers to trek further in search of unique safari experience whilst other options allow for golf, food and cultural tours.
Seven Stars Kyushu
It goes without saying that the Japanese rail network goes above and beyond, so when it comes to the country's luxury rail options, expectations are understandably high. And yet the Seven Stars Kyushu still manages to exceed what you might think is possible on a train. Carriages are impossibly spacious, attention to detail is unparalleled, food is impossibly beautiful and staff pull out all the stops.
A contemporary Japanese atmosphere throughout brings a naturally calming feel to journeys and the island of Kyushu provides ample sights on and off the train. The homely wooded interiors provide a wonderful contrast to views from the observation car and only add to the magical feel of cruising through one of Japan's most idyllic islands.