James Bond's Top 10 Style Moments Throughout The Years
When it comes to men's style, James Bond is the master of all he surveys. The don of debonair, the doyen of dapperness. Numerous articles have been penned scrutinising his wardrobe. Entire blogs are dedicated to the Suits of James Bond. In the early nineties a book called Dressed to Kill was published that annotated the varying passages and trends Bond has adopted.
Style has been a key asset in every Bond movie ever produced – it adds to 007's allure, charm and sophistication. Ever-stylish, today brands clamour to be part of the secret agent's wardrobe, and for good reason – who doesn't want a little Bond in their style arsenal?
So in no particular order, below are Ape's favourite style moments courtesy of Her Majesty's finest.
Cream Suit in The World is Not Enough
James Bond has never looked better and Pierce Brosnan has never looked more masculine asking for one last screw. His Brioni herringbone linen suit is wonderfully offset with the French blue shirt, which Pierce wears open.
The lighter colours work perfectly with Pierce's skin tone, and he has the dark coloured hair to create contrast. Daniel Craig rarely wears pastel hues as his complexion is naturally pale – combined with his blonde (now slightly greying) hair, it would age him significantly.
Midnight Blue Tuxedo in Dr. No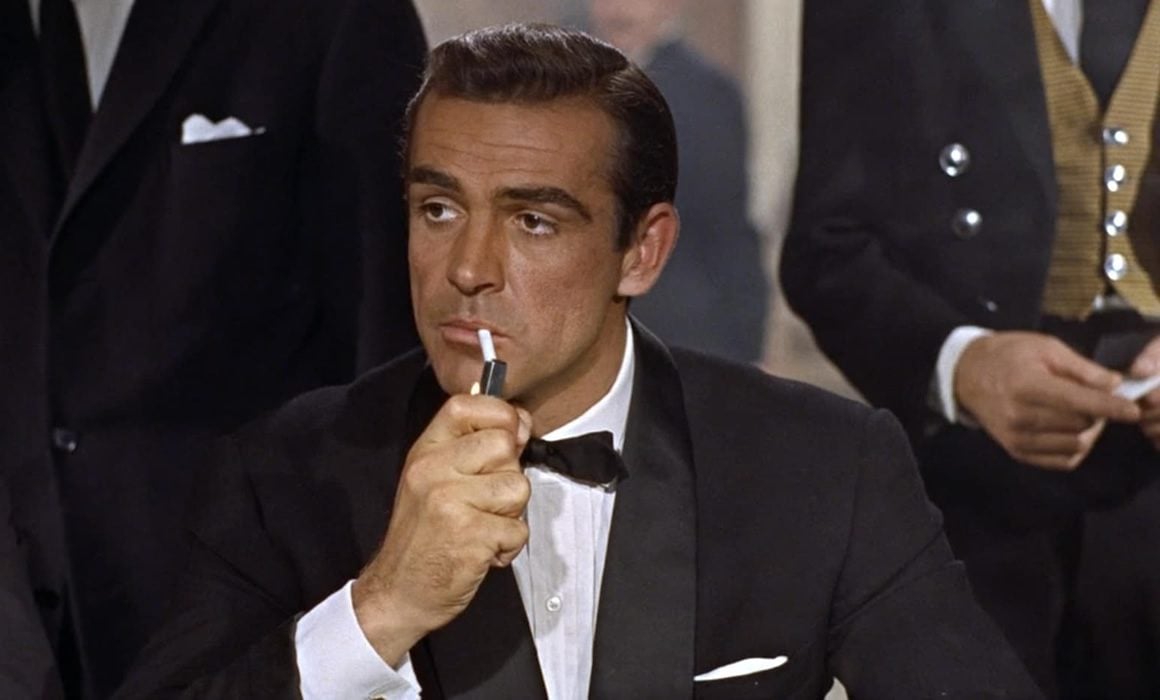 Where it all began. Where the look of 007 at a Chemin De Fer table dressed in a midnight blue shawl collar tuxedo was scorched into every sartorial black tie guide for the next 50 years and more.
Apparently Connery helped himself to all the suits back in the day, so I trust this Anthony Sinclair dinner suit is hanging up in his wardrobe still somewhere in the Bahamas.
Dinner Suit in Moonraker
I could write an entire thesis on this dinner suit by Angelo Roma that Roger wears whilst doing his sneaky Bond stuff in Rio.
It was hardly an inconspicuous look, which saw Moore strutting through the carnival in this incredibly ostentatious getup, proudly rocking flared trousers and an exaggerated point collar. It's perhaps the incredulity of him wearing this suit in such a setting that sets the outfit apart for me.
Double-Breasted Blazer in For Your Eyes Only
It's my least favourite Roger Moore movie, yet sartorially one of my favourites. This double-breasted navy blazer, designed by Moore's tailor Douglas Hayward, exudes immense regality.
The stone-coloured gabardine trousers are immaculately turned out and the whole ensemble has a touch of paternal reassurance to it. Just what poor Melina needed at that moment in the movie with the loss of her parents.
Brown Separates in Spectre
Switching gears here, I'm a huge lover of this brown cotton suit. I also love how Bond has inexplicably managed to squeeze at least four outfits (none of them creased) into a tiny carry on.
Arriving in Morocco on the trail of the L'American in his casuals, before boarding the Orient Desert Express rocking the ivory dinner jacket (not seen since A View to a Kill), this brown Brunello Cucinelli jacket is paired with slightly lighter khaki trousers (very business casual) and will be his lair arrival "suit" before he changes once again into his "meet Blofeld" navy blue sharkskin.
This outfit, albeit trouser and blazer separates and not technically a suit, mirrors the oblique sandstone-coloured surroundings, and the way he delivers the line "tell your host, we won't be late" has just the right amount of balls and menace.
Trousers & Tee in For Your Eyes Only
We're not dead yet. Here comes Sir Roger again with another smart casual masterpiece. Just before Bond and Milena are dragged through the waters tied to Kristatos' boat, we get to see a close up of what 007 likes to wear when he's not been summoned to M's office, or dining at Le Jules Verne, up the Eiffel Tower: a pair of crisp off-white flat-fronted trousers, contrasted with a sea blue V-neck T-shirt.
Bond never expected this outfit to be scrutinised as he wore it beneath the diving suit before being captured. Using his guile, and in typical Bondian style, he escapes certain death, goes on to bed Milena and kill Kristatos. What a champ.
Black Roll Neck in Live And Let Die
There are some true wonders in the world. Unique wonders that belong in the Human Hall of Fame: the Federer backhand, the Tiger Woods swing, the scissor grip manoeuvre by Jet in Hang Tough. But Roger Moore in a black roll neck is as punishing a look as you could ever wish to see. Irrepressible, lissom and damn right stylish.
The black turtle neck jumper and the leather shoulder holster was so iconic that Craig also donned a similar look for the movie poster of Spectre. Bond is a wrecking ball in the outfit: he lights up an opium field, takes out Baron Samedi, dispenses with an entire army of Kananga's goons, as well as Kananga himself, and doesn't wince once when being lacerated. (Terrestrial television channels almost always cut that scene out, no matter what time it's aired.)
Bloodied Tux in Casino Royale
Now housed in its true dishabille at the London Film Museum in Covent Garden. The scene itself is possibly the most far-fetched in all of the franchise, with Vesper sizing up Bond in a train coach and having a perfectly tailored suit ready for him to wear for his poker match with Le Chiffre.
Firstly, he was sitting down when they met. Secondly, she's an analyst – not even the finest tailors in all of Savile Row could have got those measurements so precise in the most auspicious of encounters. Thirdly, how would she have got a bespoke suit made in time? Presuming it's been crafted in Prague, where they arrived hours later, has she really got that much leverage to get a tailored suit turned around that quickly? Fourthly, Bond has managed to roll up to every casino looking pristine so far, without the aid of anyone from the Treasury. Why do we even conceive for one second that Vesper Lynd has better judgement than the sartorial king that is 007? Fifthly, that hanger is way too flimsy, but I blame the prop department for that faux pas.
That said, it's not only one of the best dinner jackets in the entire series, it's one of the best moments in the film. That subtle lick of the glissando bass flirting around the theme, Craig adjusting his collar in the mirror before snarling at Vesper. Christ, it's a belter.
Glen Plaid Three-Piece Suit in Goldfinger
The three-piece glen check that Connery wears on the Kentucky farm in Goldfinger is a weapon cleverly disguised as a suit. Bond actually wears five suits in the film, but this is the most iconic and the one everybody remembers.
Crafted by London-based tailor Anthony Sinclair specifically for Connery in a tropical-weight wool, the light grey suit features a plaid design with white two-by-two hopsack (or basketweave). A single breasted, two-button teamed with a crisp white poplin shirt and navy blue tie, then anchored by black leather Derby shoes and a white handkerchief in the breast pocket.
Take note of the six-button waistcoat. It's a great indicator to the height and build of Connery as typically multiple buttons on a waistcoat don't suit the vertically challenged.
Golf Attire in On Her Majesty's Secret Service
Christ Pedro, we're going round the houses here aren't we? Well, I couldn't leave George Lazenby out. I know Timothy Dalton has his fans but I think even the most ardent would agree he looked an absolute wreck for the most part of his two-film tenure.
Lazenby however, being a former male model, knew how to rock an outfit. And I've plumped for his brown golfing attire. George wears a matching faded brown bomber jacket and trousers over an orange roll neck jumper when taken hostage at the hotel. In isolation these garments would merely suffice as passable casualwear. In combination they present a devastating aesthetic.