Style And Scooters: A Modern Man's Guide To Mod Fashion
Subcultures can have a lasting impact, but it's rare that they, themselves, have staying power. From Greasers to Beatniks, history's style tribes tend to have their moment, before inevitably being consigned to fancy-dress party irrelevance. Some ideas remain, but the glory days always come to an end sooner or later.
Well, perhaps not always. Case in point: the Mods.
While Teddy Boys, New Romantics, Emos, Skinheads and Punks have all fallen by the wayside, Mod style has remained. For more than 50 years, the movement that first brought slim-cut Italian tailoring and motor scooters to UK shores has been enticing style-conscious young men with its nonconformist attitude and constant evolution.
The latter of those two points has been the key to Mod style's continued success. The Mod aesthetic is never static. It's constantly changing and developing, incorporating borrowed elements from here, there and everywhere, keeping it fresh and contemporary. 'Mod' is simply an abbreviation of 'modernist' after all.
That's why Mod style is an area of menswear it's well worth getting acquainted with. From the history of the movement to the key garments to look out for, here's Ape's complete guide to the UK's most stylish subculture.
What Is Mod Style?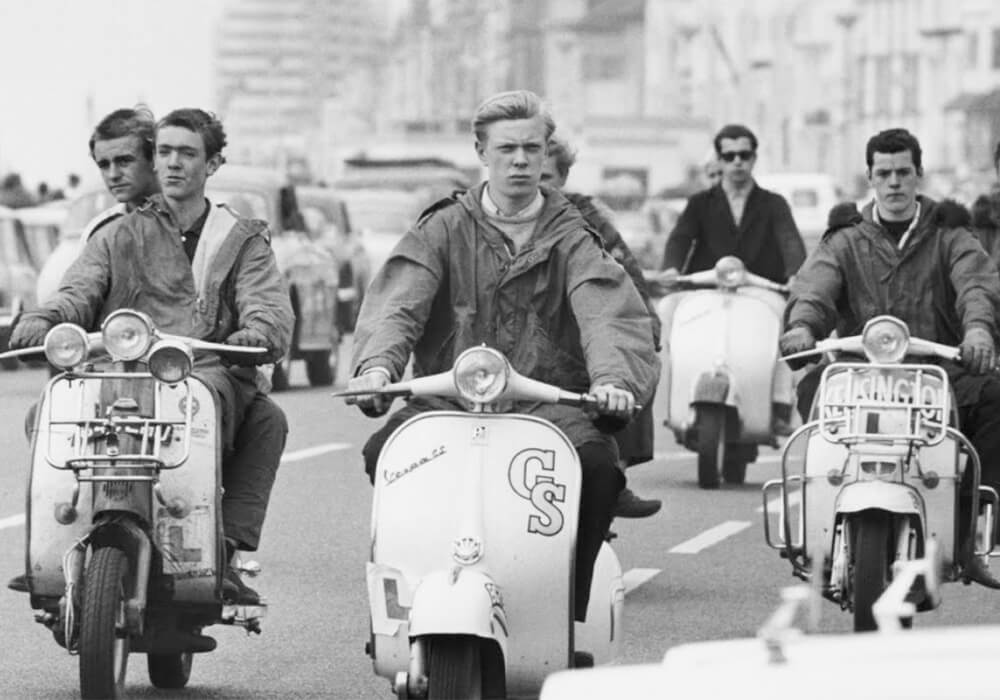 Mod style has been a part of British life for more than half a century, shaping men's fashion, music and the general mood of UK youth culture. In that time, the look has changed a lot, but the core components of the Mod way of life have remained steadfast: the clothes are sharp, well cut and considered; the attitude is forward-thinking, aspirational and with its finger on the pulse; there's an overarching desire to stand out from the crowd that underpins it all.
The first Mods were the children of a booming post-war Britain. They were young and carefree with money to spend, and they wanted to spend it well. For them, that meant hanging out in Soho's coolest jazz clubs, riding scooters from Europe and, of course, splashing out on tailor-made suits in slim-fitting, Italian cuts. It was their frequenting of these clubs and their taste for modern jazz that earned this outward-looking new tribe of London youths their name: the 'Modernists', or 'Mods' for short.
But the term Modernists made sense beyond the jazz music. Early Mods were keen to distance themselves from their parents. They were part of a new Britain that embraced immigration, and so looked beyond the borders of their little island for inspiration: scooters and suits from Europe; ska music from the Caribbean.
The Mod Look
The Mods are, and always were, open to outside influence, which meant the look was always evolving. It's the reason the style still has legs today, but it also makes it tricky to pin down. Perhaps one of the best descriptions of original Mod style comes from the 1959 novel Absolute Beginners by Colin McInnes. Although it never actually mentions the term 'Mod', the book contains the first written references to the scene and talks about the clothes, music and attitude at length.
McInnes' description of one of the book's characters, Dean Swift, captures Mod style perfectly: "College-boy smooth crop hair with burned-in side part, neat white Italian round-collared shirt, short Roman jacket, very tailored (two little vents, three buttons), no-turn-up narrow trousers with 17-inch bottoms and absolute maximum, pointed-toe shoes, and a white mac folded by his side."
Key Mod Pieces
Mod style may be tricky to pin down but it isn't without its staple pieces. From penny loafers for all-night dancing to fishtail parkas for shielding expensive suits during rain-soaked moped rides, there are a few core garments that have come to define the Mod aesthetic.
Harrington Jacket
With its cropped fit, clean lines and band collar, the Harrington jacket was destined to become a future Mod favourite from the moment it first hit rails in the 1930s. Three decades later, when the first Mods began to wear Baracuta G9s, the Harrington's status as a staple of the scene was sealed.
Slim-Fit Suit
Today, when we hear 'Mod', we think of fishtail parkas, scooters and Caesar cuts. And while those things are all part of the look, it's actually tailoring that's the biggest talking point. Particularly when it comes to the first wave in the late 1950s and early 1960s.
Back then, if you wanted to be one of the cool crowd, a suit was top of the shopping list. But these weren't any old off-the-peg rags; the Mod aesthetic favoured slim-fitting, Italian cuts, tailor-made with fine fabrics but that went against the grain of conventional tailoring.
Knitted Polo
The knitted polo shirt provides a smart alternative to a traditional shirt and tie. It has been a mainstay of Mod style since the 1960s, with John Smedley being the label of choice. Why? Because it was British, premium quality and, crucially, didn't bear a visible brand logo, which was vital to the Mod aesthetic.
Fishtail Parka
When you've spent a month's wages on a razor-sharp suit from one of Carnaby Street's best tailors, the last thing you want is to get it dirty when you're riding around Soho on your Vespa. Such was the logic behind Mods' adoption of the fishtail park as their outerwear of choice.
Today, the parka is still a key part of the look, the classic option being a military-green M65 jacket, in a roomy enough cut to fit comfortably over a suit.
Penny Loafer
A big part of the Mod look was borrowed from conservative, Ivy League style from the States. One way this embracing of American collegiate cool manifested itself was in the Mods' love for the penny loafer.
This slip-on style is a staple of the Mod wardrobe and fits into the overall look perfectly with its smart yet playful styling.
Desert Boot
The desert boot has been intrinsic to Mod style ever since the subculture first emerged in the 1960s. It's a mid-cut chukka-style shoe, usually suede, and would often be paired with casual garments like white jeans, polos and parkas.
Key Mod Brands
Brands were never important in Mod style. The whole concept is based around creating your own look, and some Mods would even go as far as to cut the labels out of their clothes altogether. Modernism is, and always has been, about standing out from the crowd. How can anyone do that when everyone is wearing the same names?
That said, there are a select few brands that have been instrumental in the continued relevance of the Mod subculture. From those that were there from the start to those that have put their own stamp on the look and helped to keep things moving forwards, these are the labels you should know.
John Smedley
Legendary English knitwear brand John Smedley has been a Mod favourite since day one. Why? Mostly because it makes the best knitted polo shirts this side of Brighton Beach. As a result, the label now enjoys legendary status in the Mod world and has been one of the scenes defining names for the best part of 70 years.
Ben Sherman
With its crisp button-down shirts, Harrington jackets and polos, Ben Sherman has been closely linked to the Mod scene since the label launched in the early 1960s. Many of the brand's designs feature the Royal Air Force roundel, a symbol that has become synonymous with Mod style thanks to its use by legendary Mod group The Who.
Fred Perry
British brand Fred Perry was embraced by the Mod subculture in the 1960s. It was favoured for its sharp, tipped polo shirts and is still closely associated with Mod style to this day.
Baracuta
Baracuta's G9 Harrington jacket was a symbol of cool, rebellion and style that found its way onto the shoulders of many a Hollywood heartthrob. It was also adopted by the Mods in the mid-1960s as it offered a casual (but still smart) alternative to the tailored jackets that had become commonplace in the scene.
G.H.Bass
American label G.H.Bass has been producing classic footwear since 1876. The brand is known for its boots and boat shoes, but it was its Weejuns loafers that saw the label become a Mod staple. They were smart without being stuffy and lent themselves well to the slim tailoring the Mods loved so much.
Clarks Originals
When you think Mod footwear, you can't help but think desert boots – and more specifically, Clarks desert boots. This simple chukka boot has been the Mods' shoe of choice for more than 60 years and is truly one of the cornerstones of Mod style.