Top 10 Most Expensive Sneakers Of All Time (So Far)
The sneaker resale market has ballooned into a $6 billion industry over the last decade or two. Multimillion-dollar businesses have sprung up off the back of it, teenagers have out-earned their parents overnight, and big-time investors and businesspeople across the world have started to pay attention to sneakers as a legitimate asset-class product.
It's all about supply and demand. The hyped-up nature of many models, coupled with limited releases and low availability, has created a perfect storm, whereby the right pair of kicks – the same ones that could have cost as little as $100 at retail – can go for upwards of $100,000. And we're not talking middle-aged 'sneakerheads' selling to each other on niche Facebook groups and forums anymore, we're talking high-profile auctions at the most prestigious brokers in the world – Sotheby's and Christie's to name just two.
So, what are these big-ticket sneakers that are bringing in the megabucks? There are too many to list off here, but to give you a flavour of just how outrageous things can get, we've used actual sale data and market estimates from specialist platforms like StockX to bring you the 10 most expensive sneakers of all time to date.
Solid Gold OVO Nike Air Jordan 10 ($2.0m)
When Drake collaborated with Nike to put his stamp on the Air Jordan 10 silhouette, he decided (as any millionaire rapper worth their salt would) to make them from solid 24k gold. The sneakers are estimated to have cost $2.0 million to make, and thanks to the 22kg weight of each shoe, they won't actually be much use on the court.
Still, for turning heads and topping 'most expensive sneakers of all time' lists, there's no better shoe in the world.
Nike Air Yeezy 'Prototype' ($1.8m)
Before all the knitted uppers, injection-moulded madness and alien-like silhouettes he created with Adidas, Kanye West worked with Nike to produce his signature sneakers. Most red-blooded sneakerheads will tell you that Ye's Nike era is far superior to anything he's done since, and in this case the proof is in the pudding.
The Air Yeezy 'Prototype' is the only shoe of its kind in existence. It was worn by Kanye during his legendary 50th Annual Grammy Awards performance, giving the world its first look at a Yeezy shoe. When it was purchased by the sneaker-investing marketplace RARES from Sotheby's in 2021, it marked the biggest sneaker sale in history and remains so to this day.
Michael Jordan's Nike Air Ships ($1.47m)
How much would you pay for a pair of used basketball shoes? Probably not a lot. But if you're sneaker collector Nick Fiorella and the basketball shoes in question once belonged to Michael Jordan then the answer is actually $1.47 million.
These game-worn Air Ships were the first sneakers to sell for over $1 million at auction, marking a significant milestone in the sneaker-resale industry's unstoppable growth.
Michael Jordan's Original 'Shattered Backboard' Nike Air Jordan 1s ($615,000)
In 1985, Michael Jordan participated in a Nike-sponsored exhibition game in Italy where he famously made a dunk so powerful that it shattered the backboard. These are the shoes he was wearing during that historic game, and they recently sold at Christie's for an eye-watering $615,000.
One of the shoes even contains a shard of the broken glass from that iconic sporting moment, making these shoes all the more desirable to collectors.
Nike Waffle Racing 'Moon Shoe' ($437,500)
Ask any sneakerhead what the most important brand in the industry is and they'll tell you: Nike. The sportswear giant has been behind many of the most significant sneaker designs of all time, and this unimpressive looking running shoe might just be the most important.
It was made by Nike's founder, Bill Bowerman, and was the first shoe to feature the iconic waffle sole. The story goes that it was the result of tinkering with his wife's waffle iron, and the name 'Moon Shoe' came from the prints it left on the ground, which resembled the tracks left by the lunar astronauts in 1969. It's one of only a handful of pairs known to exist.
Michael Jordan's Converse Fastbreaks ($190,373)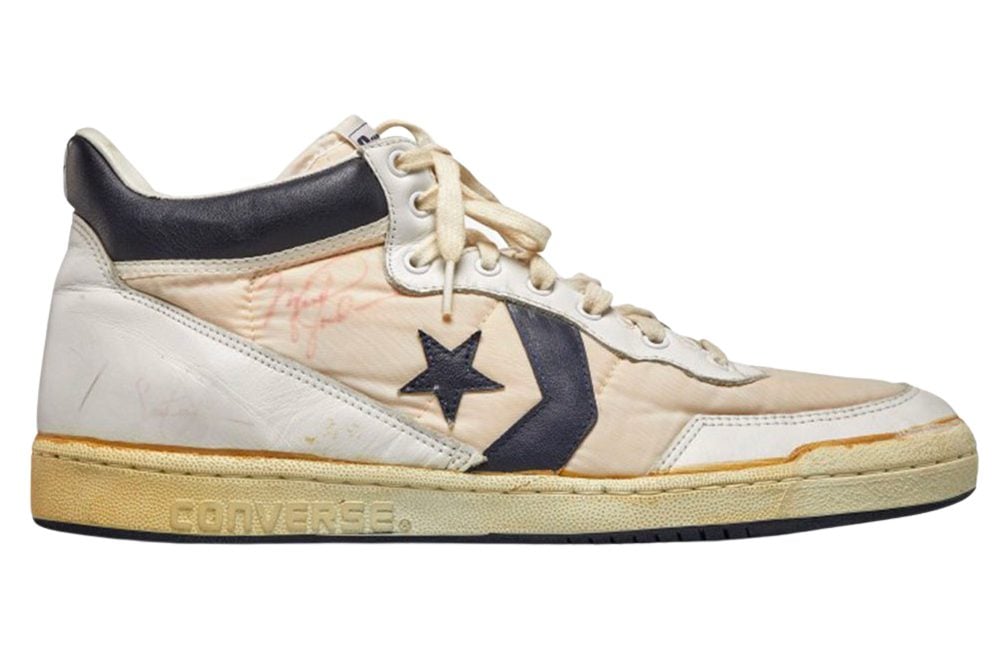 Game-worn at the 1984 Olympic Games and autographed by the man himself, these battered old Fastbreaks are the last shoes Michael Jordan wore prior to his NBA career, and the last time he wore Converse in a game.
Naturally, they sold for silly money at auction – $190,373 to be precise.
Michael Jordan's 'Flu Game' Nike Air Jordan 12s ($104,765)
Can you see a pattern beginning to emerge here? These are the shoes Jordan wore in the 1997 NBA Finals – a pair of black and red Air Jordan XIIs, size 13. Why are they so special? Because that particular game was one of the most memorable in NBA history.
With MJ battling a mystery illness (it later turned out to be food poisoning) it looked like the Bulls were done for. Amazingly, Jordan turned it around and led his team to a spectacular win, giving the shoes to a lucky ball boy who'd asked for them before the game.
They sold at auction for $104,765 in 2013.
Self-Lacing Nike MAG ($104,000)
The Nike MAG was the fictional shoe worn by Marty McFly in Back to the Future Part II. It featured a self-lacing adaptive fit that automatically conformed to the wearer's foot. In 2016, Nike decided to actually create the shoe for real, including the futuristic lacing tech.
The shoes were created in conjunction with the Michael J. Fox Foundation to raise money for charity and it's safe to say they succeeded. The MAG was originally released via a draw and only 89 pairs were up for grabs globally. The going rate now? In excess of $100,000.
Single Air MAG ($92,100)
For over $90,000, you'd hope to at least get a pair of shoes, but that's not the case here. This lone Air MAG is one of the original props from Back to the Future Part II, and sold for a whopping $92,100, despite the fact that much of the heel crumbled into yellow dust long ago (don't worry though, the dust is included).
Nike Dunk SB Low 'Paris' ($51,000)
The Dunk SB Low 'Paris' is the most expensive Nike SB shoe on the market by a long way. It's rumoured that only 150-200 pairs were ever produced, each one featuring panels made from the cut-up artwork of French artist Bernard Buffet, meaning that no two pairs are the same.