Vinyl Renaissance: 6 Of The Most Stylish Record Players
Until recently, we didn't understand the whole vinyl revival shtick. Maybe it was vinyl's representatives – so often the High Fidelity cliche types – or the unmatchable ease of music streaming. But over lockdown we've changed our minds. Streaming is great but we miss having a music collection – something that's ours; a a selection of go-to albums that fit particular moods.
But if you're going to start buying records again, you need something to play them on. The good news is most modern record players look (and sound) great. They really are statement pieces these days, all sleek minimalism and strong lines. They're also easy to use, mostly plug and play, and the ones that aren't are simple to set up. So without further ado, here is our pick of the best record players for your listening pleasure.
Lenco L-85
Don't be put off by the bright colour options, the Lenco L-85 is a solidly built turntable that's suitable for beginners and ideal for those looking to dabble in vinyl. User-friendly features make it a breeze to use and a built-in phono stage means you can connect it to an amplifier or powered speakers.
USB output allows you to rip a digital copy of your records and initial setup is a doddle. Solid sound quality completes an excellent value option.
Pro-Ject Primary E
Another beginners deck here which has garnered plenty of plaudits across the industry. Granted, there's less bells and whistles than the Lenco in terms of phono stage and USB, but if you're prioritising sound for your first foray into records then this is a great choice.
A sleek, simple design with dust cover makes the player a classy addition to your space and easy setup means you can be up and running in minutes.
Technics SL-1500C
Moving into more serious territory now with the Technics SL-1500C. Whilst not as cheap as beginner tables, in this model Technics packs impressive high-quality sound for a mid-range price tag.
Minimalist aesthetics with the brand's trademark curved arm make this a handsome addition to your home but the real clincher here is balanced sound, rich bass and solid engineering.
Rega Planar 1
Rega's best-selling turntable is the logical step up for audiophiles looking to move on from a more basic piece of kit. Excellent sound, multi-speeds, accurate performance and dynamic output complete a modern take on a Rega classic.
Available in a sleek white or black finish, there's upgrade options including magnet cartridges and drive belts, as well as a rather swish natural wool turntable mat.
Vertere Acoustics MG-1 MkII/Mystic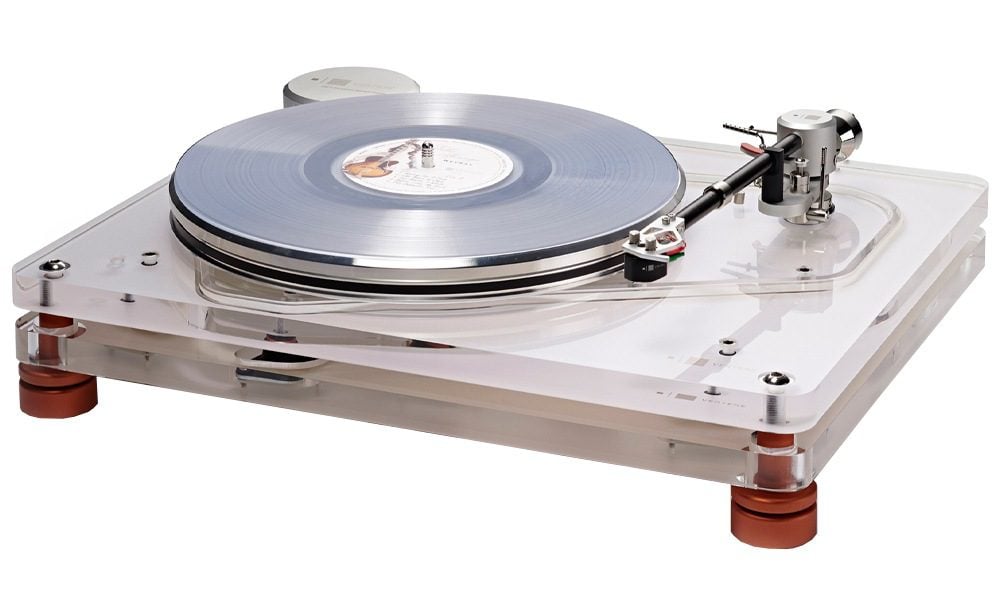 First things first: just look at it. We've moved into high-end territory with Vertere, and it shows. This is a serious design statement as far as record players go with a distinct double-tier design and sleek finishes in metallic black, pearlescent white and champagne.
Build and performance are unrivalled and you're very much getting what you pay for. Sound rendering is perfect, setup is a little more advanced but if you're searching for a serious record player with style to boot, look no further.
VPI Prime
Now, this is a serious turntable. If you've got the money, why wouldn't you want a 3D-printed tone arm? Visually the VPI Prime is another modern-looking beast with exceptional build quality, a robust 9kg aluminium platter and satisfyingly sturdy base.
The New Jersey sound specialists have crafted an exceptional package in the Prime and even though it's in the upper echelons of record player pricing, a dynamic and rich sound output make for a great-value player if you're after something serious to play your records on.