Note To Self: 7 Stylish Pens That Are Worthy Of Any Gentleman's Desk
Here at Ape, when it comes to pens, we don't mess about. Just like we don't wear watches that fall out of a Christmas cracker, we don't write with any old biro that comes stamped with the name of our local bank. Writing should be a joy, something sacred that requires the relevant preparation and tools.
Whether you're hand-writing a thank-you note or jotting down plans at work, it's important to have something that writes smoothly, feels comfortable and looks the part. When searching for the perfect pen, consider the following brands and recommendations.
Cross
Ape's Pick: Peerless Medalist Ballpoint
For over 170 years Cross has been producing the finest luxury pens, executive pencil sets and high-quality gifts that money can buy. Founded in Rhode Island, USA, the company is one of the oldest pen makers in the world, combining craftsmanship, design and an enduring legacy.
Our pick of the range is the Peerless Medalist, a pen with a name that certainly matches its mission statement. Commemorating 125 years since the design was first conceived, the pen is an ode to the brand's iconic model with a trademark chunky build, weighty but balanced feel and effortless rollerball writing capability thanks to a premium gel ink cartridge.
Waterman
Ape's Pick: Carene Fountain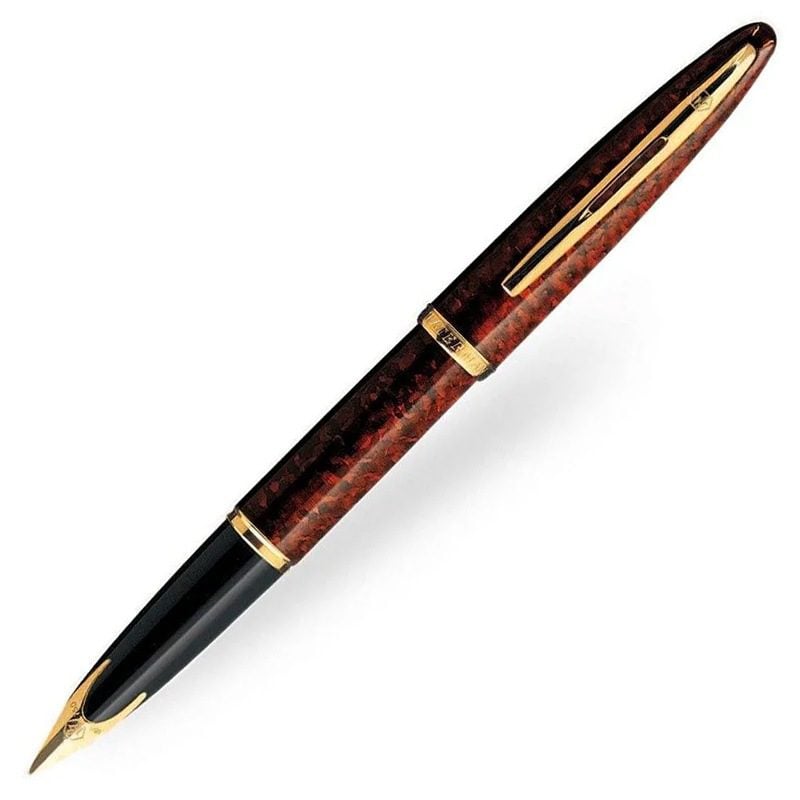 One of the few remaining first-generation fountain pen manufacturers, The Waterman Pen Company was founded in 1884 in New York by Lewis Edson Waterman. Although they are renowned for their luxury fountain pens, the brand also produce a wide array of writing implements including technical pencils and a variety of ink accessories.
If you're getting a Waterman, you need a Carene. We'd recommend the black lacquer with gold trim, a stylish and finessed writing utensil. A real flagship addition to any stationary collection, the pen combines a slim and comfortable writing feel with a truly irresistible 23k-gold plate set off against a rich black body. A solid 18k-gold nib finishes off a special piece.
Montblanc
Ape's Pick: Meisterstück LeGrand Fountain
A world-renowned luxury marque, Montblanc started out producing pens before moving into fine watches, jewellery and eyewear. Yet the brand hasn't lost sight of what made it so special, with the Hamburg-based company continuing to craft some of the finest pens money can buy.
When it comes to Montblanc, it's got to be a Meisterstück LeGrand Fountain Pen, which we'd always opt for in black. A precious resin barrel meets a hand-crafted 14-carat platinum nib with rhodium-plated inlay. The individual serial number on the platinum-plated clip gives each piece a unique touch.
Montegrappa
Ape's Pick: Fortuna Black Gun Metal Trim Rollerball
Based in Bassano del Grappa, a city in Veneto, Montegrappa have been making art-craft fountain pens since 1912. Ernest Hemingway and John Dos Passos, two titans of 20th century literature, both used the brand's wares for their correspondence during the First World War.
For today's letter writing, we would recommend the Fortuna Black Gun Metal Trim Rollerball Pen. Named after the ancient Roman god of fortune, the Fortuna is a bold and robust rollerball that sits proudly in the hand thanks to a curvaceous and chunky style. Black resin gives the pen a stylish finish and, needless to say, it writes like a dream.
Parker
Ape's Pick: Parker Premier Ballpoint
It's worth pointing out the diversity of the Parker pen range. If you're after a no-nonsense reliable everyday pen, their workhorse Jotter is well worth stocking up on, as are a few of the other cheaper models on offer. One of the true original pen companies, Parker's creation of Quink in the 1930s revolutionised writing implements with quick-drying ink that removed the need for bottling.
For something special from Parker, opt for the Parker Premier, available in both ballpoint and fountain. Coming in a wide array of stylish designs, with flecks of added character here and there (Custom Tartan), many stand out thanks to their delightful cap design flecks. A truly state-of-the-art writing implement.
Sheaffer
Ape's Pick: Legacy Heritage Deep Cut Palladium Plate Ballpoint
Another American writing giant and high-profile pen maker when it comes to high-end fountain pens and rollerballs. A pioneer in fountain pen-filling technology during the 1930s, Sheaffer continue to craft some of the finest options on the market as well as working with Ferrari in 2013 on a limited-edition pen collection.
There's something about the Sheaffer build that always provides such a satisfying grip in the hand. No model highlights this more than the sleek but substantial Sheaffer Legacy Heritage Deep Cut Palladium Plate Ballpoint. The fluted detail is divine, the heavyset nature of the pen encourages smoother writing and the effortless twist mechanism finishes off a true luxury statement pen.
Yard-O-Led
Ape's Pick: Viceroy Victorian Sterling Silver Fountain
If you want a statement design that is truly special, something that really sets itself apart from other designs on the market, you should consider Yard-O-Led. The company originally founded in London by a German immigrant has always carried a trademark artisanship to its pieces and although it's more widely known for mechanical pencils, the brand sure knows how to make a great pen.
Just look at their Viceroy Victorian model. With an intricate hand-hammered Victorian-inspired design and handcrafted using traditional 19th-century techniques, each pen is individually numbered and comes with a lifetime guarantee. A true investment piece that you can pass down to your kids.