Sherried Malts: 5 Sherry Cask Scotch Whiskies You Should Try
Scotch whisky is a baffling world for the uninitiated. Step into a well-stocked bar or throw open the drinks cabinet of that friend who is always picking up a new bottle and it's hard not to be overwhelmed. What do you fancy a dram of – peated or unpeated? From which region; Highlands, Speyside, Islay? Natural strength or something a bit lighter? What type of cask? The list goes on and on.
There is, however, one corner of the Scotch bar that has always been a fan favourite, and that is "sherried" malts. By sherried, we mean Scotch whisky which has been either fully matured in casks that previously held Spanish sherry or whiskies matured in, say, ex-bourbon barrels which have been transferred into sherry wood for a period of "finishing" before being bottled.
You know the style – often blood red in colour, rich and fruity in character, wintery in feel. Sherry itself is an enormous and complicated category in its own right and the type of sherry used to season wood for Scotch makes a huge difference to the resulting whisky. Dry and nutty finos and amontillados, for example, impart a very different flavour profile than sweet and fruity olorosos. We'll revisit that topic in more detail another day but in the meantime, here are five of our favourite heavily sherried whiskies.
Tamdhu Batch Strength 004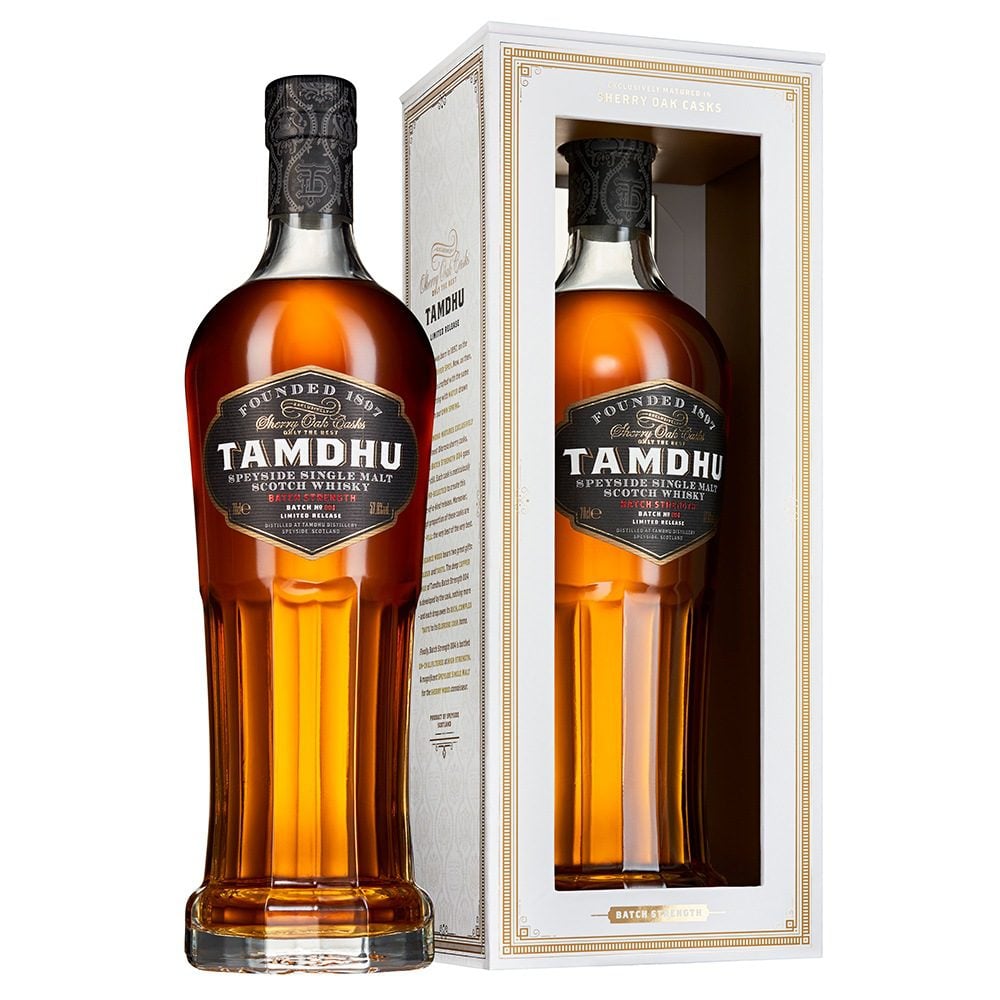 If you're really into heavily sherried Scotch and have not yet cracked into a bottle or two of Tamdhu, you should rectify that, and quickly. Whilst many sherried malts are simply ex-bourbon matured whiskies which are finished for a period of several months in sherry seasoned wood, every drop of Tamdhu's spirit spends its entire life maturing in the distillery's high-quality sherry casks.
All too happy to put all of their eggs into one basket, Tamdhu quite rightly shouts loudly and proudly about its longstanding connection to crafting its Speyside whisky this way. In fact, Tamdhu received its first shipment of these casks from Southern Spain in 1898. Now in its fourth iteration of its high strength bottling series, Batch Strength No. 4 unleashes all of the deep, rich and wintery notes that define heavily sherried drams at a near natural strength of 57.8%.
We're not opposed to a drop of water or two as the night goes on but the higher strength of this malt undeniably carries through so much more of the flavour and character that is naturally imparted by the wood, as well as providing a much longer, warming finish.
Buy now at The Whisky Exchange
Dailuaine Laudale 12 (Adelphi)
The "Laudale" series of Scotch single malts by legendary independent bottling firm Adelphi focuses on heavily sherried malts from a range of well-respected distilleries.
Its third release is a small batch bottling of whisky from Dailuaine, a Speyside distillery known for its weighty, almost meaty spirit, a style which naturally works perfectly with sherry cask maturation. More notably, only a tiny fraction of Dailuaine stocks are sold to independent bottlers so this 12-year-old release was tricky to get a hold of, being part of a run of just over 1400 bottles.
The colour of this bottle says it all; maturation in first-fill sherry casks has created an incredibly warming, spicy dram with notes of black treacle, dark chocolate and hazelnut.
Kilchoman Loch Gorm
Hailing from the rain-lashed coasts of the Isle of Islay – a Scottish island world-renowned for its peat-laden, smoky single malts – Kilchoman is a family-owned farm distillery that bottles all of its releases on site. Named after a freshwater loch near the distillery, Loch Gorm is Kilchoman's most heavily sherried release; the dark copper hews of the whisky reflecting the peaty and murky waters of its namesake.
We sometimes find heavily sherried, peaty Scotches a bit hit and miss – given the potential clash between two very different, dominant flavour profiles – but Kilchoman have managed to pull it off here. Full maturation in sherry wood expectedly imparts dried, rich fruity flavours but these marry beautifully with the layers of coastal salinity and smoke you'd expect from an Islay malt. Superbly done.
Buy now at The Whisky Exchange
Arran 18-Year-Old
Nestled in the picturesque coastal village of Lochranza in the north of the island from which it takes its name, Arran is a relatively young distillery, having just celebrated its 25th birthday. Made up of some of the oldest casks in the distillery's stocks, this long awaited 18-year-old is testament to the fact that despite being a newcomer in a centuries-old industry, Arran has more than proven its ability to produce world-class malt whisky.
Notably, instead of simply finishing ex-bourbon barrel spirit in sherry casks, Arran has crafted one of its oldest releases to date exclusively from spirit which was matured in sherry butts (butts being much larger casks than standard barrels) for its entire life, making this a bit of a rarity for a core release given the scarcity and cost of high-quality sherry wood.
More impressively still, the character of Arran's underlying spirit is not drowned out by the richness of the flavours imparted by the sherry wood; the distillery's fruity and citric style shines through and marries perfectly with layers upon layers of ginger and Christmas spices.
GlenAllachie 15-Year-Old
Few names are as respected in the world of Scotch as Billy Walker. Known as the man who shepherded legendary Highland distillery Glendronach to global success, Mr. Walker recently bought over GlenAllachie distillery, a relatively recent addition to Speyside's plethora of distilleries.
With its stocks previously destined for blending, GlenAllachie has now been given a new lease of life as a standalone malt brand with the new owners transferring much of its maturing whisky into a range of exotic cask types, including a spread of sherries, before releasing the results as a revamped core range.
A combination of malt matured in oloroso and pedro ximénez (PX) casks – the latter sherry being that rich, treacle like stuff that glues your grandmother's jaw together at Christmas – the new 15-year-old is a stand-out release for us here at Ape.
Frequent drinkers of this style of Scotch will know how tricky it can be to find PX-matured whiskies, primarily because of the sheer cost and limited supply of casks seasoned with this glorious fortified wine. To create this bottling, those PX casks were combined with casks which held nuttier and dryer oloroso, resulting in a perfectly balanced dram – one that is as rich and spicy as you'd want it to be without putting you off Christmas Cake for life.