Talisker Whisky x Oliver Sweeney Boots
Talisker Whisky, Isle of Skye's single malt Scotch, has partnered with the luxury British menswear designer Oliver Sweeney, to design a limited edition 'Made By The Sea' boot.
With just 200 pairs produced, the walking boots are ideal for any Scotch lover with an interest in exploration.
"We're delighted to partner with Oliver Sweeney to create a gift that showcases our shared devotion to craft and adventure. Just like TALISKER, the boots are bold in design and will bring out the adventurer in all who wear them." – Nick Temperely, Head of Diageo Reserve GB
Beautifully presented in a solid oak box, the boots come alongside a 70cl bottle of TALISKER'S signature 10-Year-Old whisky, a branded sterling silver etched hipflask and a traditional styled compass.
Distilled at the oldest working distillery on the Isle of Skye, Talisker's 10 year old whisky captures the true spirit of its remote and rugged environment, and is known for its maritime sea salt and smoky flavour.
Likewise, the Made By The Sea boot takes inspiration from the wild storm-tossed seas and rugged terrains of the Isle of Skye.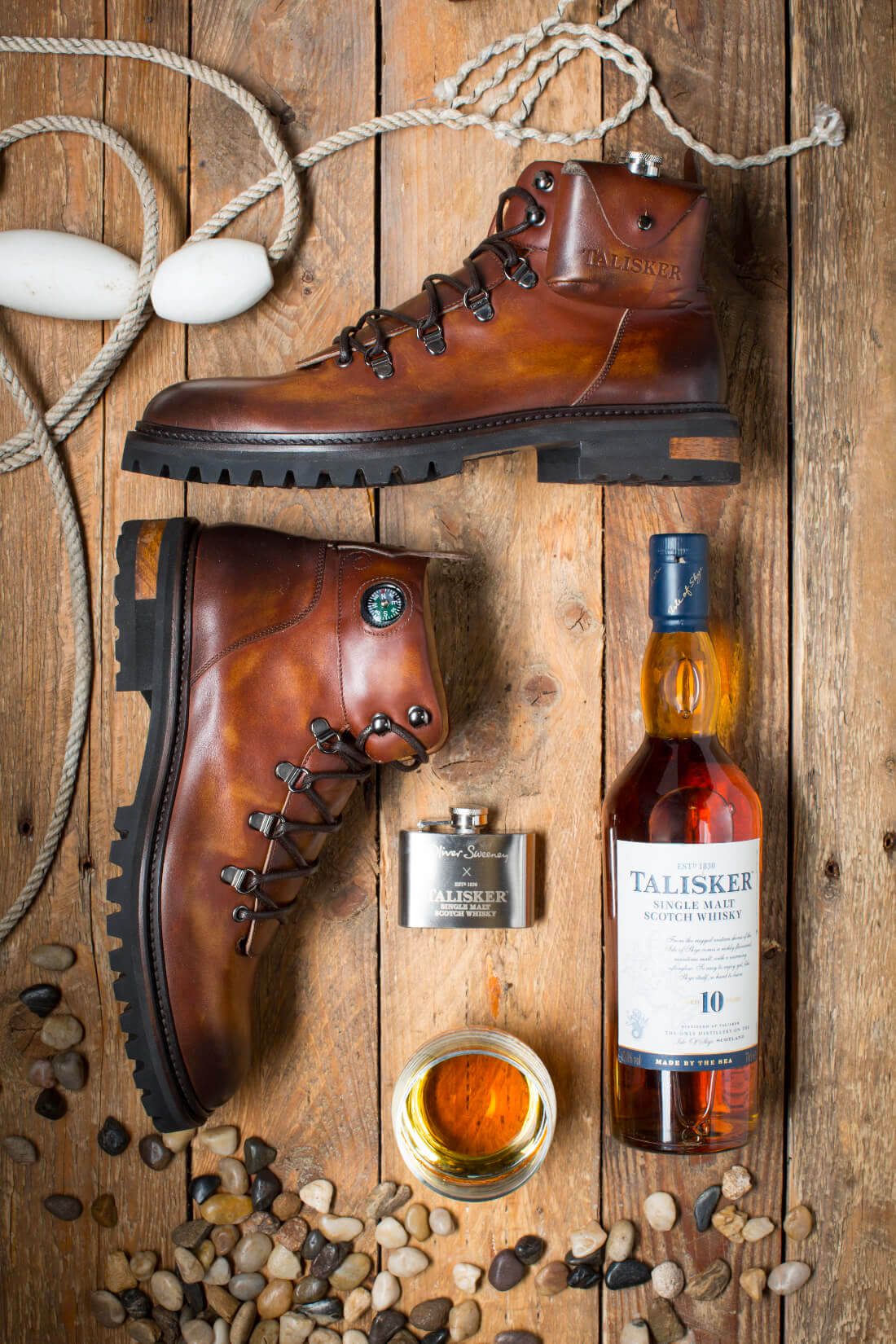 "Talisker is one of my favourite single malts, so this has been a real passion project for me. I wanted to create a design which reflected our shared passions for craftsmanship and innovation." – Tim Cooper, Cobbler-in-Chief, Oliver Sweeney
Made from Italian leather burnished by hand in the family owned factories of Le Marche, the limited-edition all-weather boots aim to evoke a spirit of adventure.
The pièce de résistance of the boot is the St. Moritz sole featuring a section of the cask used in the aging of the 10-year-old Talisker.
Made By The Sea Boots, £595, by Talisker x Oliver Sweeney