The Razors of James Bond 007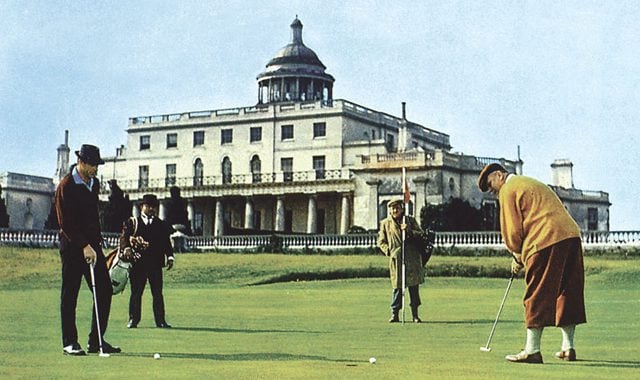 Sean Connery as 007 in Goldfinger
During the latest Bond movie; Skyfall, you may have noticed Daniel Craig using a straight/ cut-throat razor. This sparked a renaissance for traditional shaving methods. Many wet shavers opting to shave with straight/ cut-throat razors and traditional safety-razors. We are big fans of the latest Gillette razors but for those with a yearning for more traditional methods, read on.
The shaving equipment in Skyfall was the inspiration required to look back at historic Ian Fleming novels, to see if James Bond was referenced using razors. It turns out so, details below.
Goldfinger: a Gillette slim handle razor. In the handle of the razor their is a hidden tracking device. (Thanks for Midwestblade for the tip – see comments below).
On Her Majesty's Secret Service: a heavy-toothed Gillette, which he uses as a knuckle-duster.
The Man with the Golden Gun: a Hoffritz (of New York) safety-razor modelled on the heavy-toothed Gillette type.
Octopussy and The Living Daylights: again, a Hoffritz (of New York) safety-razor modelled on the heavy-toothed Gillette type.
Skyfall: a straight/ cut-throat DOVO Solingen razor with a #41 Stainless Steel blade*.
James Bond's penchant for a Hoffritz safety-razor is an interesting story in itself. It transpires that Bond used a Hoffritz brand razor which is now discontinued but was produced by DOVO Solingen who rebranded (to Hoffritz) their identical Merkur 11C Open Comb safety-razor, which has also now been discontinued. The closest match available today is the equally impressive Muhle R41 Double Edged Safety Razor. Alternatively, the Merkur 34C is almost identical but with a closed comb.
*We spoke to DOVO Solingen who confirmed they sent a 3580 straight razor to the Skyfall production team but from watching the movie they are certain it wasn't the 3580 James Bond used. However, they believe it is one of their straight razors with a #41 blade. Interestingly, they suggested the 3580 was probably too sharp, and since they only had one Daniel Craig, they didn't want to risk using it!