Geo F Trumper – Mens Shaving Experts
Mayfair, by night, is the 'Playground of Princes', and by day, the ultimate location for outfitters and groomers of the gentry. Here you will find the world-renowned Savile Row; luxurious Old Bond Street; and pioneering mid-19th century European shopping gallery, Burlington Arcade. You can have quite the quintessentially British shopping jaunt here. Wrapped up nicely with a spot of afternoon tea at The Ritz. What more could you want? Well, how about something for the weekend, sir? Something from barbers Geo F Trumper, perhaps?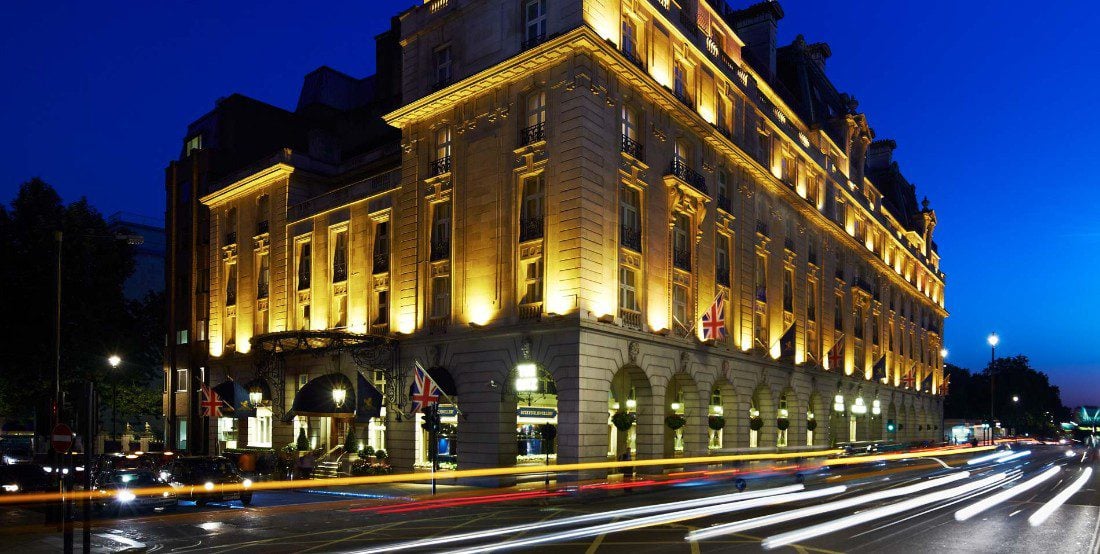 The Ritz London at night
A Traditional Gentleman's Barber
You have your new bespoke suit with it's complementary cut. And new Italian shoes that are so stylish you feel like you are walking on a carpet of silk. Also, you have picked up something sparkly for the lady in your life. So why not pop into a traditional gentleman's barber to polish the look before you settle down for your scones and champagne? Just a few minutes walk from Green Park tube station and The Ritz you will find Curzon Street. Home to Geo F Trumper, who are, as their website proudly proclaims:
"Recognised as the finest traditional gentlemen's barber in London and is known throughout the world for its matchless range of gentlemen's fragrances and grooming products." – Geo F Trumper
I'm sure you will agree that this is quite a bold and un-British statement. Therefore I, your dedicated and intrepid reporter, decided that I would test this claim out for myself. Yes, I know, I really do put myself in the line of fire to make sure you, my fellow Gentlemen, are well groomed.
Geo F Trumper in Mayfair
Address: Geo F Trumper, 9 Curzon St, Mayfair, London W1J 5HQ.
Telephone: 020 7499 1850.
Opening Hours: Mon-Fri, 9am to 5:30pm. Sat, 9am to 5pm. Sun, closed.
The first thing you will notice as you approach Geo F Trumper is that you feel as if you are walking into a time tunnel. The store front to this barbers is as traditional as it gets and doesn't look like it has changed once since opening in the late 19th century. Your attention is instantly grabbed by it and drawn away from the surrounding modern eyesores. You are hypnotised by its presence, and as soon as you open the door take in the aromas in the atmosphere. Aromas that must surely have been the inspiration behind the stalwarts of modern manly fragrances. Consequently, you instantly realise you have left the 21st century and all life's stresses are left on the pavement. Now is Gentleman time. Now is your time. The world and its dog can wait whilst you have your indulgence.
Mahogany and Glass Cubicles
You enter the premises and you can't help but to be dazzled by the collection of products for a Gentleman. Cut-throats, razors, shaving brushes, shower gels, ties, cufflinks, hip-flasks and umbrellas. If you are short of ideas for Father's Day, or even your own birthday list, this is the place to come. You have to fight with the urge to gaze longingly at all these accessories in order to get to the waiting area, where you wait for your barber to lead you to one of the original mahogany and glass cubicles.
Whilst you wait, you're offered a selection of papers and magazines, fit for a true gent. A far cry from your GP surgery selection. At Christmas, you will even find a plate of mince pies to keep you satisfied. However, if you want to enjoy them, you'd best turn up early because your appointment will start very promptly. Something which I never thought I'd consider as a bad thing. But when somewhere is so comfortable and relaxing, you just want to spend as much time there as possible.
The Treatment… And Relax
So onto the treatment, because that's what it is. It's not just a haircut and a beard trim, it is a therapeutic treatment. Omar, my barber on my first visit and with whom I have remained since, is courteous, polite, informative of his background and effortlessly builds my trust in him. A vitally important skill since a gentleman's hair is as defining of his character as his personality and must always be treated with trusted hands.
"The barber's chair is a delight and Omar's attention to detail in the process of preparing me with my cloak and towels is exquisite." – Ape to Gentleman's experience of Geo F Trumper
As my treatment moves from my hair, which after years of trying is finally cut how I actually ask, to my beard, I am laid back with damp cotton wool over my eyes to protect them from the trimmings. This whole process, combined with the delicate trimming of individual hairs in my beard, eases me into a gentle slumber as the full effect of the experience takes hold and I am truly relaxed.
Loyalty
Before I know it, my beard is trimmed and it is time to leave the cocoon of gentlemanly pampering of yesteryear. But not before being made aware of their loyalty scheme. Which, after five treatments, entitles the customer to a free gift of a hair and body wash. Upon Omar's recommendation, I opted for the Sandalwood, and he comes out trumps again. It's like having a dose of Geo F Trumper every morning, giving you the energy to keep your shoulders back, chest out, back straight and to face the world with an air of pride and the confidence of a Gentleman.
Geo F Trumper Sandalwood Hair & Body Wash, 200ml/ £16 >
The art of a traditional barber is one we can not afford to lose. Every man should experience a true barber shop once in their life. And Geo F Trumper are offering gift vouchers to encourage more people to cross that threshold and actually take time out to get their hair cut. Or their beard trimmed. Or even to get a full wet shave and hot towel treatment. This is, in fact, the way I first came across Geo F Trumper, when my wonderful fiancee bought me a gift voucher for my birthday. I haven't looked back since. This is where my hair belongs. It's where I belong. Hell, it's where every Gentleman belongs.
Ape's Favourite Geo F Trumper Products for Home Use
As part of our ongoing list of Top 10 products in the male grooming sphere, such as our Top 10 Shaving Creams, Shower Gels and After Shave Balms. We thought it prudent to list our three favourite Geo F Trumper products. The Geo F Trumper Sandalwood Hair & Body Wash above and a shaving cream and aftershave product below.
Geo. F. Trumper Shaving Cream
Rich lathering, meaning a little goes a long way. It contains Glycerine and is ideal for dry and sensitive skin. With a tried, tested and proven product spanning three centuries, who could argue that Trumpers isn't the finest shaving cream on the planet? Our top fragrance choices are Sandalwood or West Indian Limes.
£16 for 200g at MANKIND
Geo F Trumper Coral Skin Food
Geo F Trumper Skin Food is lightly thicker than a lotion, it's the perfect consistency for an aftershave balm. It can be used pre or post shave (ideally underneath Trumpers Shaving Cream) for a protective shave, and after for the ultimate soothing and hydrating effects. Our favourite is the Coral version, but it's also available in Extract of West Indian Limes and Sandalwood.
£22 for 200ml at MANKIND