The Pompadour Hairstyle: A Modern Man's Guide To An Iconic Cut
Hair trends have an alarmingly high turnover. What's a la mode today is often laughable by tomorrow, and only very occasionally does a truly iconic style cement its place in the haircut hall of fame.
Bowl cuts, curtains, mullets… all of these and more have come and gone over the course of decades. Fleeting fads that have failed to stand the test of time. However, while these of-the-moment styles have come and gone, one key cut has retained its cool: the pompadour.
Here is a trim with true staying power, and that's not just down to the ungodly amounts of pomade often used to hold it firm. This staple do has made its way from the 1700s to the cutting edge of 21st-century cool, stopping off at every conceivable subculture along the way.
So, what gives the pompadour its timeless appeal, who can best pull it off and what are the key variations? Here we answer all of these questions and more.
What Is A Pompadour?
The pompadour can be defined as a voluminous hairstyle in which the front of the hair is kept long and swept back off the forehead in a roll.
Originally a woman's style in the 1700 and 1800s, this eye-catching do first began to creep onto men's heads in the 1950s. This was thanks in no small part to the birth of rock 'n' roll and none other than Elvis Presley himself – a man who was no stranger to a comb and a large dollop of styling product.
This new, updated take on the showy, oversized pompadours of days gone by boasted a shorter, cropped length and a much lower profile. The sides of the hair were kept shorter than the top, but still long enough to allow them to be combed back behind the ears.
Today, the pompadour still exists in its original form. Yet there have been some modern tweaks over the years, allowing this throwback trim to transcend time, remaining cool throughout. Contemporary barbering techniques such as fading, blending and tapering have given the pompadour a new lease of life, standing it in good stead as one of the 21st century's most popular cuts for men of all ages.
Who Suits A Pompadour?
One of the many great things about the pompadour hairstyle is that it can be tweaked and adapted to suit a broad spectrum of face shapes and bone structures. Still, given its lofty height and volume, it may not be the best choice for those with long or rectangular faces. This is due to that fact that a pompadour will elongate the appearance of the head further, making it better suited to round, oval or square-shaped faces.
Round-faced individuals, in particular, can benefit from the additional length created by a pomp. The extra height helps balance proportions, making the face appear slimmer and less spherical.
Another consideration to make when deciding whether or not to opt for a pompadour is facial hair. This is a style that works well with a bit of facial fuzz, whether it be a full beard or just a smattering of stubble.
Again, face shape should be taken into account. Those with oval-shaped faces may want to consider a shorter facial hairstyle in order to maintain balance, while those with round or square faces can go slightly longer without fear of soliciting any "why the long face?" jibes.
The Best Pompadour Variations
The pompadour comes in many shapes and sizes. Here is Ape's handpicked selection of the most significant variations of this iconic style.
Classic Pompadour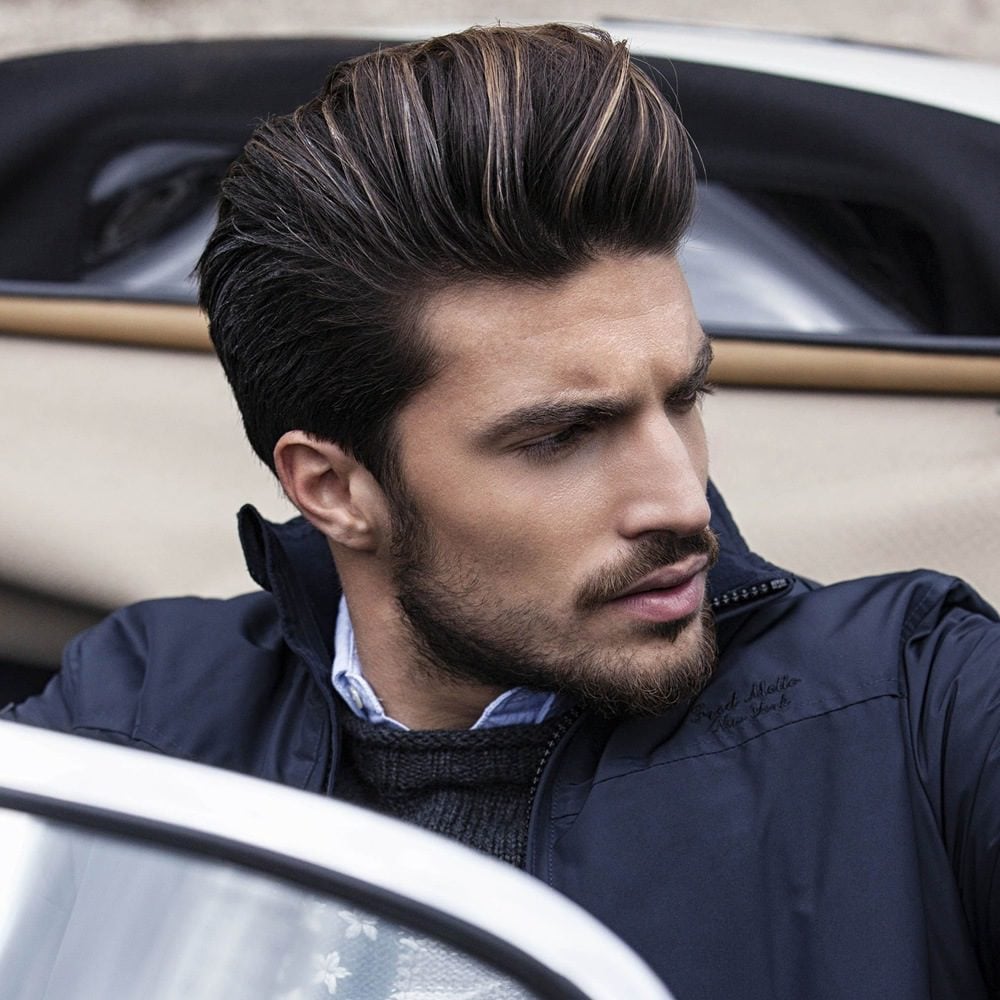 While it was the over-the-top, beehive dos of the 1700s that gave birth to the pompadour, it was this classic cut that cemented its place as a men's style icon. The classic pompadour has graced the scalps of some of the most revered musicians, actors and performers of all time and remains a solid option when it comes to injecting a dose of rock 'n' roll swagger into your day-to-day look.
Any barber worth their salt knows exactly how to cut and style a pompadour. But, to avoid any crossed wires, it's always best to have a photograph on hand of exactly what you want the finished product to look like. It should be big at the front, close to the head at the sides and all combed neatly back to a point at the back of the head.
In terms of styling, you'll need pomade, a vented brush and a hair dryer. Blow-dry the hair while using the vented brush to style it back. Then, simply work a shine pomade through the hair from root to tip, using the brush to whip it into shape.
Contemporary Pompadour
For a modern take on one of the most celebrated haircuts of all time, the contemporary pompadour offers the perfect solution. This updated 'do takes all the best parts of a classic pomp while merging them with the clean, razor-sharp sculpting that has come to define modern barbering.
There's a lot of room for personalisation here. The hair on the top of the head will always be longer and brushed up and back off the face. However, there are many different options for the sides. For a striking look, a skin fade or drop fade can work nicely, giving this throwback trim a contemporary look while retaining much of the original shape. For something a little more low key, a taper fade will yield similar results without such a dramatic contrast between long and short.
Styling-wise, follow the same steps as for a classic pompadour. The only difference is that you'll need to pay the barber a visit once a fortnight to keep the back and sides crisp and clean.
Textured Pompadour
Don't assume that just because your hair isn't poker straight that you can't wear a pompadour. Curly and wavy hair can be cut and styled into a pompadour with some nice results, albeit a little looser and more casual than the traditional variation. This take offers a more laid-back, less polished alternative and also works well for men with particularly thick hair.
Explain to your barber that you want a textured pompadour and they should automatically know what you're looking forward. Again, though, it never does any harm to take a photo along with you for reference.
When it comes to styling, swap the pomade out for a texturising clay. You could also spritz a little sea-salt spray into your hair before blow-drying to increase hold while creating an even more tactile feel. Finish off by loosely sweeping it back into place and you're good to go.
Recommended Products