The Best Hair Transplant Doctors In The World Today: 2023 Edition
All hair transplant surgeons are created equal, right? Wrong. As Joe Tillman from Hair Transplant Mentor stated during a recent discussion with Spencer Kobren on The Bald Truth podcast: "The hair transplant industry has progressively gotten worse over the last ten years. It has regressed backwards in many ways, especially in patient safety. It's shocking! Patients must do their research."
Unfortunately, he's 100% correct. Things are messy out there. In the last 10 years or so, there's been an explosion of activity in the industry and dime-a-dozen operators have sprung up all over the world. It seems anyone can slip into a pair of gloves, grab a scalpel and start hacking away at some poor guy's scalp. Don't think I'm exaggerating either – I've heard some terrible horror stories, and seen the evidence. But today, you're in luck. Because I'm going to share with you my personal list of surgeons and clinics around the world that I would feel confident sending my best friend to.
What Brought You Here?
Disclosure: Before you read on, it's important you know in full disclosure that I work directly with a number of the clinics listed below (not all) and receive financial compensation for their association with me. I am not commissioned by any clinics. I receive a monthly flat fee for clinics to be associated with SpexHair.
Through a combination of consultation and research, you may have learned that it's time for you to explore hair transplant surgery. You've tried other options; you've met with experts and you've done your very best to hold on to the hair that's desperately clinging to your scalp. But can you entrust your precious remaining follicles to just anyone? No, of course not.
The hair transplant market is a ferociously competitive one, populated by the full gamut of players, from the dodgy "backyard" operator to the fully-fledged, highly trained professional with decades of experience. Speaking as someone who has undergone thirteen hair transplant surgeries, I can confidently say that I've seen it all… and experienced quite a bit myself. You want recommendations? I've got your recommendations, and believe me when I say I'm confident I know what I'm talking about.
Take It From The Guy Who's Had 13 Hair Transplant Surgeries
I've met with many of the surgeons featured below personally and I've placed my own scalp in the very capable hands of a couple of them. I've done my time in the trenches. I've researched, read, visited, spoken to and met with a lot of hair transplant surgeons, and seen their practices up close. All the doctors listed here are, in my opinion, highly skilled and worth consulting with directly. They will provide you with an honest appraisal and, most importantly, they will tell you what you need to hear, not necessarily what you want to hear.
You may learn that hair transplant surgery is not an appropriate treatment for you at the current time, or that you're not really a candidate for it at all. You might be told that you need far more extensive work than you thought necessary. If you do go along to one of the doctors listed below, you can take it from me that they will be telling you the unbiased, unfiltered truth.
In the interests of full transparency, I will say that I work directly through Spex Hair with a number of the clinics listed below who I know through my own experience are incredibly, skilful, ethical and trustworthy. My function is as a patient advocate and advisor. If you know anything about me at all, you'll know that my prime focus is the patient and what's best for him. I get the opportunity to talk daily to many patients (before and after their treatments) and the feedback I receive informs how I'm able to recommend doctors and practices. I've spoken with countless patients from a variety of clinics over the past 15 years.
A crucial element of my recommendations is that all the doctors listed below support the message conveyed by the relevant standards and authorities in the field, putting the patient before profit. These guys care about the industry and its ethics, integrity and quality of treatment based on what I'm privy to and know of them after 15 years working daily in this field.
It's also important to note that this list is not exhaustive, and it is only my opinion. There are lots of great surgeons and clinics out there in the big, wide world and I would welcome hearing from you if you have questions or comments about any. My experience in this field meeting certain patients from a variety of clinics has enable me to form my opinion below. I'm limited to space too, and I'm certainly aware there are others well worthy of being included.
The objective of this article is to help educate and empower readers straight off the bat with reliable and ethical surgeons from all around the world. My aim is to help many with their research process initially. It's vital that everyone interested in hair restoration conducts their own extensive research.
Finally, remember that surgery should be your last resort and there are a number of other less invasive options available to men dealing with a receding hairline, thinning hair or fully-fledged male pattern baldness.
The World's Best Hair Loss Surgeons & Clinics
This list is presented in alphabetical order. All of those doctors mentioned here are members of credible industry associations that work tirelessly to promote the truth and integrity of the hair loss treatment industry.
Dr. Scott Alexander, IAHRS Member
Phoenix, Arizona (USA)
Dr. Scott Alexander of Biltmore Surgical Hair Restoration offers microsurgical, highly advanced, artistic hair restorations for men and women. He offers FUT and also FUE surgery via the ARTAS robot and also by hand. His experience as a general surgeon means he treats every surgical procedure as if it were being performed in a hospital operating room, and his highly experienced staff are at the absolute top of their game. He is one of a small number of restoration surgeons who use sterile techniques along with sterile gowns, gloves and drapes while removing the donor tissue.
Dr. Alexander is without question a hall of fame hair restoration surgeon, with his clinic dedicated to offering cutting-edge hair restoration technology to his patients. Renowned globally for providing incredibly natural dense hairlines as well as vast coverage, due to his remarkable artistic ability and skill, Dr. Alexander has gained incredible popularity amongst hair transplant patients from all over the world who travel from far and wide to see him.
Today, Dr. Alexander's career is dedicated exclusively to hair loss treatment. He's an illustrious member of the IAHRS and I'm proud to work within his clinic as he is one of the most caring, skilful physicians in the field. An honest and ethical hair transplant surgeon, if you'd like to consult with him directly to establish what your specific requirements are, you can contact him via his website: biltmorehairrestoration.com.
Dr Munib Ahmad, IAHRS Member
Bergen Op Zoom (Netherlands)
Dr. Munib Ahmad is doing remarkably impressive work at his clinic Fuegenix Dr. Ahmad consistently provides customers with outstanding results whilst providing all his patients the highest standard of care and attention expected of an IAHRS accepted member.
Dr. Ahmad dedicates himself to every aspect of the procedure and he incredibly hands on, ensuring optimal results to every patient he treats. He carries out the full treatment himself, punching, extracting, checking the sorted grafts, making sites, as well as placing the grafts. His name is relatively new to this field however he has been performing hair transplantation for several years exclusively. A highly recommend surgeon.
Anderson Center For Hair, IAHRS Members
Atlanta, Georgia (USA)
Dr. Anderson of the Anderson Center for Hair is the only triple-board certified facial plastic surgeon in the world, who since 2003 has dedicated his career to the treatment of male and female hair loss. Dr Anderson was the very first surgeon to be published in worldwide medical literature for performing FUE. In 2004 he transplanted 1,901 follicles using disposable 1mm biopsy punches. The award-winning Dr. Anderson has attained postgraduate training in Facial Plastic and Reconstructive Surgery. The Anderson Center for Hair was the first in Georgia to offer patients the ARTAS Robotic Hair Transplant system, which extracts individual hair follicles one at a time with a tiny punch, eliminating the need for scalpels and sutures.
One in 20 of his patients are physicians, which goes to show how highly regarded Dr. Anderson is in the field. Dr. Anderson is committed to physician education, and has founded the American Academy of Hair Restoration Surgery to provide surgical training to physicians looking to enter the field and is also a Global Hair Loss Summit founding faculty member. He is a superb surgeon and person and I have a proud association with him and his clinic.
Also tirelessly working out of the Anderson Hair Center is IAHRS member Dr. Daniel Lee who is very much one of the leaders in this field, too. He is regarded so very highly with all his patients I've spoken with and his attention to detail is incredible. Dr. Lee is a member of the Board of Governors for the American Board of Hair Restoration Surgery, which issues Board Certificates to qualified hair restoration surgeons. The quality of care he provides his patients is renowned; so too is the deep expertise he applies to every single hair transplant procedure he performs.
Dr. Alan Bauman, IAHRS Member
Boca Raton, Florida (USA)
Dr. Bauman is doing extraordinary things out of his internationally-recognised Florida-based practice, Bauman Medical. Established in 1997, the clinic offers everything from eyelash transplantation to artistic FUE hair transplant surgery for men and women; a wealth of bespoke medical hair loss treatments like top-rated compounded minoxidil Formula 82M, topical finasteride, lunchtime PRP with ECM and PDOgro for hair regrowth; as well as an in-house trichology salon for optimum scalp health.
His nearly 12,000 sq ft standalone clinic has been labelled by the industry as "The Hair Hospital" and as a full time hair restoration surgeon he is tirelessly and passionately working at improving his results and the patient experience, even after personally treating over 33,000 patients and performing more than 10,000 hair transplant surgeries.
Consistently top-rated by Aesthetic Everything and recently highlighted by Forbes as one of "10 CEOs Transforming Healthcare in America", Dr. Bauman takes great pride in artistic results and offering the latest techniques via the most technologically advanced equipment available – I'm proud to work with him. He is certainly setting the standard for many to follow, in my opinion.
Dr. Sean Behnam, IAHRS Member
Santa Monica, California ( USA)
Dr. Sean Behnam exclusively practices hair restoration at his Santa Monica, California . He is well respected within his field amongst his peers and hair restoration organisations. He is known for his one-on-one approach with patients as only performing one hair transplant surgery per day based from his Hair Restoration Clinic. Dr Behnam is incredibly passionate about the artistic design and quality he provides all his patients and provides the highest standards of care and attention to each and every one. The Dr is highly accomplished in both the FUE and FUT techniques and designs and manufactures many of the instruments he uses for FUE procedures. A master of his craft and a very ethical caring surgeon who is a proud member of the International Alliance of Hair Restoration Surgeons.
Dr. Christian Bisanga, IAHRS Member
Brussels (Belgium)
Dr. Bisanga attained his Doctor of Medicine degree in Surgery and Obstetrics in Belgium and then received his hair transplantation qualification in the US. Upon returning to Europe, he co-founded the BHR Clinic, which focuses on FUE hair transplants. The doctor is actively involved in studies and research within the industry and has pioneered his own graft extraction methods and protocols. He trains new doctors in the art of this technology and established another European clinic before BHR. Recognised as one of the top hair transplant surgeons in the world, he is known for his work in repairing some of the most difficult cases to the absolute highest standards. Dr. Bisanga is also acknowledged for performing the largest FUT grown-out result in Europe, with 6,000 grafts.
Dr. Özlem Biçer, Associate IAHRS Member
Istanbul (Turkey)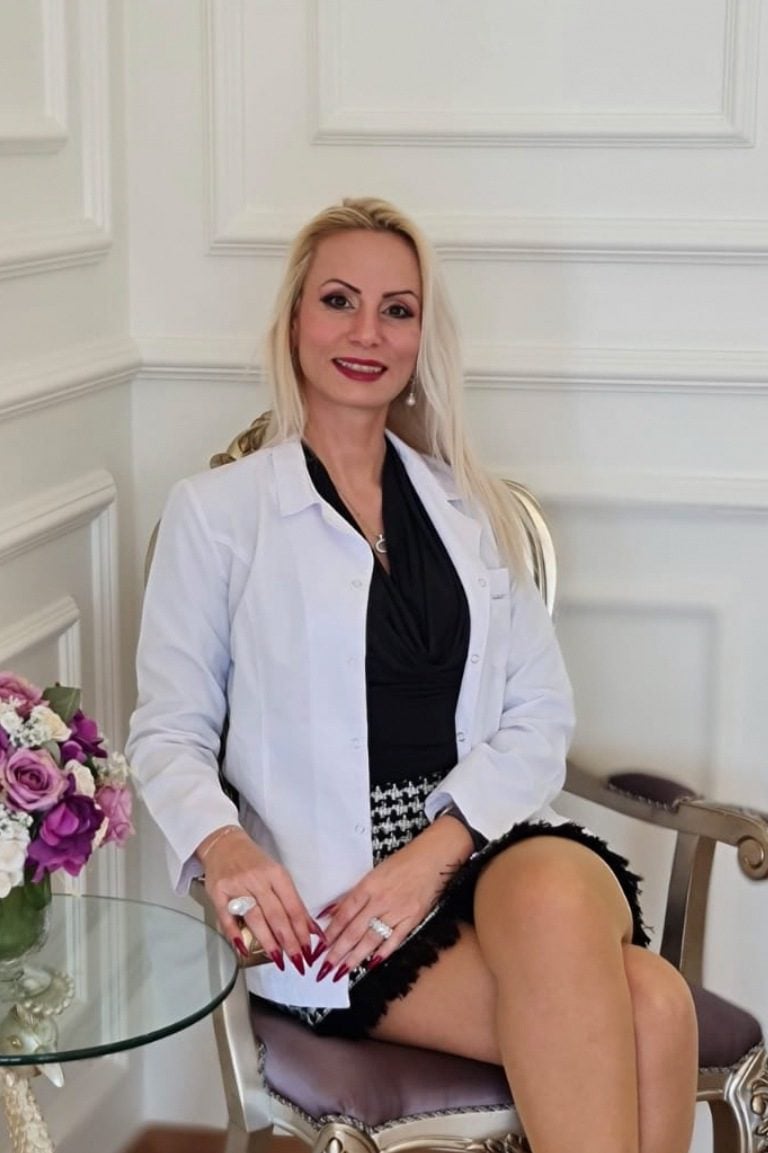 Dr. Özlem Biçer has pursued excellence in surgical hair loss treatments for more than two decades. Her expertise was gained in hospitals, private hair loss practices and aesthetics clinics. In 2004, Dr. Biçer opened her first licensed clinic in Turkey in 2004, with full approval and accreditation from the Turkish Ministry of Health. Since then, she and her team of expert, highly experienced surgeons have attended to thousands of patients from around the world and delivered life-changing results around their hair loss issues.
Today, Dr. Biçer's clinic performs FUE, FUT by Micromotor, FUE by Manuel and FUE without shaving, at an average rate of one hair transplant per day. Patients can count on technical excellence as well as genuine empathy and strict adherence to medical law. Dr. Biçer is highly regarded in the global hair transplantation industry for her exceptional know-how, her dedication to patient satisfaction and for training a long list of up-and-coming surgeons who now follow in her esteemed path.
Dr. Scott Boden, IAHRS Member
Wethersfield, Connecticut (USA)
The only fellowship-trained, board-certified hair transplant surgeon in Connecticut, Dr. Boden is renowned for his meticulous attention to detail and refined aesthetic judgement. He is a Diplomat of the American Board of Hair Restoration Surgery, one of fewer than 150 surgeons worldwide to receive this distinction. His practice, Hair Restoration Center of Connecticut offers surgical and non-surgical options for men and women suffering from hair loss. FUE, FUT and ARTAS are offered, as well as hair transplant repairs, eyebrow hair restoration, transgender hair transplants and beard hair transplants.
Dr. Espinosa Custodio, IAHRS Member
Madrid, Spain
Dr. Espinosa Custodio is a very popular hair surgeon and regarded as one of the very best in the world. An IAHRS accepted member performing all patient consultations himself and conducting the entire hair transplant surgery himself. You can see the range of services he offers including non-shave FUE at his clinic drespinosacustodio.com with locations in Madrid and Mexico. He helps provide all his patients much confidence with a written guarantee regarding the results they can expect from his clinic. He offers the absolute highest quality standards expected by a world leading hair transplant surgeon performing on average 1,200 FU a day, therefore ensuring that survival of grafts is high. Dr. Custodio meticulously places each follicular unit carefully choosing the correct direction, depth, and position personally.
Dr. Robert J. Dorin, IAHRS Member
New York (USA)
Dr. Dorin graduated Cum Laude with a Bachelor of Science in Bio-Chemistry from Stony Brook University, NY in December 1993. Attracted by the blend of artistry and technique, Dr. Dorin had the privilege of learning his craft from one of the more accomplished and influential hair transplant physicians in the industry, Dr. Robert H. True.
Dr. Dorin has specialised in the surgical and medical treatment of hair disorders since 2002 and is the medical director and founder of The Hair Loss Doctors (formerly True & Dorin Medical Group). He is one of the finest hair transplant doctors who's dedication and compassion has made him respected by his patients and peers the world over.
Proficient, skilled and experienced in FUE and FUT with an overwhelming number of consistent results, Dr. Dorin is an active member of the International Alliance of Hair Restoration Surgeons and several other medical organizations. His practice offers state-of-the-art surgery, Platelet-Rich Plasma therapy as well as non-surgical options.
Dr. Bijan Feriduni, IAHRS Member
Hasselt (Belgium)
Dr. Feriduni's history in hair transplantation dates back to 1995. In 2000, he established Hair Clinic Dr. Feriduni in Belgium, employing a small team of medical assistants. The clinic's focus is on maximum service, personal attention and a high level of privacy. Aside from Belgian patients, around half of the patients travel from other European countries to be treated by Dr. Feriduni who consults in English, Dutch, German and French. He personally supervises each patient's progress and manages all pre- and post-operative controls from initial contact. The doctor is one of just a few hair transplantation surgeons worldwide to perform both FUST and FUE harvesting techniques on a daily basis. Patients can also have their facial hair restored and facelift and accident scars camouflaged. I know him personally and he is a very caring and skilful surgeon.
Dr. Bruno Ferreira
Portugal
Dr. Bruno Ferreira is considered one of the industry's up-and-coming heavyweights. He has been performing hair transplants exclusively for eight years now and is driven by the desire to ensure the result of every transplant he performs appears completely natural.
He never takes the easy option and always makes sure that all procedures are given the time they deserve. Dr. Ferreira's technical expertise and attention to detail is further complemented by his caring and empathetic style; allowing for all patients to relate to him easily, while ensuring all procedures are as comfortable and pain-free as possible.
Dr. Ferreira continues to adhere to a strict limit of just one surgery a day. This allows him to carry out every step of every procedure with care and accuracy and ensures he gives only his best to each of his patients.
Aside from his day-to-day surgeries, Dr. Ferreira devotes his time to patient education, researching hair transplants, advancing surgical techniques and instruments and ultimately keeps pushing the boundaries of hair restoration around the world.
Harley Street Hair Clinic, Associate IAHRS Members
London (UK)
I had my most recent surgery with Dr. Albena Kovacheva at The Harley Street Hair Clinic and can speak volumes about the benefits of being treated there by her and the entire team at the clinic. This world-renowned team includes senior surgeon Dr. Greg Vida who in my experienced opinion – after being privy to many of his FUE surgeries and seeing patient results in person – is one of the most experienced, skilful and proficient surgeons in the world, too. He was recently interviewed on ITV's 'This Morning' show about the volume of repair work he is having to perform to help solve surgery on patients who went to unsavoury clinics.
Among the businesses' many accolades, it was the clinic of choice for professional English footballer Wayne Rooney, which in turn changed the face of the industry overnight. In my opinion, the clinic's Director, Nadeem Khan, sets a benchmark for patient advocacy and he is committed to providing hair loss sufferers with excellent and tailored advice.
The treatment is focused on FUE transplantation, which I have found to deliver superb results. I can personally vouch for the high levels of professionalism, patient care and world-leading expertise at the surgery and work with the clinic daily as a patient advisor.
To arrange a consultation with The Harley Street Hair Clinic visit their site here: hshairclinic.co.uk
Dr. Chiara Insalaco, Hair Transplant Surgeon – M.D., PHD
Rome (Italy)
Dr. Chiara Insalaco majored in Plastic and Reconstructive Surgery at the University of Rome La Sapienza, and has trained alongside world-renowned surgeon Dr. John Cole. With a relentless drive to arm herself with the most innovative hair transplant techniques, over the years Dr. Insalaco visited a number of the world's leading clinics and spent time with highly respected surgeons across the US, Turkey, Belgium and in her native of Italy where she now runs her own clinic Insalaco Clinic.
For the last six years she has continued to work closely with Dr. Cole, as well as the Department of Plastic Surgery at the University of Rome Tor Vergata, leading a pioneering research project which focuses on regenerative medicine (PRP, STEM CELLS) and its application when treating alopecia. Dr. Insalaco remains an active member of The Italian Society for Hair Science and Restoration and is one of a handful of Italian experts to feature on the Public Register of Trichologists. Dr. Insalaco is also a proud founding faculty member of The Global Hair Loss Summit.
Dr. Ibrahim Jebai
Beirut (Lebanon)
Dr. Ibrahim Jebai runs a very busy hair transplant clinic and I was fortunate to meet him at the FUE Europe conference in Athens this year where I watched a number of his incredibly educational presentations including 'Rare complications in Hair Restoration Procedures', which was enlightening.
He is insanely passionate about hair transplant surgery and very talented. He works tirelessly, striving to provide his patient the absolute best possible bespoke result for them, whilst helping educate and guide all patient ethically and honestly. He is proud member of the American Board of Hair Restoration Surgery (ABHRS ) and I highly recommend consulting directly with him at his clinic for an honest ethical assessment.
Dr. William Lindsey, IAHRS Member
McLean, Virginia (USA)
Dr. William Lindsey is an award-winning, board-certified Facial Plastic Surgeon with over 20 years' experience who offers FUE hair transplantation. He is highly trained in facial plastic and reconstructive surgery and in 2000, established himself in Northern Virginia to practice these disciplines. His Lindsey Medical Hair Transplant clinic offers incredibly natural and aesthetic hair transplants, utilising high density, ultra-refined FUT via both strip method and FUE method. He routinely performs mega-sessions for patients. I've had surgery with him in the past and it was superb. I work with his overseas patients as his advisor too.
Dr. Lindsey is an exceptional individual and hair transplant surgeon. He has been a member of the IAHRS for well over a decade and his level of care, skill and artistry are second to none in this field. I highly recommend obtaining a consultation with him so you can get an honest opinion about your current hair. Patients travel regularly from all over the world to consult and have hair transplant surgery with him and you can contact him directly via his website: drwilliamlindsey.com.
Dr. Patrick Mwamba, IAHRS Member
Bruxelles (Belgium)
Patrick Mwamba is a very highly regarded and active member of many organisations. In 2000, Dr. Mwamba – who now runs The World Hair Transplant Centre – began working with Dr. John P. Cole at New Hair Institute. Dr. Mwamba immediately fell in love with the art and science of hair transplantation and homed his skill and passion to be deemed one of the most highly regarded surgeons in the world today. His compassion for hair loss sufferers led him to dedicate his efforts, full-time, to the practice of hair transplantation.
Dr. Aron Nusbaum, IAHRS member
Miami, Florida (USA)
Dr. Aron Nusbaum practices out of The Miami Hair Institute and is a superb hair transplant surgeon. Dr. Nusbaum prides himself on personally performing all his own consultations with his perspective patients. He performs robotic and manual FUE, body hair transplants and is well known for helping countless repair cases. He is also very experienced and preforms strip (otherwise known as FUT surgery).
He has impeccable ethics and is well regarded amongst his peers as well as his patient fan base. Interestingly, many of his patients are from Central and South America as Dr. Nusbaum is fluent in English and Spanish. A competent, caring surgeon who is well worth considering for any hair transplant consultation.
Dr. Ozgur Oztan
Ankara (Turkey)
Dr. Oztan is the founder of his own HLC hair clinic in Turkey. He has solely been performing hair transplantation via FUE since 2003 and his is the president of FUE Europe.
I was fortunate to meet him in Athens at this year's FUE conference and had the pleasure to watch his presentations. Dr. Oztan is also a founding faculty member of the Global Hair Loss Summit. He's an incredibly skilful, ethical and caring hair transplant surgeon and I certainly recommend consulting with him about your hair transplant requirements.
Dr. Arvind Poswal, IAHRS Member
New Delhi, India
Dr Arvind Poswal has been an accepted member of the IAHRS for many years and is a very respected surgeon in the field of hair restoration. Dr A and his wife established the renowned Dr. A's Clinic in India in 1997. Patient education and patient care clearly extend beyond the surgical procedure with Dr Poswal's clinic. He understands each individual's requirements and he personally helps guide and educates each patient on their personal requirements and options. He is a true leader in the field who helps educate other surgeons with his experience and expertise too. A very skilful surgeon and very much respected for his Body to Scalp Hair Transplants too which only very few hair restoration surgeons in the world have consistent success with.
Dr. Alba Reyes, IAHRS Member
Dominican Republic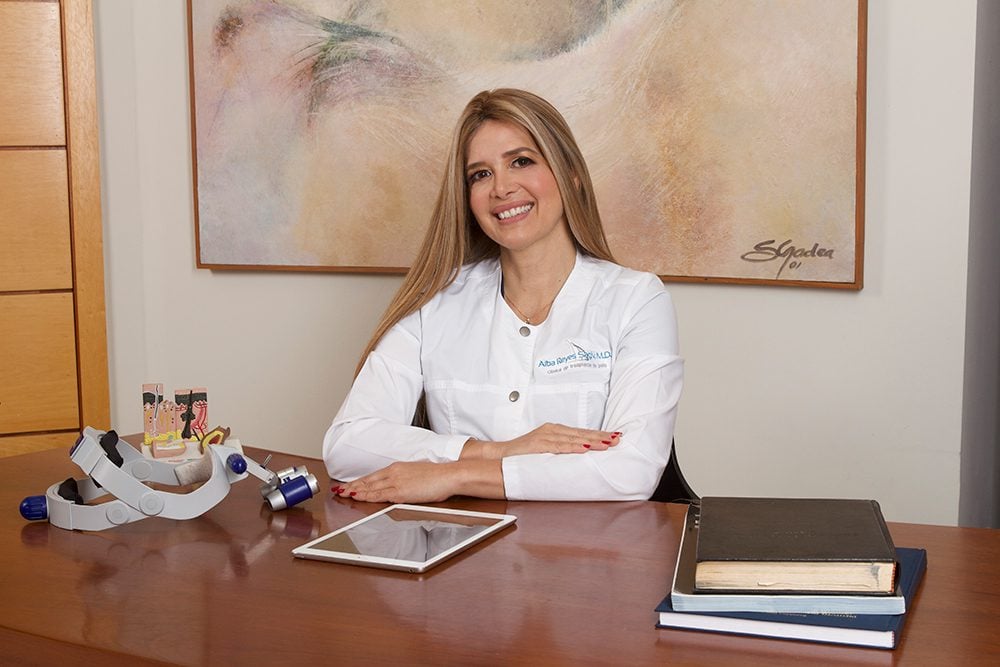 Alba Reyes is an expert in hair transplant surgery with 20 years of clinical experience. Specialising in FUE and FUT transplant methods, she offers her services at Hair Transplant Clinic in the Dominican Republic. Her career as a hair restoration surgeon began in 1999 after extensive training in leading clinics in Israel, Canada, the United States of America, Brazil and Spain. With the objective to offer the latest techniques to her patients, Dr. Reyes participates each year in international conferences and workshops and consistently provides her patients with the highest level of service possible.
Dr. Ron Shapiro, IAHRS Member
Bloomington, Minnesota (USA)
Founder and director of the Shapiro Medical Group, Dr. Shapiro is board certified by the American Board of Emergency Medicine. His clinic specialises in both FUT and FUE and is a master of hairline design. Recognised for his deft hands-on technical ability, he is routinely invited to demonstrate his techniques at major conferences across the globe. He is known as a caring physician and dedicated patient advocate and in 2000 was honoured by the Italian Society of Hair Restoration Surgery with the "Archimedes" award for excellence in hair restoration. He is a co-author of Hair Transplantation, 4th Edition – widely considered across the world to be the "Bible" of hair transplantation.
Dr. Geza Sikos, IAHRS Member
Budapest (Hungary)
A certified plastic surgeon since 1984, Dr. Sikos is a board-certified plastic surgeon and hair transplant specialist. He has undertaken comprehensive training in the US and other countries and is a member of a number of important hair restoration industry associations. His Sikos Hair Transplant Clinic is highly regarded in Europe as a quality practice where patients will receive the highest standard of care. Around half of the patients who attend the clinic come from other European countries, to avail themselves of his world-class services and reputation. Dr. Sikos performs mostly FUE surgeries however will also provide FUT-strip harvesting techniques. As well as scalp hair restoration, patients can seek treatment for restoration repairs, beard transplant and chest and pubic hair restoration.
Dr. Carlos Wesley, IAHRS Member
New York (USA)
Dr. Carlos Wesley is a well-established hair restoration surgeon and has been providing consistently excellent hair transplant results and care to his all his hair loss patients. His hair restoration clinic is conveniently located in the city on 5th Avenue and patients visit him from all over the world. He has been awarded multiple accolades for his academic performance before embarking on fellowship training with hair transplant specialists. In addition to performing hair transplants via both FUE and FUT he also offers Platelet-Rich Plasma Therapy and Exosome Therapy. Dr Wesley also is very well known pioneering a surgery that improves the yield of transplanted hair follicles while significantly diminishing the appearance of scarring.
Dr. Thitiwat Wirarojratchakul, Associate IAHRS Member
Bangkok (Thailand)
Thitiwat Wirarojratchakul is a fantastic hair transplant practitioner in Thailand who, like all the other doctors on the list, always puts the patient first and is a very skilled and caring physician. He has been offering hair transplants for over 10 years, completing more than 8,000 cases in that time. The Founder of Million Hair Transplant Centre, Dr. Wirarojratchakul is committed to developing techniques – including FUT, FUE, ARTAS Robotic Hair Transplant, Sonicated PRP and Regenera Hair Cell Stimulation – and expertise that help deliver the best hair transplant results for his patients.
Dr Joseph Yaker, IAHRS member
Plano, Texas (USA)
Dr. Joseph Yaker is the founder and medical director of Yaker Hair Restoration in Plano, Texas. He is an established, caring hair loss specialist and hair restoration surgeon specialising in the prevention and treatment of hair loss in both men and women.
He continuously strives to provide his patients the absolute best service and hair restoration options available. His commitment to his patients is truly outstanding and he has consistently proven to be a very competent, skilful and compassionate surgeon. I highly recommend speaking with Dr. Yaker to gain his insight and opinion on your options.
Dr. Resul Yaman, Associate IAHRS Member
Turkey
Dr. Resul Yaman has several year's experience and performs hair transplant surgery exclusively at The Yaman Surgery Centre in Turkey. He performs a range of hair transplant procedures via the FUE method exclusively. He is a very hands on surgeon, performing all extractions and incisions himself but supported by his experienced staff.
The Dr and his team consistently perform over 3000 follicular unit grafts via FUE and densely packs up to 50 FU/cm2 (follicular units per centimetre squared) and dependant on session sizes only performs maximum of two sessions a day. A very worthy surgeon to be housed here amongst many of the best hair restoration surgeons in the world.
Dr. Amir Yazdan, IAHRS Member
Newport Beach, California (USA)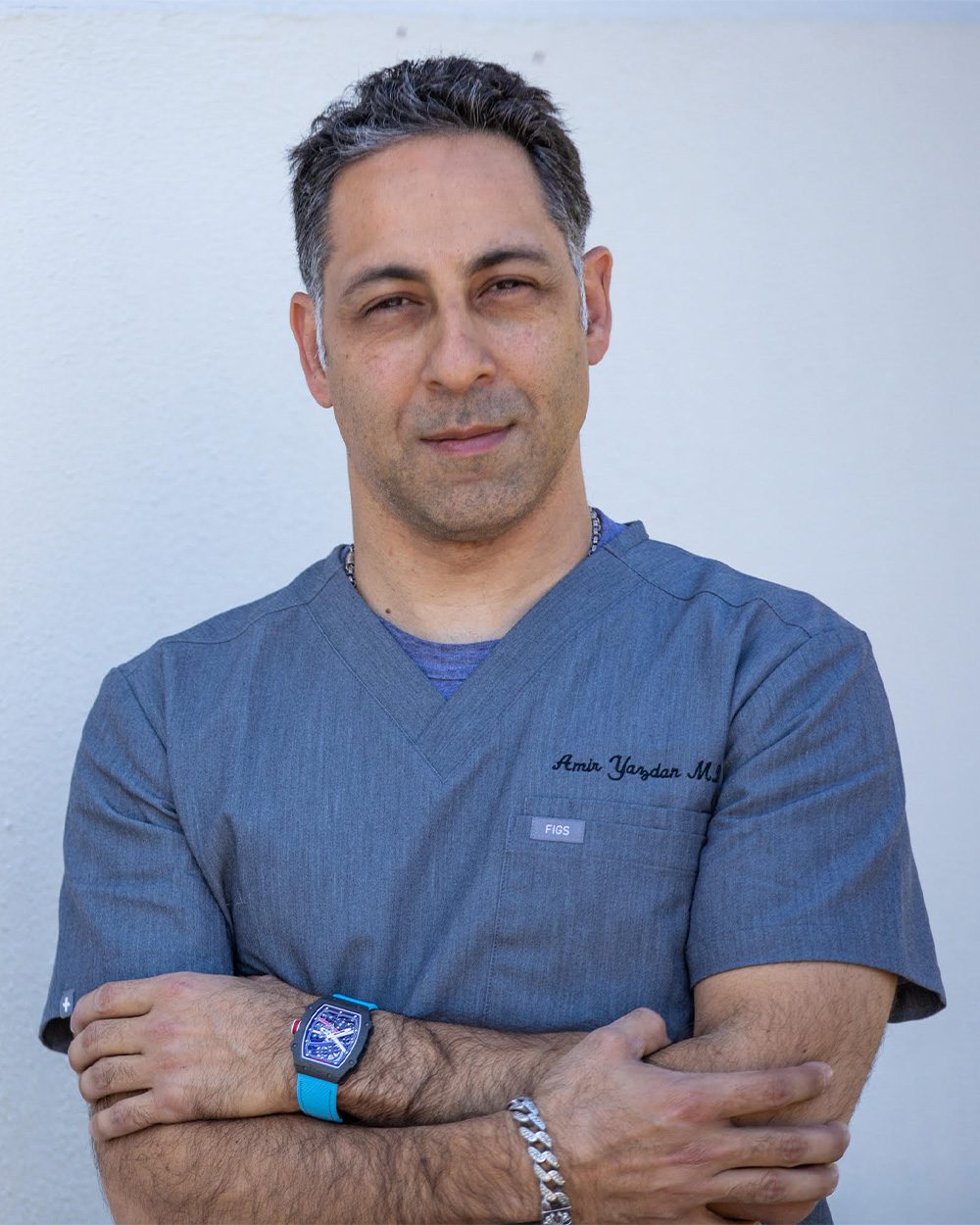 The Modena Hair Institute specialises in both the FUE and FUT/strip hair restoration surgeries and Dr. Yazdan is one of the few physicians who routinely performs FUE for African American and Asian patients as well as those from other ethnicities. He also offers body hair transplantation and performs SMP in house too. Dr. Yazdan has, himself, performed over one million FUE graft extractions and harvested more than two million FUT grafts. He can additionally assist with eyebrow and facial hair transplantation, non-surgical Platelet Rich Plasma therapy and scalp micro pigmentation. He puts the patient first above all else and their wellbeing is his ultimate priority. I'm proud to work with his patients as his international patient advisor.
For a personal consultation with Dr. Amir Yazdan, in order to establish what he feels your requirements are, you can contact him directly for an honest assessment at modenahair.com.
He is also the developer and creator of GroMD Shampoo and GroMD Follicle Spray, which have quickly garnered worldwide acclaim from hair loss sufferers. Their potent ingredients are specifically formulated to block the primary cause of male pattern baldness (DHT) while protecting and strengthening hair against progressive loss.
Dr. Tsvetalin Zarev, Associate IAHRS Member
Bulgaria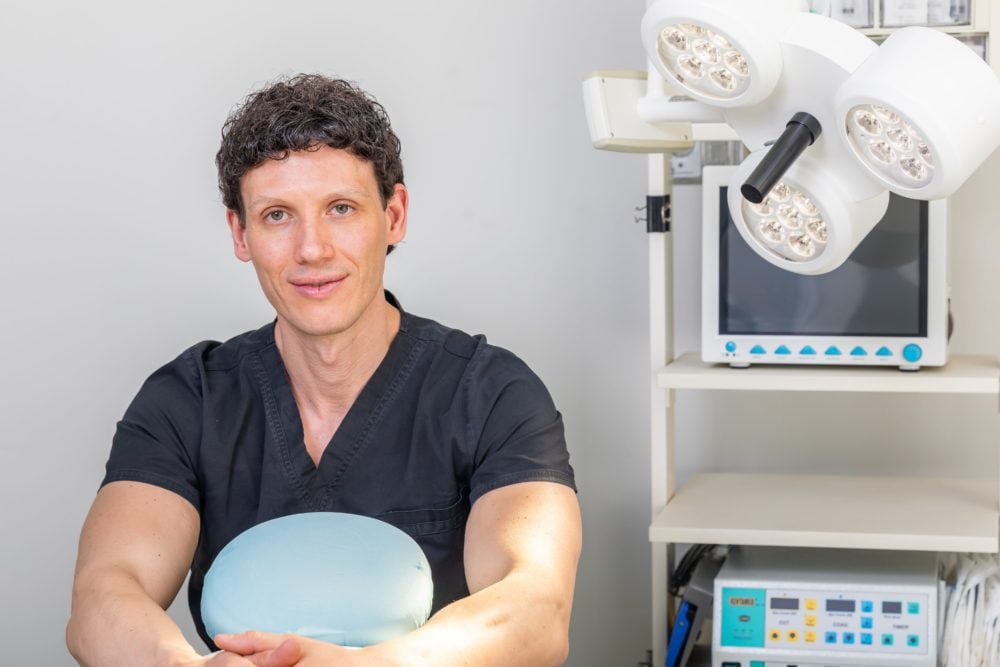 Tsvetalin Zarev graduated from Medical University, Sofia in 2010. He works actively in the transplantation industry with particular focus on large FUE cases at his Galatea Clinic, creating somewhat of a name for himself. He preforms and specialises in hair, eyebrows, eyelashes and beard hair transplants, and has been doing so for the last 9 years. During this period Dr. Zarev has used manual as well as motorised FUE technique. I had the pleasure of meeting and watching him conduct an outstanding presentation in Manchester in 2019 where he presented a 14,000FU Giga session via FUE case that had people mesmerised.
More Resources For You To Explore
When researching a hair transplant surgeon or clinic for your own needs, the following resources can help with your information-gathering process.
As someone who has experienced the good, the bad and the ugly of hair restoration treatments, I feel it's my duty to implore you to do your due diligence when researching options for your own personal situation. I wish you all the best in your hair restoration pursuits and remember that surgery should always be a last resort.