Cream of The Crop: The Best Barbers In London
A barber is one of the most important figures in a gentleman's life. They are someone who you confide in, run things by, and put the world to rights with. Why? Because you should trust them, implicitly. And this trust is earned through another equally important factor: they are accountable for coiffuring your precious hair into some semblance of style, all while educating you on the latest hair trends, adjusting your hairstyle to suit your face shape and helping disguise your receding hairline. Quite the responsibility.
Conversely, a bad barber is never revisited and you're likely left suffering for a month or more, until the follicle recovery is complete. It's therefore imperative that you choose your scissorsmith wisely. To assist, below we've listed 8 of our favourite barbers in London to help keep your crop sharp, and date, party or business meeting ready.
As you might imagine, the number of barbers in London is plentiful. And the likes of Joe & Co in Soho, Nomad in East London, and Manifesto in Farringdon are more than worthy of a mention. However, we've chosen those who offer a little more than just an exceptional haircut – whether it be a traditional cut-throat shave, beard trim, or even beauty treatments.
Dunhill Barber At Bourdon House (Mayfair)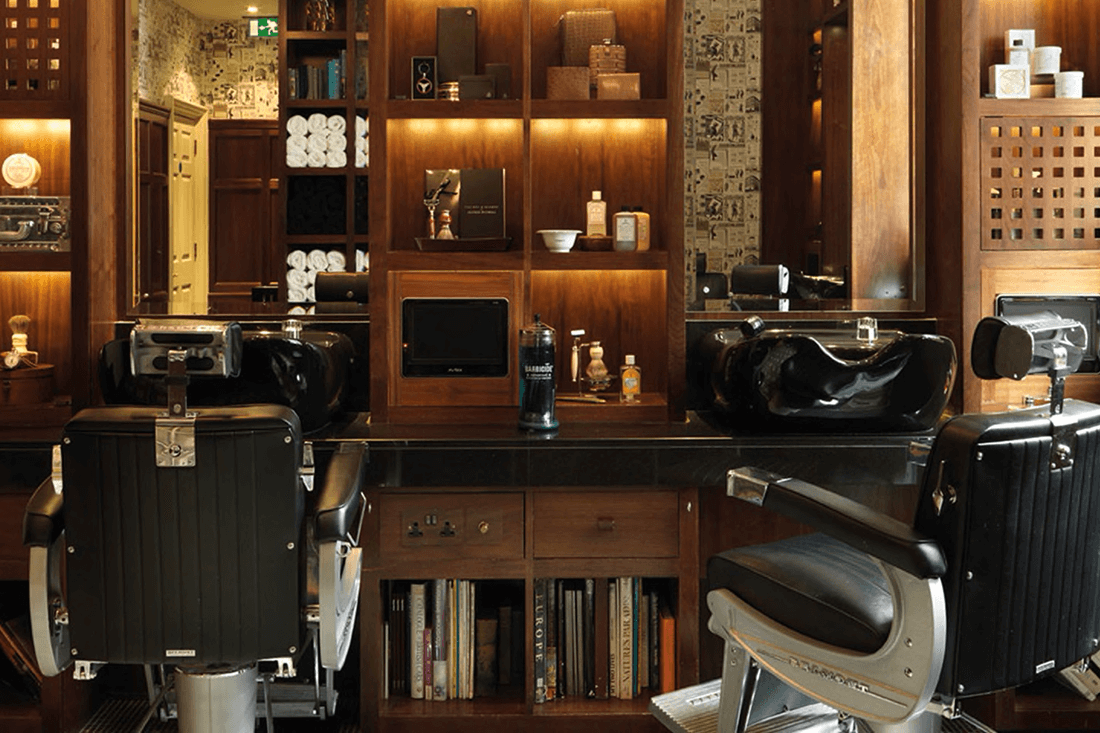 The Alfred Dunhill barber service in Mayfair offers a first-class experience. Boasting understated luxury and relaxation, you'll start with a thorough consultation before being immersed into the world of haircuts, wet shaving, beard styling, treatments and grooming necessities.
For those of you already familiar with the Dunhill brand, you'll know the level of quality to expect.
Cuts from £50 at 2 Davies Street, W1K 3DJ.
Gentleman's Tonic (Mayfair)
Gentlemen's Tonic in Mayfair is synonymous with style and luxury – which we experienced for ourselves during a recent visit. Noted for its high-quality service and discerning client base, you can be sure of premium experience. It's a place to escape from the stresses and strains of city life while enjoying an expert haircut, wet shave or a plethora of relaxing body treatments.
Gentlemen's Tonic also boast their own range of award-winning hair products, featuring a refreshingly scented Babassu & Bergamot aroma. All of which are used in the emporium and available to buy, so you can get that fresh-out-of-the-chair look at home.
Cuts from £55 at 31a Bruton Place, W1J 6NN.
Geo F Trumper (Mayfair)
Founded in 1875 and with shops on Curzon Street in Mayfair and Duke of York Street in St James's, Geo F Trumper offers an experience like no other. Mahogany-panelled, private cubicles ensure a personal, luxurious and comfortable environment to experience a range of services, including haircutting, hair tinting, moustache and beard trimming, and traditional wet shaving using acclaimed Geo F Trumper products. Their range of shaving creams are particularly good.
Furthermore, treatments for modern men include a manicure and pedicure alongside a facial cleanse and massage.
Cuts from £27 at 9 Curzon Street, W1J 5HQ and 1 Duke of York Street, SW1Y 6JP.
Easton London (Paddington)
If you are on that entrepreneur vibe and time is of the essence, the hugely popular Easton London have you covered. This fast-growing barber has stores in Paddington, Moorgate and Waterloo and they are strictly by appointment only, so the days of waiting in line and hoping to see your regular barber are a thing of the past.
Easton London offer one of the best 30-minute Haircut & Finish services in the capital, and due to their partnerships with co-working spaces, you get use of those facilities while on premises too. It's the perfect place to get groomed while still being productive. Alternatively, if you want to just relax after a tough day in the cloud, then the drinks, pool and table tennis are also included entirely free of charge.
Check out their excellent 3D virtual tours to see everything they have to offer. You can also book instantly with no deposit online or via their app for iOS & Android.
Cuts from £20 at 2 Eastbourne Terrace, Paddington, London, W2 6LG.
Huckle the Barber (Bloomsbury)
A traditional barber shop, Huckle deserves its place in our list given its ownership of "cool". Its focus is male grooming of the highest quality, without a hint of pretentious. We recently attended a Baxter of California event here, and can vouch personally for the service. Launched in 2012, Huckle the Barber has developed a well-earned reputation for offering men's haircuts of the highest calibre in a friendly and relaxed space.
Expect to find some of the most experienced barbers in London – each personally handpicked by its founder, Chris Ward.
Cuts from £45 at 55 Lamb's Conduit Street, WC1N 3NB and 340 Old Street, EC1V 9DS.
Murdock London (Covent Garden)
Murdock London offers a contemporary yet luxurious version of the traditional barber shop experience. They too have their own range of grooming products, used in store and available to buy. The first Murdock barber shop sprung up on Redchurch Street in Shoreditch, delivering a seriously cool, masculine environment.
As well as Shoreditch, Murdock now have locations in Soho, Covent Garden, King Street, Sloane Street, Regent Street, Old Broad Street and Spitalfields.
Cuts from £45 at 18 Monmouth Street, WC2H 9HB (Covent Garden).
Pankhurst (Soho)
Pankhurst perfectly marries classic service with modern styling in its part-speakeasy, part-gentleman's club barber shop. Located just off Carnaby Street, you'll be treated to music and a glass of Balvenie whisky in the Pankhurst lounge on arrival, before sinking into one of their Bentley-crafted, bespoke barber's chairs.
"Sumptuous" best describes the experience – choose from a haircut, shave or massage, all featuring Pankhurst's own-brand product range, also available to buy.
Cuts from £55 at 10 Newburgh Street, W1F 7RN.
The Refinery (Mayfair)
One of the first men-orientated grooming emporiums to open in London, over 18 years ago, The Refinery offers an escape from the big city – delivering traditional barbering and grooming treatments to counter-balance the busy lifestyle of a modern-day gentleman.
Its stylish, contemporary venue in Mayfair is relaxed yet refined while the team is vastly experienced and boasts world-renowned barbers, so you can be sure your haircut will be crafted with skill and precision.
The Refinery also offers its own range of products, available for purchase and used in the emporium.
Cuts from £49 at 18 Grosvenor Street, W1K 4QQ and 5 Montpelier Street, SW7 1EX.
Truefitt & Hill (Westminster)
With a heritage to match only that of Geo F Trumper, Truefitt & Hill have been recognised as one of the best barbers in London for over two centuries, since its founding in 1805. In fact, the acclaimed British brand is recognised as the world's oldest barber shop in the Guinness Book of Records, are Royal Warrant holders, and the barber of choice for H.R.H. The Duke of Edinburgh. So you'll be in good company.
Today you'll find many of the same time-tested haircutting and hot towel shaving services, alongside a superb in-house range that includes shaving, fragrance, hair and bath products. You might want to take advantage of its shoe-shine service too, particularly if you're heading off to an important business meeting soon after. Alternatively, push the meeting and opt for a deluxe facial treatment to seriously unwind.
Cuts from £50 at 71 St James's Street, SW1A 1PH.