Hall Of Fame Kicks: 12 Classic Men's Sneaker Models
Thousands of new sneakers are released every year, but only a small handful find their way into the history books. For every 100 Adidas Taekwondos or Nike Sock Darts, there's only one Converse All Star or Air Jordan I – shoes that flip the script, redraw the sneaker industry in their image, and ultimately cement their reputation as one of the all-time greats.
Whether they introduced a new game-changing technology, initiated a change of direction in sneaker design, or marked the dawn of a new era in footwear fashion, all of the shoes listed below have left a lasting footprint on the sneaker landscape in some way, shape or form. They are, in our opinion, the most iconic sneakers ever made.
So, from centuries-old court classics to envelope-pushing technological marvels, these are the models we believe are most deserving of a spot in the Sneaker Hall of Fame. Scroll on to find out what they are and why we rate them.
Nike Air Jordan I
Marking the beginning of the most influential footwear line of all time, not to mention the dawn of sneaker culture as we know it, the Air Jordan I is one of the most important, iconic and profitable sneakers of all time.
Its high-top design and pared-back looks are as relevant today as they were when it first hit shelves almost 40 years ago, and the limited availability, intermittent special-edition releases and resale potential have kept the hype alive and kicking.
Converse Chuck Taylor All Star
The Air Jordan I might have kickstarted sneaker culture, but it was the Chuck Taylor All Star that created a sneaker market for that culture to exist within in the first place. It's the godfather of all sneakers, largely unchanged in over a century, and more popular today than ever before.
Few things are immune to the ebb and flow of fashion, but this simple canvas basketball shoe is one of them. A classic for the ages, and a sneaker that no person should be without.
Adidas Stan Smith
The Adidas Stan Smith is the shoe to which every minimalist white leather sneaker on the market owes its design. Strikingly simple, beautifully balanced and visually unremarkable enough to sail through the decades without ever looking out of place.
It's also reasonably affordable when compared to a lot of other mainstream minimalist sneakers, which makes it one of the best options for those looking for a versatile, does-it-all shoe at a fair price.
Common Projects Achilles Low
What Common Projects did when it launched the Achilles Low in 2004 was to effectively reinvent the wheel. By reimagining a classic sports silhouette as a luxury item, the NYC brand challenged perceptions of what a sneaker could be and how it could be worn.
The Achilles Low played a huge role in the relaxing of dress codes across the board, giving men a smarter alternative to traditional sneakers, without the stuffiness of a regular casual shoe.
New Balance 990
New Balance's original 990 was the first ever sports shoe to retail for triple figures. It became something of a status symbol, praised for its comfort and build quality among lifestyle consumers, and its performance pedigree by track athletes. That was in 1982. Since then, there have been four updated versions of this iconic style, each just as beautifully built and comfort focused as the last.
The Made in USA v1, v2, v3, v4 and v5 are all still in production to this day, serving as a foundation for the entire New Balance brand, and a benchmark against which everything else can be measured.
Nike Air Foamposite
Love it or hate it, the Foamposite tore up the sneaker-design rulebook and stomped all over it when it debuted in 1997. Swerving the traditional sneaker materials of choice – leather, suede and mesh – Nike designer Eric Avar instead settled on lightweight polyurethane for the upper and midsole, incorporating a carbon plate for increased stability. It's a move that paved the way for the widespread use of high-tech synthetic materials in sports footwear.
The Foamposite looked like something from the future back then and still does today, which is testament to the design and how groundbreaking it was (and still is).
Nike Air Max 1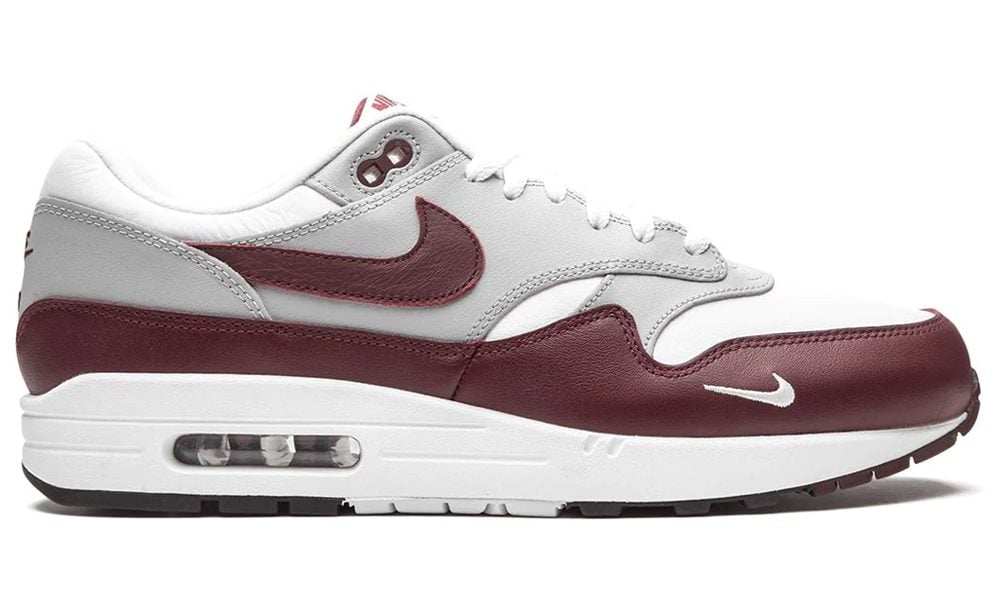 The Tinker Hatfield-designed Air Max 1 represented the dawn of a new era in Nike's history and visual language. Nike's 'Air' technology had been around for a while when the shoe launched in 1987, but the Air Max 1 was the first sneaker to feature a window in the midsole, creating a visible air bubble.
It's something that has become a big Nike signature, and has featured in hundreds of the brand's designs since.
Adidas Superstar
The Adidas Superstar (or 'shelltoe' as it's known in hip-hop circles) didn't feature any particularly groundbreaking tech, but it did have a distinctive look that became an intrinsic part of 80s hip-hop and B-boy culture. Run DMC famously paired the rubber-toed shoes with Adidas tracksuits, and even rapped about them in the 1986 track 'My Adidas'.
The shoes still have heavy hip-hop connotations to this day, representing a movement that changed the face of popular music forever.
Nike Air Force 1
Launched in 1982, the Air Force 1 was the first Nike basketball shoe to feature the Swoosh's patented 'Air' technology. This was a game-changing moment in the brand's history, securing the Air Force 1's place in the history books.
Today, the shoe is largely the same as it was when it first launched, and it remains one of Nike's best-selling styles.
Puma Suede
The sheer simplicity of the Puma Suede makes it one of those sneakers that will never go out of fashion. Not in our lifetimes at least. Its roots can be traced back to the Puma Crack, which was given to athletes at the 1968 Olympics for off-track use.
Later, New York Knicks point guard and Puma athlete, Walt 'Clyde' Frazier decided he wanted something similar to wear on court. The Puma Clyde was born, later morphing into the Puma Suede we know and love today.
Vans Authentic
Launched in 1966 as the Vans #44, this simple canvas skate shoe was the first piece of footwear Californian brand Vans ever produced. It was intended as a deck shoe at first, but its grippy waffle sole and thick canvas upper meant it wasn't long before the local skateboarders started sniffing around.
As demand grew, Vans slowly began to morph into a dedicated skate brand, producing shoes almost exclusively to cater to the needs of skaters. In other words, the brand as we know it would never have existed without this one shoe – a shoe that's still very much flying off shelves today.
Onitsuka Tiger Corsair
Any list of iconic sneakers is always going to be dominated by Nike, but that might not have been the case had it not been for Onitsuka Tiger. In the 1960s, when Nike was still called Blue Ribbon sports, it owned the US distribution rights for the Japanese brand.
Blue Ribbon co-founder Bill Bowerman rebranded Tiger's TG-24 model the 'Cortez' for the 1968 Olympics, later changing his company's name to Nike and rebadging the shoe with his own logo. This began a year-long legal battle between Tiger and Nike, which ended in both brands being able to sell the same shoe under different names.
The Nike Cortez is iconic, no doubt, but we think the Corsair deserves a special mention too.