Intelligent Timepieces: Luxury Smartwatches Worth The Investment
Watches have survived many things, be that going to the bottom of the ocean or into space. The watch industry has survived almost as much; there was the quartz crisis in the 1970s that almost totalled Swiss watchmaking and now there's smartwatches which have… done nothing, really.
That's not to say they've not had an impact; they have. But rather than actively try and replace traditional timepieces, the better ones have tried to find a niche within the wristwear hierarchy. You wouldn't wear an Apple Watch to a gala, but you also wouldn't wear a Vacheron for a jog.
I'm not talking here about tailoring the apps on your Huawei to the situation either; I'm talking both watchmakers embracing new technology and tech companies upping their levels of luxury to create the perfect hybrid of both. That for me is what a smartwatch is: a mix of wearable tech and classical timekeeping.
Here, then, are the brands that agree with my definition.
TAG Heuer Connected Modular 45
In the smartwatch world TAG Heuer are the big dogs. They've dominated since the original version of their connected watch hit headlines for its rose gold case, and the Modular is just that concept perfected.
The "modular" aspect is the biggest change between this and the original, and it is a fantastic one. Essentially you're wearing a frame on your wrist into which you can slot either the electronic smartwatch module or a traditional automatic movement – whichever takes your fancy.
At 45mm it's not small, but those extra mm come from the interchangeable framework so you can forgive it. Throw in a huge number of material types (including the watchmaker's favourite, ceramic) and coming-soon in-house apps and you have what many, including me, consider the ultimate hybrid timepiece.
£1,950 at tagheuer.com
Montblanc Summit 2
The closest competitor to TAG Heuer's dominance is Montblanc. The first version of the Summit was soundly beaten out and their strap didn't quite take off for one reason or another, but the Summit 2 ups the ante considerably.
Smaller and more classical in style than the TAG, what it lacks in that cool modular feature it makes up for in a watch that feels far better on the wrist. Other than that, the smart functionality is much the same, with some proprietary apps and the like, not to mention one hell of a processor in the Qualcomm Snapdragon Wear 3100.
Again, it's available in the usual gamut of watchmaking finishes – steel, DLC black and titanium – and can be paired with a good number of straps too. Personally I doubt it'll beat out the Connected Modular 45, but it's definitely a nice alternative and, if you don't mind it not coming with a fully mechanical movement, might actually be better.
£845 at montblanc.com
Frederique Constant Classic Hybrid Manufacture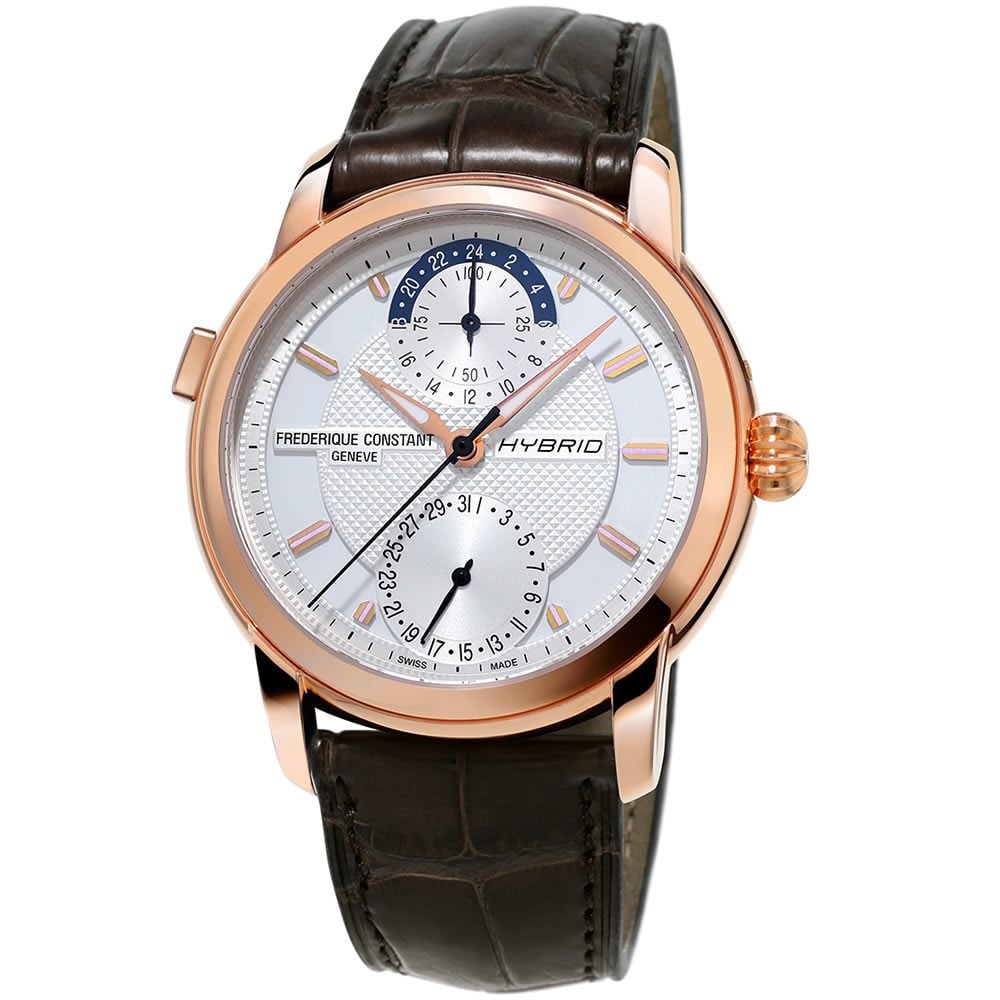 OK, so if we're going by the strictest definition of "hybrid" the award should definitely go to Frederique Constant. The reason being that there's no digital screen here at all. On the surface the Horological Smartwatch looks like plenty other FC timepieces, meaning a nice, classical look with plenty of silver, gold and champagne.
Under the hood, on the other hand, are plenty of electronics. The watch tracks your sleep cycle and general fitness, it includes a flawlessly accurate worldtimer and thanks to the linked app, dynamic coaching. It even has a link to the cloud to back everything up, all without letting on from the outside.
The reason it's the purest hybrid however isn't just the looks – though it does look bloody fantastic – it's that the watch part is actually powered by an in-house automatic movement. Essentially, if you let the electronic part run out of charge, you still won't lose time. Think of it as a decent automatic watch that just happens to have smartwatch functionality. If that's not a hybrid, nothing is.
£3,295 at frederiqueconstant.com
Apple Watch by Hermès
You all know what the Apple Watch does. Aside from going redundant after a year, it pretty much does the lot: fitness, paying and whatever else you care to install on the thing. It's the go-to tech watch of choice, though normally I wouldn't call it a smartwatch by my definition. The tech giant can thank iconic fashion house Hermès for its inclusion.
Hermès leather is legendary and here the usual Apple strap has (thankfully) been replaced with a double length of the stuff. It shares the same overall design and functionality of the original, but that strap – and the Hermès-specific dial variations – make this a much handsomer version, the kind I'd almost be unembarrassed to wear.
£1,399 at apple.com
Sony Wena Bracelet
I'm putting this at the end because, although it's not a smartwatch at such, it's probably the most inventive way of integrating tech into a timepiece. The actual electronics aren't in the watch but in the bracelet. You genuinely wouldn't know unless you were told. The metal links – available in steel or DLC black – look like any traditional watch bracelet.
Inside however, the components are stretched out through the links, giving it its slim profile. It's what puts Wena a few rungs above Montblanc's version a few years back and the one or two others that have cropped up since.
It's functions are relatively minimal; you can read a tiny bit of message on a downright adorable LED screen, pay contactlessly and track your fitness. It's all funnelled to your phone and shares an impressive security safety net. Best of all, Wena comes in multiple sizes, letting you fit it to your watch of choice.
Oh and Wena does have some of its own watch heads available but, well, they're really not the selling point.
£349.26 at amazon.co.uk