MR PORTER x Kingsman: The Golden Circle Collection + Shop
Online men's style retailer MR PORTER have announced its second 'costume to collection' collaboration with menswear label, Kingsman. The first partnership created around the original 2015 film Kingsman: The Secret Service was particularly well received and served as encouragement for the second instalment with MR PORTER, acclaimed filmmaker Matthew Vaughn and award-wining costume designer Arianne Phillips. I must say- the collection looks fantastic, congratulations to MR PORTER for creating this. Read on for the details, afterwards I'll guarantee you'll want to watch the film and dress like Colin Firth.
The Film
Kingsman: The Secret Service introduced the world to Kingsman – an independent, international intelligence agency operating with discretion, and an ultimate goal of keeping the world safe. In Kingsman: The Golden Circle their headquarters are destroyed and the world is held hostage, with their journey leading them to the discovery of an allied spy organisation in the US called Statesman. These two elite secret organisations band together to defeat a ruthless common enemy, in order to save the world. Kingsman: The Golden Circle stars original cast member Colin Firth and introduces new stars of the screen; Jeff Bridges, Channing Tatum, Halle Berry, and Julianne Moore amongst others.
From Costume to Collection 2.0
As with the original film- the entire luxury menswear collection, which features throughout the film, will launch today on MR PORTER.COM and include many of the original Kingsman categories and partner brands. Many of these pieces are core to the Kingsman collection that have been available from MR PORTER since the collection's launch in January 2015. They are: Kingsman original tailoring; Turnbull & Asser shirting; Cutler & Gross eyewear; George Cleverley shoes; Drake's ties and pocket squares; Mackintosh outerwear; Swaine Adeney Brigg umbrellas and leather accessories; Conway Stewart writing instruments; and Deakin & Francis cufflinks and small accessories.
Kingsman suit
Similarly, with the introduction of new characters and plots lines in Kingsman: The Golden Circle, MR PORTER will launch a new set of 'costume to collection' pieces and partner brands. They are: Tag Heuer watches; Adidas sneakers; Hunter boots; Stetson hats; Golden Bear varsity jackets; Jean Shop denim and western shirting; Mr Freedom outerwear; Rocky Mountain Featherbed winter jackets; Todd Snyder sweatshirts and pant; and The Perfumer's Story by Azzi Glasser fragrance.
Golden Bear varsity jacket
To reaffirm my earlier words of success- since launch, Kingsman has become one of MR PORTER's top selling luxury brands. The sixth commercial season of Kingsman launched globally on MR PORTER in April 2017.
The (Physical) Shop
For the first time, in addition to e-retailing the collection on line at MR PORTER there will be a physical shop too. The Kingsman Shop will open to the public tomorrow for a limited period of time, and will be housed next to the 300–year-old wine merchant Berry Bros. & Rudd in the heart of St James's, London. It presents a great opportunity for customers of the menswear collection and fans of the film to shop the collection in a physical retail space.
The Kingsman Shop
Accessories from the Kingsman collection will be available for purchase in-store, while ready-to-wear such as the double-breasted suits worn by the Kingsman will be available to try on, with transactions made in-store via MRPORTER.COM. The Kingsman collection available in-store will include ties and pocket squares by Drake's, opticals and sunglasses by Cutler and Gross, cufflinks and keyrings by Deakin & Francis, Kingsman fragrance by The Perfumer's Story, notebooks by Smythson, socks by Corgi, umbrellas by Swaine Adeney Brigg, pens by Conway Stewart and the TAG Heuer Connected Modular 45 Kingsman Special Edition watch.
Shearling coat by Kingsman
Additional Kingsman "costume to collection" pieces on-display are available for purchase on MRPORTER.COM including suits, Western blazers and shearling coats by Kingsman, shirts by Turnbull & Asser, shoes by George Cleverley, jackets by Mackintosh, glass decanter sets by Higgs & Crick, headphones by Bowers & Wilkins, varsity jackets by Golden Bear, Western boots by Lucchese, gilets by Rocky Mountain Featherbed, track tops and trousers by Todd Snyder, sneakers by adidas, boots by Hunter, denim pieces by Jean Shop and leather outerwear by Mister Freedom. These pieces will be available for next-day delivery in the UK.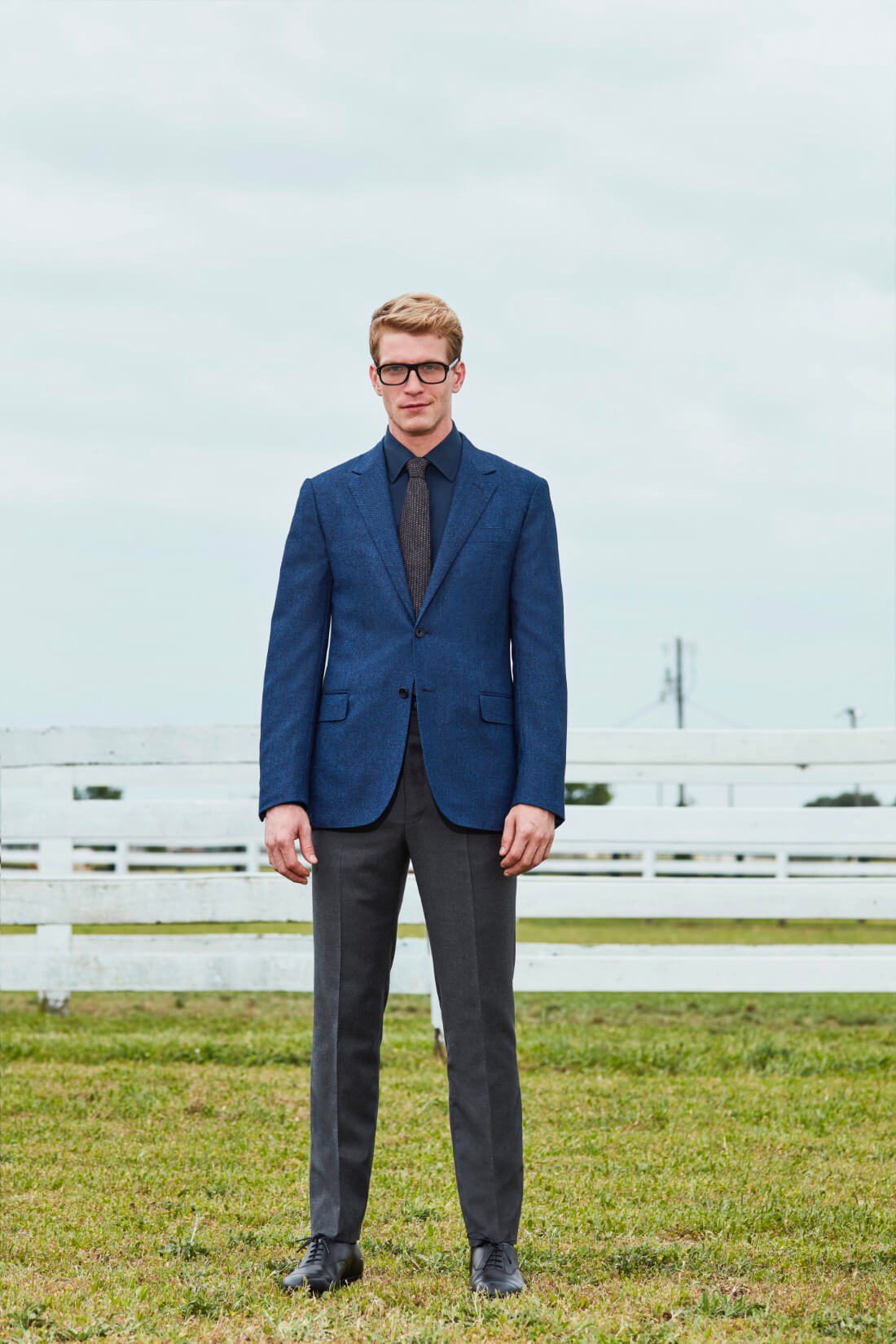 Customers can enjoy and interact with a duo of digital experiences within the Kingsman Shop: a digital hub revealing the special elements of the TAG Heuer Connected Modular 45 Kingsman watch, and a touch-activated mirror housed within the changing room, showcasing styling tips for a curated selection of Kingsman and Statesman products.
The Details
The Kingsman Shop, 4 St James's Street, London SW1A 1EF – open Monday to Saturday, 10.00am to 6.00pm.
Kingsman: The Golden Circle is released in the UK from 20 September, and the US and globally soon after.
Store imagery credited to Mr Guy Stephens for MR PORTER.
View the collection online at mrporter.com/kingsman