Top 5 Timepieces In 2019's Only Watch Auction
Some watches are pretty common; some watches are rare; and a special few watches can be considered "grail". Then there's the entries into the Only Watch charity auction, which are a different matter entirely.
A collection of 50 unique timepieces from some of the most important watchmakers in the world, Only Watch is an auction apart. Hell, it's less a sale and more of a biennial event, with the lots' reveal date circled in many horologists' calendar. Well, it's in mine at least. (I have other things going on, honestly.)
Each year a new treasure trove of watches is presented, united by their unique nature and (if the watchmakers remember) the thematic colour of the year – which for 2019 is a particularly nice turquoise – the proceeds from which go towards research into Duchenne Muscular Dystrophy. Over the past seven events, Only Watch has raised 40 million Swiss Francs (not far shy of £33 million) for the cause.
Held 9 November in Geneva, capital of all things horological, the latest edition promises to up that tally substantially. Rather than go through all 50 however, here are the five lots worth keeping an eye on above the rest.
Patek Philippe Grandmaster Chime
Guide Price: €2,000,000 – 2,700,000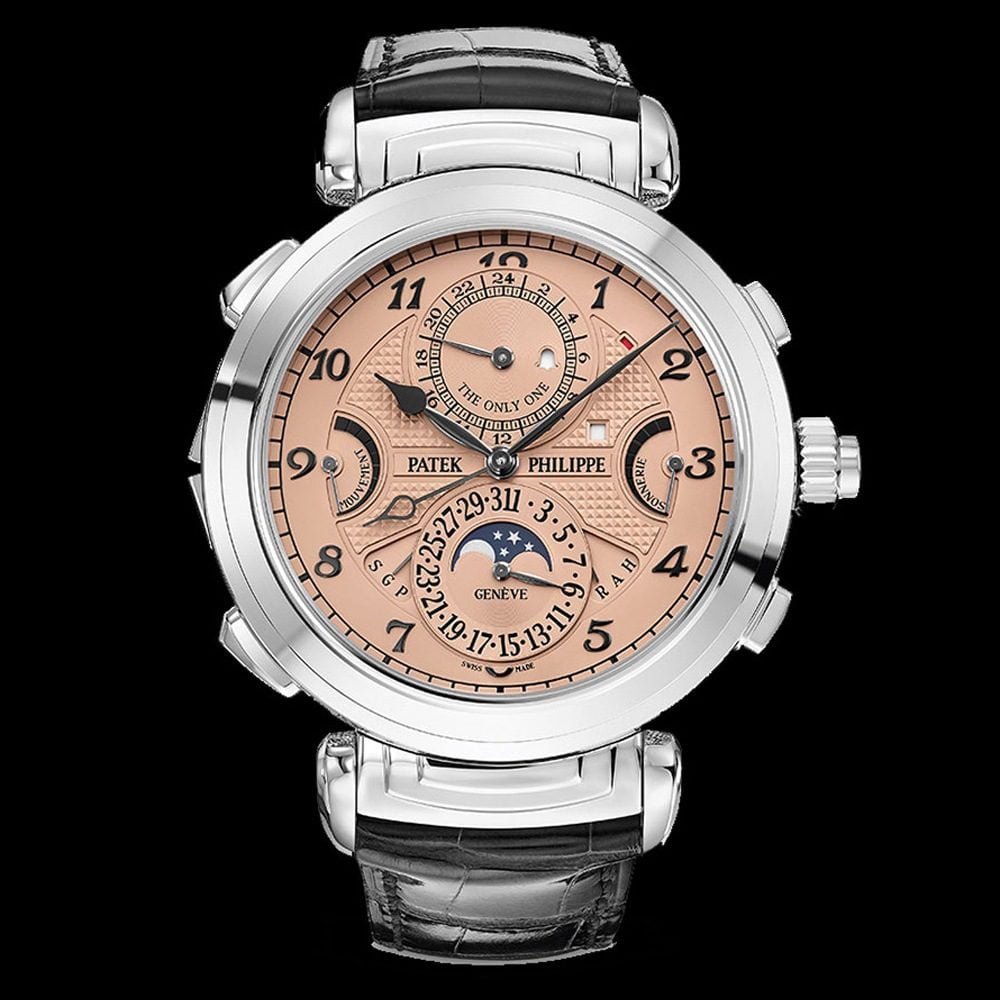 Let's start with the headliner, Patek Philippe's latest attempt to stamp their authority, the Only Watch edition of the Grandmaster Chime. It's among the most complicated Pateks ever made, enough that only a handful of them are built each year and only in precious metals. This edition is in steel – which on its own should be enough to get every Patek collector in the room salivating.
There's more to the Only Watch edition than a change of metals though. The main time-side dial is in a rose gold complete with hobnail guilloche, while the perpetual calendar dial is in a more toned-down black. Yep, one dial isn't enough for this watch, but with a grand total of 20 complications I can't blame it. At an estimate of €2m – an estimate that I don't doubt the sale will break into pieces – Patek seem set on making the larger chunk of this year's Only Watch total all by themselves.
Tudor Black Bay Ceramic One
Guide Price: €4,000 – 5,000
From one end of the spectrum to the other, Tudor are showing off one of the most affordable timepieces in the auction. Don't fret, it won't stay like that; Tudor has a habit of smashing their estimates many times over. Still, even by their standards an all-black diver is going to get some attention.
It might seem like a dumb idea, taking a watch that's almost unreadable in light underwater with you – and it would be, if Tudor hadn't used black lume aplenty. The Black Bay Ceramic One is actually easier to read in the dark, with numerals and hands giving off a ghostly green glow that shows up brilliantly against the black. Combined with its incredibly cool stealth look and Tudor's flagship diver case, this is a watch to put the "black" back in Black Bay.
MB&F + L'Epée 1839 Tom & T-Rex
Guide Price: €18,000 – 36,000
Finally, the latest in MB&F's line of collaborations with L'Epée 1839 is here and, while it might be a one-off (for now) it follows in the same suit as Melchior, Sherman and the other characters dredged from Max Busser's imagination. Part dinosaur, part cyborg eyeball, this is Tom & T-Rex.
As with all of these clocks, the mechanism is on full display and forms the core of the two-legged robosaur. In order to read the time you need to look it directly in the eye via a blue Morano glass lens and two curved hands. Perched atop the entire thing is Tom with his own miniature version of the T-Rex's eye. It's just… fantastic. Completely mental, but fantastic.
Hublot Classic Fusion Tourbillon Sapphire Orlinski for Only Watch
Guide Price: €144,000 – 162,000
Hublot may be known for its larger-than-life timepieces, but its collaboration with the facet-obsessed Richard Orlinski works extremely well. Here they've upped their artistic game even further with a full sapphire case, showing off every skeletonised bridge of the movement. It's capped with a bezel set with 54 baguette-cut topazes and a matching turquoise strap, making Hublot one of the few watchmakers to really lean into the Only Watch thematic colour this year.
It's as flashy as any Hublot, of course, but somehow pales in comparison to its box… which is being held mid-air by one of Orlinski's most recognisable sculptures, Wild Kong. You're not only buying a unique watch here, but one that comes with a genuine work of art.
Code 11.59 by Audemars Piguet Tourbillon Openworked Only Watch Edition
Guide Price: €171,000 – 216,000
It's no secret that Audemars Piguet's first major follow-up to the Royal Oak didn't exactly go down magnificently. It was more belly flop than swan dive. However, more of that might be down to expectations than reality as the Code 11.59 is a solid piece of watchmaking and for Only Watch 2019 AP are really showing what they can do.
The dial has been entirely removed to highlight the architecture bridges beneath in a mix of white and rose gold. That depth shows off the watch like a closed dial just can't, and the dual-tone precious metals emphasise the slighter nuances alluding to the Royal Oak – like the octagonal central section of the case. It even has the eight screws, albeit in a thin, round bezel.
It's still an odd duck of a watch, but give it a few years and AP might not actually be able to move on from a design conceived in 1972.