Outdoor Living: The Best Online Garden Furniture Stores
Whether you're working with acres of garden, a terraced yard, a balcony or even a shared patch of grass, after months of being locked down the moment the sun comes out you're going to want to spend your time outside. Therefore, it's time to ditch the moulded plastic chairs and upgrade your outdoor space. Here's our list of the best garden furniture stores.
MADE
Offering premium-quality, modern furniture and furnishings without the eye-watering price tags, MADE.com quickly became an online go-to for those looking to revamp their home. Until it fell into financial difficulty, that is. (Probably weren't charging enough!)
Having been bought by high-street mainstay Next, MADE is back and better than ever this summer. While a lot of outdoor furniture often follows traditional design and materials, MADE aren't afraid to experiment with colour, shape and a wide-array of metals, woods and plastics.
Pieces like the Kolbe Garden Sofa and Alif Corner Dining Set channel the fun of brand's indoors pieces while the Abura and Josper are great-value heating options to help keep the party going well into the evening.
Cox and Cox
Whether it's outdoor furniture, lighting, water features or accessories, Cox and Cox is a destination for classic, English garden-style design. With an attractive line in bistro sets and some elegant daybeds and loungers, you're spoilt for choice.
Its Hurst Daybed, complete with its durable, faux wicker shaded frame, is the pinnacle of outdoor lounging.
Garden Trading
If you're in the market for smart planting options, outdoor lighting inspiration and a modernist take on the humble bee barn, Garden Trading should be your first port of call. Add to the list stylish storage for everything from logs and rubbish to wellies and garden tools and you'll find yourself building a wishlist in no time.
The brand's Solar Festoon Classic Lights offer an easy way to jazz up any space.
John Lewis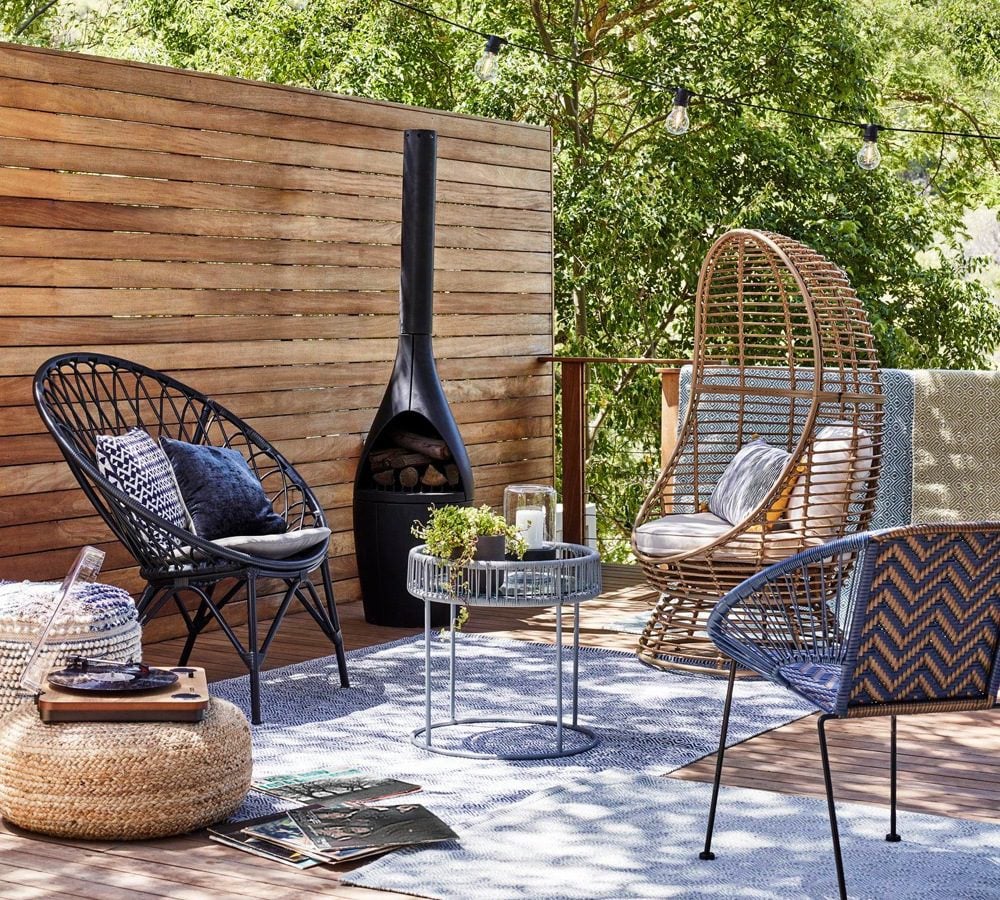 You can count on John Lewis to deliver quality, whether you're looking for a sofa or pen. And its outdoor furniture is no exception. With collections helpfully split into categories like balcony and conservatory, there's something suitable for every space – including more indulgent option such as pizza ovens, barbecues and picnic ware.
The brand's ANYDAY line in particular is an excellent, wallet-friendly way to boost your garden with bistro and larger seating options.
OKA
Towards the more regal end of pricing, OKA offers outdoor furniture made to last and made to impress. Using an array of natural and premium materials, you can expect luxurious wooden benches, stone outdoor dining tables and a delightful Reeded Bone Ice Bucket that shouts cocktail party opulence.
OKA is also a fountain of interior and exterior inspiration, so whether you're outfitting a coastal-inspired terrace or a classic English garden they've got an array of finishing touches just for you.
nkuku
Born from a life-changing trip around the globe, nkuku founders Ali and Alex Cooke have since devoted themselves to working with the world's greatest artisans and craftspeople to source the best ethical, eco-friendly handmade furniture and lifestyle products. The brand's outdoor range is testament to this with stunning seating and rustic fire pits.
The Jaisalmer Reclaimed Teak Seating Set is a standout collection dripping with character and comfort.
Wayfair
We're big fans of Wayfair – the quality is always dependable, there's a real sense of style to the range and they sell everything you could possibly want in an outdoor space, from fancy seating to ingenious raised beds.
If space is at a premium but you still want to plant a small garden area we'd recommend their Darrion 1-Piece Wooden Planter Box, a fantastic tiered option that would make an ideal herb garden on a balcony or terrace.
Rust Collections
Built on a desire to design and create beautiful statement-piece furniture, Rust Collections is a husband-and-wife team merging an eye for trends with a commitment to top-quality craftsmanship and artisan skill. The resulting made-to-order collection is an impressive array of industrial chic and strong natural materials.
Their Cuban Outdoor Concrete Coffee Table will set you back but boy is it a beauty.
Habitat
A stalwart of UK homes for years, Habitat is a brand you can count on to bring character and comfort to both indoor and outdoor spaces without breaking the bank. From rustic rattan outdoor lounge sets to weather-protected metal bistro pairs, there's something for every garden.
Its Trough Two-Seater Table and Chairs Set is ideal for bringing a little foliage to a small space.
Studio
Studio has an impressive selection of ways to improve your outdoor space, from decoration and lighting to seating and tools. The brand are especially good when it comes to heating, so if you're in the market for a fire pit or standing patio heater you're bound to find something to keep the spring chills at bay.
Barker & Stonehouse
Celebrating their 75th anniversary this year (with associated deals to boot), Barker and Stonehouse are another stalwart of British interiors, kitting out generations of UK households inside and out. With an eclectic range of indoor and outdoor furniture and accessories, its also a fountain of inspiration.
We're especially fond of its Beach Dining Set and Duke Dining Armchairs but there's something for every taste.
Buy now at Barker & Stonehouse
Maze Living
If we were to describe the sort of furniture Maze Living deal in, we'd say premium resort. It's all sleek fabric, modern design and premium quality. Sitting down is a treat. You know it'll last and it's no surprise that Maze's Rattan Sun Loungers are the most popular in the UK.
Elsewhere, the day beds on offer are pure luxury – and don't get us started on those fire pit bar tables. One can only dream.