The Beautiful Game: The Best-Looking Football Shirts For The 2020/01 Season
If you thought the football shirt bandwagon had slowed down, think again. Whilst recent summers tentatively welcomed club kit as an acceptable fashion statement, brands and clubs have taken the humble football shirt to the next level, producing designs with clear motives beyond the pitch.
Once upon a time, a brand might put together one uniform design with only the colours changing for each team. That's now a thing of the past as kit designers tap into current style trends, flamboyant colour palettes, club history and cultural references to create unique kits with marketing spiels to match.
There's a lot to choose from, but below is a list of football shirts for the coming season that have caught our eye. It is by no means exhaustive and also eschews larger footballing monoliths (who in our opinion have gone for boring kits this season, see: Real Madrid, Barcelona, Bayern Munich. Juventus in orange is also not for us) for plucky fashionable underdogs.
We're not saying you can necessarily wear them with a pair of jeans out of the house, but you could certainly look worse going for a run, playing five-a-side, or sitting in the pub until the stadiums reopen.
Ajax (Away)
An ode to 1980s and 1990s geometric patterned kits, Ajax's away strip for the 2020/21 season is a fine example of a stylish nostalgic throwback. The Adidas shirt features AEROREADY technology, which should keep you dry during matchday, but who are you kidding? You're here for that wonderful mixed blue contrasted with red and white detailing. And so are we.
Marseille (Away)
Another dashing blue away number from a European household name, this time courtesy of Marseille. Puma have opted for a striking design for last year's French runners-up, taking inspiration from the city's unique neighbourhoods and multicultural DNA. Iconic landmarks can be seen among the pattern and the darker blue makes for a welcome juxtaposition to their white home kit.
Arsenal (Home & Away)
They've had some of the Premier League's better kits over the years and this season sees the Gunners wear two more future classics, both home and away. The red home edition features an angular two-toned red base akin to the SEGA kits of yesteryear while the white away strip features a pattern harking to the white marble floors of Highbury.
Manchester City (Third)
Last year it was Hacienda influences, this year it looks like they've been on the phone to Liam Gallagher at Pretty Green HQ. Puma really are the sports brand to beat this year on the kit front with another niche design, this time inspiration coming from the city's architecture, landscape, music and arts (according to the press release). Either way, it's basically white paisley – which doesn't sound stylish but actually looks quite neat.
Manchester United (Third)
Marmite. Pure Marmite. You're going to love it or hate it. The full kit looks like pyjamas but being a lighter kit it's likely to get more than a few run-outs during the season ahead across multiple competitions. You say zebra print, Adidas says dazzle camouflage, as well as some nods to an old coat of arms and a shirt worn in a friendly against Sheffield United in the early 1900s. We were on the fence, but then we saw Beckham wear it on his Instagram and he looked tremendous.
Galatasaray (Home)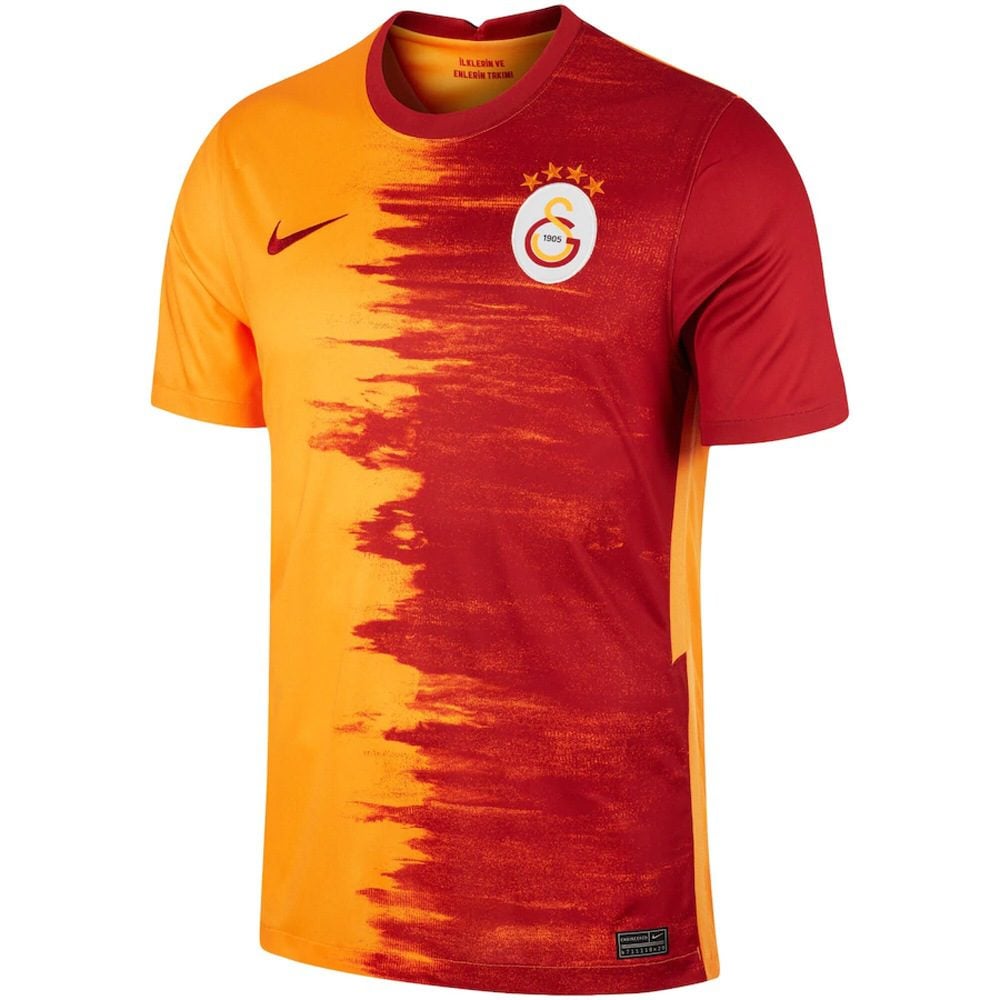 Absolute fire, they'll joke on this year's Champions League coverage. Flames emoji, they'll say on twitter. The only Nike club kit on our list comes via Turkey. Inspired by, of all things, the club's fans (read: ultras) penchant for flares, Galatasary's home and away kits channel a fiery design. It's a bold move away from their famous stripes but we're sure the diehards will appreciate the subtle tribute.
West Brom (Home, Away, Third)
That's right, we're saying all three. Puma at it again, this time with a trio of barcode-inspired takes on the classic club stripes and an ode to the early 1990s. Albion's already out-there, Samba-style green-and-yellow kit makes a return for another season and an even more glaring red-and-yellow third kit completes for us, the most cohesive kit triple in the Premier League this season.
Millwall (Away)
Hear us out. Sometimes, every now and then, a sponsor makes for an iconic kit. Liverpool and Candy, Arsenal and SEGA, United and Sharp… the list goes on. Two words: Huski Chocolate. It doesn't matter that you've never heard of it (according to the website it's the ultimate chocolate drink for adventure and expedition), it works. Combine that with a complementary green-and-white panel canvas from Macron and you've got yourself a future icon.
Buy now at Millwall Official Store
Red Star (Home & Away)
Another one for the hipsters who will take great joy in telling you that Red Star FC is France's oldest football club after Le Havre and they have a history of left wing pol… you get it. Red Star are the only club in France that Adidas has allowed to create its own shirt and the results are a unique design depicting the antique flea market next to the club's stadium as well as French history from 1800 onwards. The logo is simple but effective and whether you like it or not the VICE branding lifts it even further.
Armenia (Third)
Two nods to international teams on our list, the first coming courtesy of Macron. If you're going to invest in a statement you might as well wear something hard to find and resentfully niche, thus the Armenia third kit is a great option. Simple, but with a muted rectangle design that complements the white, the added yellow trim on the neck and sleeves completes a solid option for the coming season. Just be sure to learn a few player names.
Greece (Home)
Loads of Nike international kits have come out this season and they're all pretty great, but the Greece one is the best. There, we said it. Another clean-cut white number, the blue sash perfectly channels the country's Mediterranean colour palette with subtle stripes continuing the country crest. Wear it on your holidays when the quarantine lifts next summer and you'll make best friends for life.