Go Green: The Best Electric Car For Every Budget
If the UK government follows through on its promise, then by 2035 conventional petrol, diesel and even hybrid cars will be banned from sale.
From that point on, the only cars you'll be able to drive away from a showroom will be fully electric vehicles. It'll be a seismic shift for everyone, but the car industry is always one step ahead. There's already a fleet of EVs on sale today. Here, Ape picks out the best option for every budget.
£15,000 And Below
BMW i3
Electric vehicles are still a little on the pricey side, so you'll have to head over to the classifieds to find an EV for less than £15,000. The standout option, and a car that still gains plaudits today, is the BMW i3. It remains a fabulous piece of design and engineering, built around a carbon fibre chassis (like a race car) which allowed engineers to do away with a traditional B-pillar in the middle and fit dramatic suicide rear doors, creating a huge opening to get in and out. Recycled material were used to trim the cabin, such as bamboo.
As well as being superb to look at, it remains a great car to drive; an electric motor on the rear axle delivers punchy performance and a full battery ensures you'll get 180 miles between recharges.
£30,000 And Below
Honda E
The number of EVs priced at around the £30,000 mark is increasing at a serious rate. The current star – on account of its ingenuity, style and desirability – is the Honda E. It's one of the most daring and boldest cars Honda has developed in its history – and also one of the best.
It's retro looks give it real kerbside appeal, while a bank of digital displays in the cabin is a first for any car on sale. Being a city car, its range is somewhat limited, but 120 miles in the real world is achievable; rapid charging capacity will top up the battery from flat to 80% in 30 minutes.
£60,000 And Below
Tesla Model 3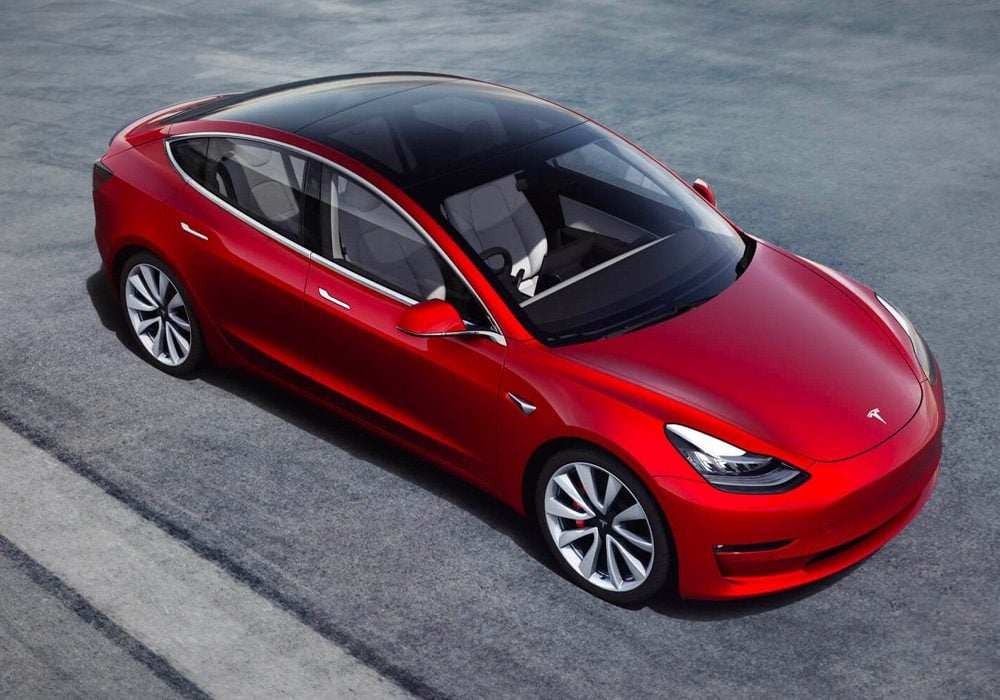 A list of the best EVs wouldn't be complete without a Tesla. The Model 3 is the best car Elon Musk's company has produced yet – and also the cheapest.
Entry-level versions start from £40,490 and will deliver 254 miles of range, but if you can stretch your budget to £56,490 the Model 3 Performance is the one to have. It'll match a BMW M3 round a track and beat almost anything off the line thanks to 449bhp and a 0-62mph time of 3.2 seconds.
£100,000 And Below
Porsche Taycan
If one car company was going deliver a truly outstanding electric vehicle, it was going to be Porsche. Nobody makes better sports cars than the German firm, and currently, nobody makes a better EV.
The Taycan Turbo delivers truly astonishing levels of performance, cracking 0-62mph in 2.8 seconds. It's not just impressive in a straight line either; it feels like a Porsche to drive, with superb body control, steering and poise. A huge 95kWh battery also means 258 miles on a single charge. Next year, there'll even be an estate version.
Money No Object
Lotus Evija
Nobody outside of Lotus has driven the Evija yet, but this 1,972bhp, four-wheel drive electric hypercar promises to set new benchmarks for EVs.
It's the most powerful car with number plates ever developed, but you better have deep pockets – it'll cost you £2.4 million. You'll be in an exclusive club, mind – only 130 will be built.