Why Every Bearded Man Should Use A Beard Oil
It's a cruel quirk of nature that we lose the hair from our heads, at varying rates, as we age. So, God (or evolution, depending on who's side you're on) clearly gave us hirsute faces as compensation. It's also a cheering thought to know that it's hair we'll never lose. Whether you've got a lot of hair up top or not, the way we style our chin fuzz is as important as our choice of haircut.
These days, beard care products are as essential as shampoo or deodorant in a man's grooming arsenal, not least because they need to take care of both the hair itself and the smothered skin underneath. In-demand session stylist and exceptional beard wearer himself, Davide Barbieri has groomed many celebrity men, including the famously hairy chins of male model Jack Guinness and actor Aidan Turner. Here, he gives us the lowdown on how to use and choose the best beard oil for your skin and hair type.
Why should you use a beard oil?
Perhaps you're relatively new to beard wearing, or you've noticed yours is in need of a bit of attention? "Beard oil is simply the best grooming product for a great-looking beard," says Barbieri. Keeping things clean and fresh all day can be challenging, especially when longer beards can act as a trap for food, or if you're partial to touching or fiddling with it throughout the day.
"Beard oils tend to be scented, this will keep your facial hair smelling good all day," continues Barbieri, "the main benefit is that they help soften coarse facial hair, which makes it easier to style, and they help to condition the skin at the same time, which means you'll have less itchy or flaky episodes. You don't have to have a beard to get the benefit either; I also use beard oil as a pre-shave treatment to soften the skin, or just shave around the edges."
How you should use a beard oil?
A beard oil should be part of your daily grooming regime, not an occasional product to bust out when you finally notice the hair feeling dry. Prevention is better than cure, as they say, and daily maintenance will keep the skin and hair nourished. Before you apply an oil, Barbieri recommends washing your beard using, "lukewarm water and a beard shampoo two or three times a week, but no more, otherwise you risk drying out the skin underneath."
Afterwards, "towel dry your beard without rubbing it – you want to take out the excess water without roughing up the follicles. Next, apply a generous amount of oil and massage it into the beard with your hands until it is absorbed. After this step, my tip is to comb it through and then blow-dry your beard on a medium heat using a brush with natural bristles. This will help the oil to penetrate and also gives the hair a smoother appearance for a more groomed look."
What should you look for when choosing a beard oil?
There's a lot of choice out there, we prefer oils that contain nourishing ingredients from natural sources such as almond, grape seed and jojoba oil. These are rich in Vitamin E, which keeps the skin and hair soft and smooth. Also, think about the scent and whether it suits you, or the other fragrances you like to wear that could possibly clash.
The Best Beard Oils For Every Gentleman
Barbieri's preferred beard oils include Tom Ford, House99 and Apothecary87. You'll find them all below, along with a few more we think you'll like…
For Celebrity Beards
House99 by David Beckham Softer Touch Beard Oil
We tend to be a bit cynical towards celebrity lines and endorsements, usually assuming the celeb has had no input, slapped their name on a product, taken the money and run. However, this excellent beard oil from David Beckham's House99 brand proves there's an anomaly to every theory. It gives a very sleek, non-greasy finish and is enriched with shea oil to keep your beard soft and tidy.
£22 for 30ml; House99
For Well-Scented Beards
Tom Ford Oud Wood Conditioning Beard Oil
Luxury fans should go for the beard oil that has it all. Tom Ford's version includes jojoba, grapeseed oil and vitamin E, which nourish your beard and skin making it really soft, mixed with the iconic masculine scent of Oud Wood.
£42 for 30ml; Selfridges
For Itchy/Dry Skin
Apothecary87 Beard Oil The Original Recipe
Rich in plant-based essential oils such sandalwood, frankincense and patchouli, this formula is designed to nourish and soften the hair, moisturise the skin and reduce irritation. A true all-rounder.
£9 for 10ml; Apothecary87
For Classic Beards
Dapper Dan Beard Oil
Dapper Dan's Premium Beard Oil features a rich blend of essential oils that nourishes and softens your beard, keeping it healthy and strong, with a warming scent of vanilla and tonka bean.
£11.95 for 15ml; Dapper Dan
For Beards On A Budget
The Bluebeards Revenge Cuban Blend Beard Oil
This beard oil will transform coarse facial hair into a very soft beard. It's a unique blend of fresh and masculine smelling oils and fragrances. And at just under a tenner for 50ml, it's also the best value oil in our edit.
£9.33 for 50ml; Amazon
For Very Thirsty Beards
Percy Nobleman Premium Beard Oil
A heavier formula than the original and with a higher content of organic ingredients, this one is for longer, thicker beards or those in need of a deep condition. We know model and Instagram influencer Richard Biedul is a fan.
£24.99 for 50ml; Amazon
For Afro Beards
Mr Blackman's Beard & Shave Oil
Specifically designed for men with coarse, curly, afro or mixed race hair, Mr Blackman's beard and shave oil is a multitasker that offers great value for money. Go for the unscented version if that's your preference, but with fragrance combinations like Grapefruit & Caramel Tobacco and Bergamot & Spice, you'll be missing out.
£20 for 30ml; Wolf & Badger
For A Barbershop Beard
Murdock London Beard Oil
One of the original brands to bring back beards and the traditional barbershop experience, Murdock London's classic Beard Oil contains extracts from 16 botanical oils. Do as they do: apply 2-3 pumps in the evening to let the product really sink in overnight.
£18 for 50ml; The Idle Man
For Spot-Prone Skin
Haeckels Hydrating Beard Oil
An aromatic hydrating oil that contains clove oil, which has antiseptic and antibacterial properties to help keep the beard clean and the skin less prone to breakouts.
£34 for 50ml; Trouva
For Shorter Beards
Baxter of California Beard Oil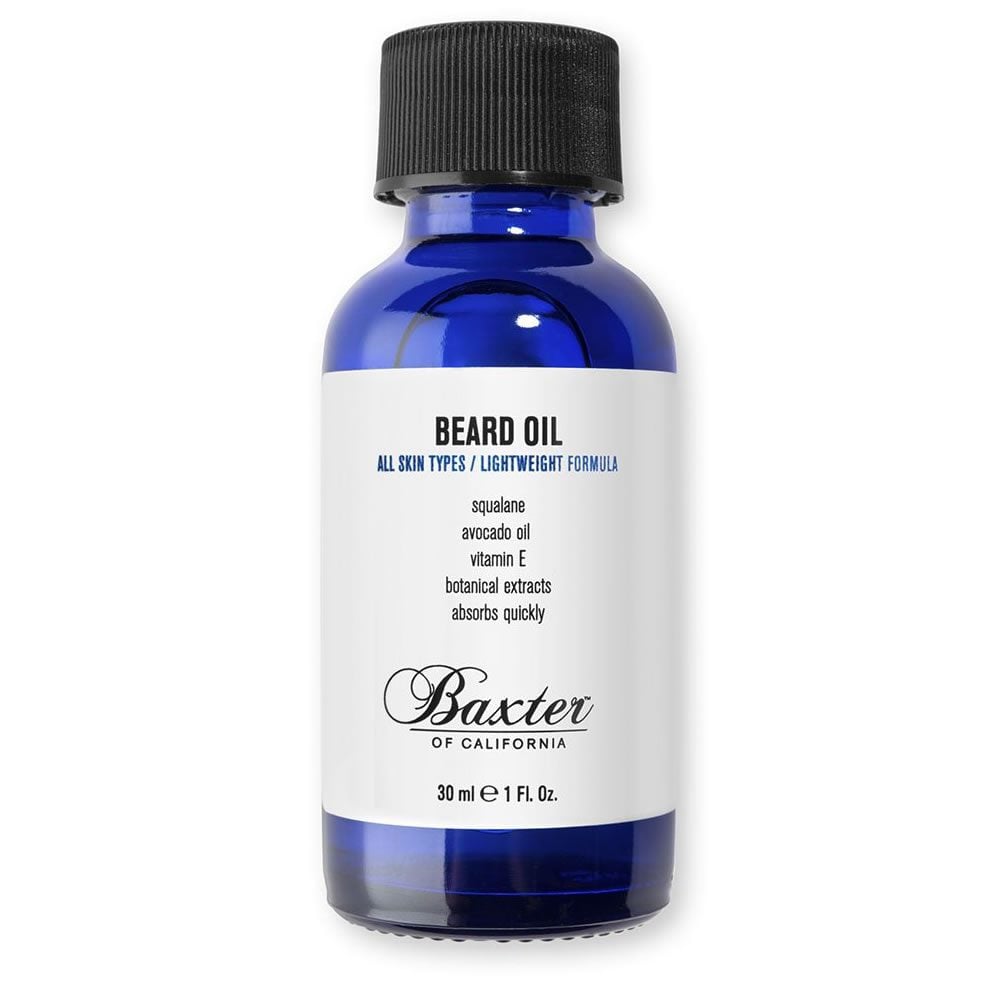 For those who prefer a lighter conditioner, Baxter's Beard Oil still contains moisturising ingredients like squalane, avocado oil and Vitamin E and features a warm, woody scent.
£20 for 30ml; ASOS