The Coolest Undercut Hairstyles For Men In 2023
By definition, hair trends tend to be short-lived affairs. Just look at the curtains of the 1990s, the glam-rock perms of the early 1980s and the rock 'n' roll sideburns of post-war America for proof.
At best, most tonsorial trends have a shelf life of around five to ten years before they become laughable and cringe-inducing. So for a hairstyle to stick around for over a century is nothing short of miraculous.
Enter: the undercut. Possibly one of the unlikeliest candidates for timeless status, but a quick flick through the history books tells you all you need to know about its well-established credentials. Since the 1910s, this simple barbering technique has been a men's hair staple, gracing the heads of everyone from our grandfathers during their formative years to modern-day A-list celebrities and beyond.
It's always been around, but the undercut saw a huge spike in popularity during the 2010s, cementing its place as a contemporary classic. Here we look at the finer points of this transcendent trim and the key styles to consider.
What Is An Undercut?
Don't think of the undercut as one set hairstyle. Think of it as an element that can be incorporated into various different styles. The basic idea is to buzz the back and sides very short using clippers, leaving longer hair on the top of the head which can then be styled in different ways.
There are two key variations: the blended undercut and the disconnected undercut. In the former, fades and tapers are incorporated to graduate smoothly from short to long. Whereas with a disconnected undercut, there is no blending. Short goes immediately into long, resulting in a bolder and more striking look.
On paper, shaving the back and sides of someone's head down to the bone and ignoring the hair on top may sound more like an alcohol-fuelled frat party prank than a legitimate barbering technique but when executed well, it makes for some of the sharpest trims going.
Is An Undercut Right For Me?
The good news is the undercut is so versatile that every hair type, face shape and lifestyle can be catered for by one or more of its many variations.
Thick, coarse hair is better suited to loftier styles, like pompadours and quiffs. Meanwhile, thin hair will work well with shorter, textured styles.
In terms of face shape, it's all about creating balance. Those with round faces should opt for tall styles to add length to the face. The short sides are great for this as when coupled with height on top they create the illusion of a slimmer head. Conversely, those with more elongated faces should stick to shorter styles. As is usually the case, if you're blessed with a classic oval-shaped face, anything goes.
It's also worth taking lifestyle into account. If you already frequently find yourself pushed for time, adding a high-maintenance hairstyle into the mix isn't going to do much to alleviate that. Given their short and often precision-faded nature, undercuts require regular trips to the barber in order to stay looking sharp.
Key Undercut Variations
Undercut Pompadour
This updated take on a mid-century classic dominated much of the 2010s and is still a popular choice. It's characterised by a voluminous quiff, which is kept long and brushed up away from the face and back over the top of the head.
The key difference between this contemporary cut and the similar style that was popularised by rebellious rock 'n' roll icons in the 1950s is all in the back and sides. The original cut featured longer sides that were combed back to a point at the back of the head (think classic Elvis). This version, however, makes use of an undercut – blended or disconnected – to achieve a sharper, more contemporary aesthetic.
To style, work damp hair into place with a hair dryer and comb then add a dollop of pomade and you're good to go.
Undercut With Braids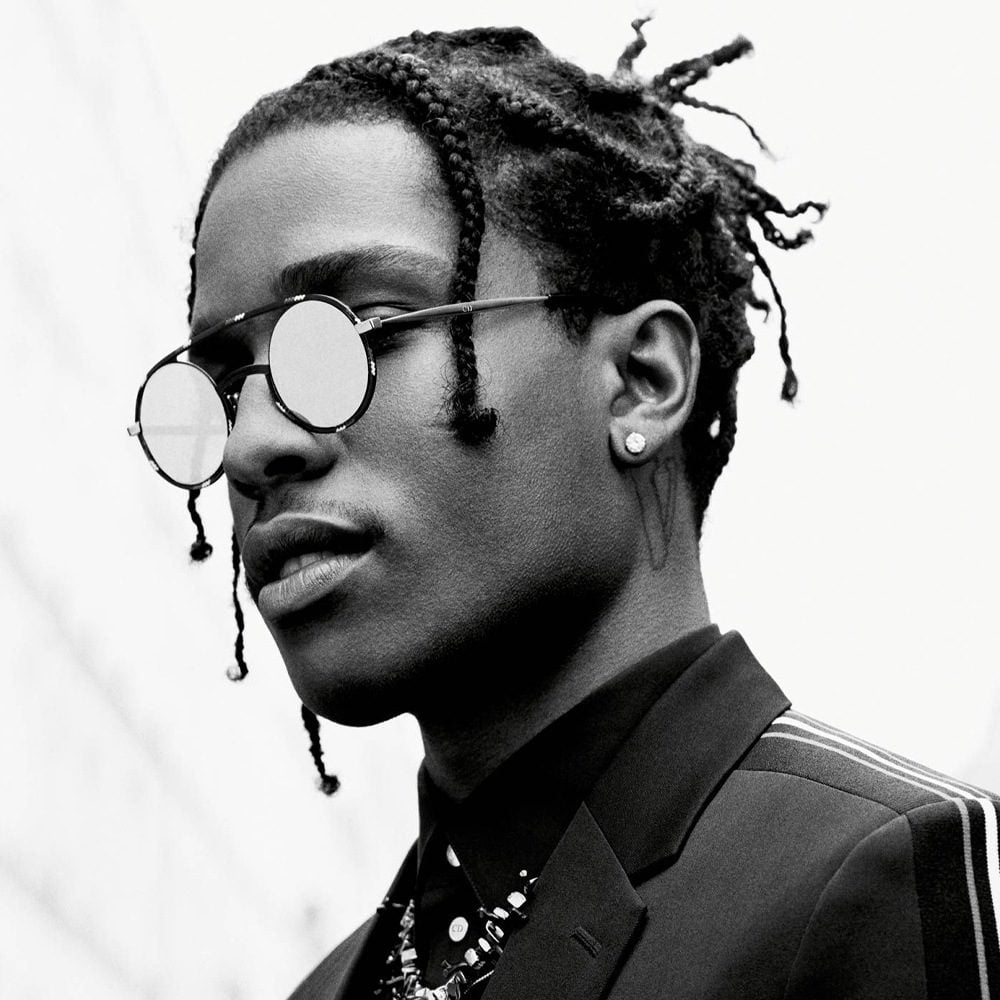 If you have gravity-defying afro hair, you may have written an undercut off pretty early on in the search for your next trim. But don't be so hasty. Throwing some layered braids into the mix is a good way to rock an undercut without winding up looking like a mushroom.
This approach will reduce the volume while still leaving enough hair on top to create a sharp contrast in length. Wear them loose and down, or tied up a la A$AP Rocky. Either way, this style should be worn disconnected. A fade or taper would look awkward coupled with the braided hair on top, while a disconnect keeps it clean and sharp.
Undercut With Slick Back
A long-time staple among Hollywood anti-heroes, the classic slick back has found a new home atop the heads of hipsters from Brooklyn to Bethnal Green and everywhere in between. A frequent sight in quirky coffee shops and tattoo parlours across the land, this style exudes attitude when worn with a disconnected undercut and is a great low-maintenance option for those whose workplaces permit it.
However, this cut is not for the faint of heart. The disconnect between the back and sides and the top is quite brutal, so if your office is more corporate than creative it's probably one to swerve. Otherwise, just make sure to keep it trimmed to perfection and carry a comb for minor adjustments on the go.
Undercut With Side Parting
When undercuts first became popular between the 1910s and 1940s they were often matched with a side parting. In those early days, basic barbering tools meant that these cuts had to be worn disconnected, but now a clean fade or taper can offer a subtler, softer and more modern look. This is a great option for anyone wanting to experiment with an undercut without doing anything too drastic.
This style is best suited to straight hair due to its clean lines and sharp appearance. Anything too unruly will make it difficult to get right. If your hair is on the finer end of the spectrum, it'd be worth investing in something to boost volume. Root-boosting powders and salt sprays are good for this.
Disconnected Undercut With Textured Top
Rising to prominence on the back of hit TV show Peaky Blinders and its main protagonist, Tommy Shelby, this statement-making style uses a disconnected undercut to increase the juxtaposition between the top and back and sides.
If you have thick, coarse or unmanageable hair then this could be the perfect hairstyle for you. Get your barber to take the back and sides extremely tight, then remove some of the weight out of the top while gradually leaving it longer towards the front. Wear it forward and natural for an effortlessly cool, grunge-inspired aesthetic.
When it comes to styling, use your fingers to work a matte paste or clay through damp hair to create texture and separation, then leave to air dry for a relaxed, lived-in feel.